EQUILIBRIUM | 2014 selected artists announced | India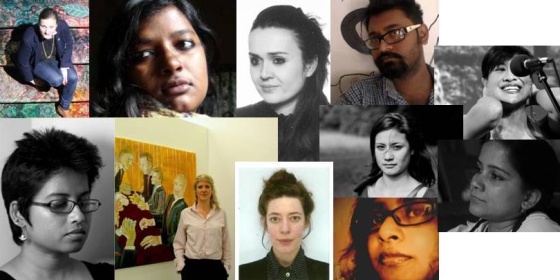 [caption id="attachment_43813" align="aligncenter" width="390"]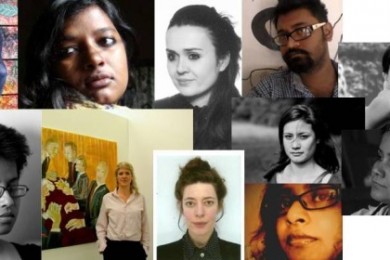 Equilibrium - 2014 artists selected[/caption]
Organised in the framework of Creative Encounters: Cultural Partnerships between Asia and Europe, EQUILIBRIUM is an international cultural initiative that aims at building creative contexts in villages and towns in India.
 Currently located in Partapur, the main aim of this project is to provide a platform for artists from Asia and Europe to engage in a dialogue with local communities through women's groups in and around Partapur.
Following the
call
launched in May this year,
10 artists
 have been selected to participate in a 5-week residency that will involve activities with local women and lead toward creative capacity-building at a local school. The proposals should generate new works and processes resulting from dialogue and participation among local women's groups, as well as build stronger ties between art practices and everyday life.
Below is the list of the artists selected for the 2 residencies:

Phase 1: 1 September to 6 October 2014
Born in 1983 in Poland, Anna Jankowska is a fashion designer, and a scholar. She is a second year doctoral student in Cultural Studies at Jagiellonian University in Cracow, Poland, and holds a Master Degree in Indian Philology (linguistics) from the same university. She holds a diploma in Fashion design and has been awarded governmental scholarship from Indian Council for Cultural Relations to complete M.A. in Hindi literature at J.N.U, New Delhi, India.
Anna attempts to merge fashion and Indian studies on the ground of sociology of culture. Her PhD research's problem touches upon a question of symbolic culture, which she seeks in clothes, and fashion of India.
Anna works and lives in Poland.
Atom Collective works with issues of migration, cultural shifts and the physical transformation of a city and trace the characteristics of the contextual space from the practices of various people. In their practice they have encountered gallery spaces as well as public spaces questioning the orthodox art meanings and interpretations and increase dialectical exchange with audience. As a collective they have participated in Kolkata international performance arts festival in 2013 and their projects have been executed in Birla academy of arts and culture.
Nilabja Bhattacharya had received MFA from Govt. College of art and craft in 2012 and Lalima Bhowmik completed her BFA degree from Kala Bhavana, Vishva-Bharati Vishvavidyalaya, Shantiniketan and her master's degree from Govt.
Sarah Simmonds is a U.K based printmaker. She has graduated from Brighton University followed by a two-year M.A at the Royal College of Art in 2011, in Fine Art Printmaking.
Sarah has worked at BBK Kulturwerk in Berlin., and was awarded a studio residency in Pris at Cite Des Arts. She is a co-founder and curator of artist led collective called Blood Orange that works at providing a platform for artists to show their work and attempt to expand and broaden networks of interaction between artists, work and audience. Her current project 'Object-ivity' is collaboration with the Collector and Professor of Design, David Usbourne.
Sarah lives and works in UK.


Marieke Warmelink (The Netherlands)


Warmerlink questions traditional power structures and offers alternatives through her works. Her work reflects on current socio-political issues and the role of the media on life.
She has received BA from Gerrit Rietveld Academie in fine arts, Amsterdam, and from University of west of England in graphic design & moving images. She has had exhibitions in Amsterdam, Belgium, Turkey and Germany, and has participated in Mamaau art residency and Mixer at Turkey and European exchange academy in Germany.
Marieke Warmelink lives and works in Amsterdam, the Netherlands.


Meherun Akhter (Bangladesh)


Meherun Akter (Visual Artist), born in 1986 at Chittagong, Bangladesh, obtained her post graduation in painting from Fine art department of Chittagong University in 2012.
She is a member of Santaran Art Organization, and has participated in Floating Peers International Social practice workshop and residency; Crack Young Artist Residency program, Bangladesh; Britto Students Residency Program, Nepal. She has had exhibitions at National art gallery, Bangladesh Shilpokola Academy and Gallery Jolrong. Meherun Akter is strongly influenced by the postmodern gender identity crisis, and works on issues related with women.
[caption id="attachment_43808" align="aligncenter" width="390"]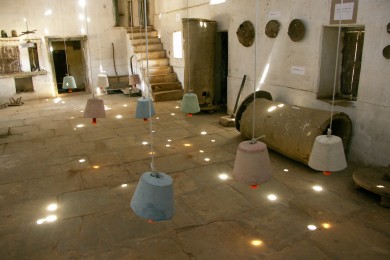 Light buckets by Ivan Smith; Natavada life-style museum[/caption]
Phase 2: 15 October - 19 November 2014
Aude Marie, Knitwear Textile Designer, was born in 1984 in the French region of Normandy. She graduated from the ENSAAMA de Paris in Textile Design (BTS), and specialized in knitting at studies in England at the Central Saint Martin College of London.
She has a strong interest in history and, in particular, in the discoveries of famous adventurers. Fascinated by the cabinet of curiosities, Aude collects craft objects and inspiration in equal measure during her own travels, which becomes a part of her work.
Aude lives and works in Paris, where she combines working in her studio with teaching, developing her personal projects, and collaborating with artists and a range of fashion, accessories, and interior brands.
Based in Delhi, Moumita Ghosh has been practicing art through teaching. At present she is working for 'Made to Create' project (under The Art for Change Foundation, NGO) new Delhi as an Instructor. She has expanded 'teaching' as a living experience and a quest in understanding her art.She has exhibited exclusively in Jaipur, Surat, Kolkatta, Delhi, and USA.


Margriet Kim Nguyen (The Netherlands)


Margriet Kim Nguyen is a half Dutch half Vietnamese freelance contemporary dance artist based in London. She has been studying contemporary dance and dance theatre at the Fontys School of Performing arts in the Netherlands and retrieved her Masters at the Place in London.
She has performed choreographic works by Eva Recacha, Ben Duke, Martin Forsberg and Jorge Cresis in Edge11, Victor Fung Dance, Helma Melis, Compagnie Regal de l'Empereur, among others, and has collaborated with artists from a wide range of media (soundscape, film, visual art and architecture). Besides using the body as a metaphor in the performing arts, Margriet is interested in social anthropology and contemporary philosophy and researches the connection between dance as an art form and the physical body in social context.
Nilanjana Nandy pursued her graduation from College of Art, Delhi and Masters from Faculty of Fine Art, MSU; Baroda.
Her art practice involves research about the site; people; socio-cultural traits in distinct region (through interactions with the community; study by scholars & other practitioners of the region; workshops etc.)
She has been a recipient of National Scholarship, Garhi Studios, Lalit Kala Akademi; Junior Fellowship (Visual Art); Grant for solo show by Kerala Lalit Kala Akademi & Scholarship for Summer Workshop, at Pont-Aven School of Art, France. She has also participated in CRACK International Artist in Residence Program- Bangladesh; Body Temperature – Performance Workshop-Delhi and SM Sultan Artist in Residence Program in Bangladesh.
Nilanjana Nandy works and lives in Delhi.


Khairani Barokka (Indonesia)


Khairani Barokka
is an Indonesian writer, artist, and an advocate for arts education, disability justice, and interdisciplinary and public art. Her poetry, fiction and nonfiction have been published in the US, Australia, the Middle East and Southeast Asia. She's performed spoken word and performance art in India, Singapore, Malaysia, Indonesia, the US, and Australia, and worked with a variety of international partners on participatory art projects involving theatre arts, visual arts, and literature, from village communities in Indonesia to urban artists with disability in Australia.
She has master from NYU's Tisch School of the Arts, as a Tisch Departmental Fellow, and has been awarded as Writer-In-Residence at Emerging Writers Festival, Australia; Tutti, Inc. International Artist-In-Residence, and a speaker at both TEDxJakarta and TEDxYouth@Chennai in 2013.
As an independent researcher of arts, technology, and disability rights in performing arts, Okka is a member of the International Federation for Theatre Research (IFTR).