from - to
22 Aug 2017 - 29 Aug 2017
Kolkata | Dance Bridges Festival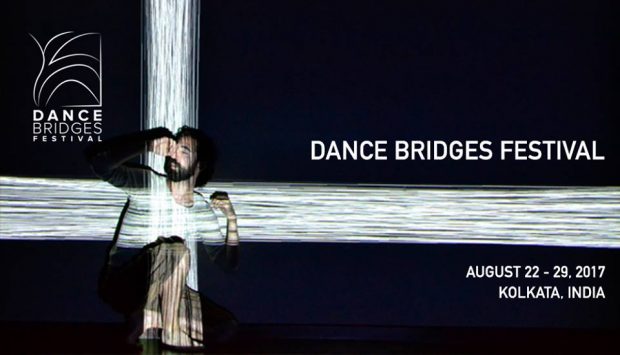 Dance Bridges Festival 2017 is an international dance biennale in Kolkata, India, from August 22-29. The theme for the second edition is 'New Panoramas, In you I see my dance', celebrating dance, education, culture and art from India & around the world.  8 Days | 17 countries | 10 + venues | 70 artists | 8,000+ audience & participants | 18 Performances | Film Screenings | 20+ Workshops | Internships | 15 Day Residency | Special Projects | Artist Talks. Dance Bridges Festival is an international dance festival with an emphasis on building artistic and cultural exchanges between international and local dance artists, showcasing and promoting cutting-edge and exciting contemporary choreography through live performances and film screenings.
Origins of the Festival
The concept for such a Festival was born out of interactions with artists at the World Dance Alliance Global Summit in Angers – France in July 2014. There, several choreographers expressed a keen interest to connect with India, experience the culture, exchange with local artists and share knowledge through creative workshops with dance artists and the community. Kolkata's vibrant culture and rich history lays the perfect environment for such an exciting initiative; therefore dialogues to launch a festival began between Dance Alliance Kolkata and a number of international artists. The first edition of the Festival was hosted in August 2015 with the theme 'Talking Points in Choreography: Dialogues Across Cultures'. Artists included choreographers/dance companies from UK, USA, France, Sweden, Austria and India.
Festival 2017, what's new?
In this second edition, we have expanded on the Festival from a 5 to 8 day event and made it even more inclusive. Here are a few highlights that make this year's edition even more special:
An open invitation to artists was made in July 2016 to apply for the 2017 edition with over 180 applications from 41 countries across categories.
Selections for this year's Festival, was made by our International Artistic & Programming Committee.
Dance Bridges Festival 2017 will feature performances, films, workshops and talks, including artists from Japan, India, Portugal, Poland, Spain, France, Belgium, Norway, Lithuania, UK and Australia; whilst our residency project will gather artists from India, Bangladesh, UK and Canada. More than 50 international and 20 local artists are involved.
The Festival will take place across an array of venues, large theatres, intimate spaces, studios, galleries, cinemas and auditoriums.
Several Open workshops are for participants of all levels of experience this year, as well as workshops for children from 5-7 years and above.
A special focus is also on the celebration of the UK-India Year of Culture.
Two new initiatives for this edition are the Internship programme and the Crossover Dance Project.  The internships are for young arts professionals/ college level students interested in acquiring hands on training in Festival Management. The Crossover Dance project looks at working with a collective from local and Festival artists to recreate an excerpt of choreography by an international artist.