Indie Movies Storm Thailand National Film Awards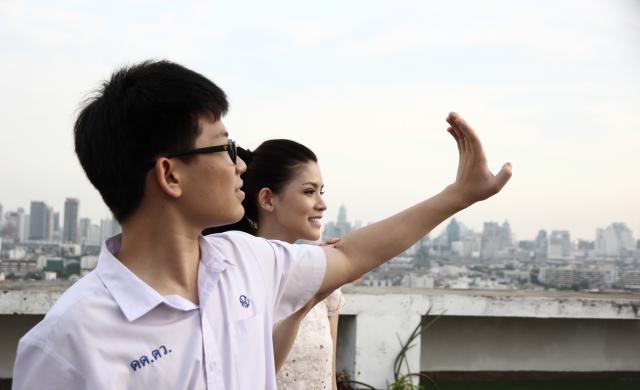 There was a considerable upset at the 2
3rd edition of the Thailand National Film Awards
this week as the
independent films
MARY IS HAPPY, MARY IS HAPPY
and
TANG WONG
stormed the mainstream opposition, coming away with a staggering
four Golden Swan trophies each
, while the hotly tipped blockbuster
PEE MAK
left almost empty handed.
The
Subhanahongsa Awards
for
Best Picture, Best Director
and
Best Screenplay
went to
TANG WONG
and writer director
Kangdei Jaturanasmee
. The film focuses upon four Thai schoolboys immersing themselves in traditional culture in exchange for their prayers being answered at a holy shrine.
Nutthasit Kotimanuswanich
, one of the film's young stars, came away with best supporting actor. The film premiered at last year's
Berlin International Film Festival
and has since screened at the
Hong Kong International Festival
and maintained a Thai theatrical run.
The Thailand National Film awards for best actress and
best supporting actress
went to
Patcha Poonpiriya
and
Chonnikan Netjiu
for their role as inseparable friends in
MARY IS HAPPY, MARY IS HAPPY
, the unusual story of a disaffected boarding school attendee and was based upon
410 consecutive messages
from a real-life Bangkok schoolgirl's
Twitter feed!
Other award winners on the night included Tony Jaa's 3D martial-arts action movie 
TOM-YUM-GOONG 2,
which received two awards – visual effects and sound.
Former Federation president
Jaruek Kaljaruek
, an executive at the Kantana studio, was given the
Lifetime Achievement Award
.
The full list of winners is as follows:
Best Picture: Tang Wong
Director: Kongdej Jaturanrasmee, Tang Wong
Screenplay: Kongdej Jaturanrasmee, Tang Wong
Actor: Nadech Kugimiya, Koo Kam
Actress: Patcha Poonpiriya, Mary Is Happy, Mary Is Happy
Supporting Actor: Nutthasit Kotimanuswanich, Tang Wong
Supporting Actress: Chonnikan Netjui, Mary Is Happy, Mary Is Happy
Cinematography: Pairach Khumwan, Mary Is Happy, Mary Is Happy
Film Editing: Chonlasit Upanigkit Mary Is Happy, Mary Is Happy
Recording and Sound Mixing: Ram Indra Sound Mixing Studio, Tom-Yum-Goong 2
Original Song: "Yuewya", Cin Thosaporn Achawanantakul, Last Summer
Original Score: Chatchai Pongprapapan, Jan Dara: The Finale
Art Direction: Akradej Kaewkote, Pee Mak Phra Khanong
Costume Design: Vorathon Krisanakalin, Koo Kam
Makeup: Arporn Meebangyang, Thongsuk 13
Visual Effects: Surreal Studio Company and Thossaporn Poonnart, Tom-Yum-Goong 2
Lifetime Achievement Award, Jaruek Kaljaruek
Popular Vote Awards: actor Nadech Kugimiya and actress Suthata Udomsilp