Hong Kong film festival held in Singapore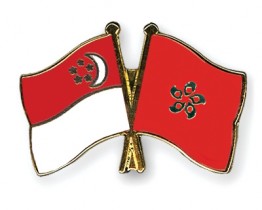 Organised by the Hong Kong Economic and Trade Office (HKETO) in Singapore and Cathay Cineplexes, the Hong Kong Film Festival 2011 (HKFF) opened in Singapore on July 13 with the premiere of "Gallants", a winner of multiple awards at the Hong Kong Film Awards this year.
Speaking at the gala premiere, the Director of the HKETO in Singapore, Ms Subrina Chow, said HKFF was supported by close to 1 000 Singaporean movie lovers last year. Encouraged by such an enthusiastic response, the office is holding the 4th HKFF this year to continue with the effort to introduce quality Hong Kong movies that are less often seen in Singapore cinemas.
Ms Chow said, "The film industry is no doubt the flagship of Hong Kong's creative industries. In the past decade alone, Hong Kong movies and film talents won over 300 international awards, including those at the Cannes, Berlin and Venice Film Festivals."
She said movies co-produced by Hong Kong and the Mainland of China were also enjoying huge success in the Mainland market.
Last year, seven out of the top 10 domestic box office films in the Mainland were Hong Kong-Mainland co-productions.
The one-week film festival will run through the weekend until July 20, featuring a total of 10 titles including four new and four iconic 1990s Hong Kong films from the action and romantic comedy genres, as well as two series of short films.
Besides the award-winning "Gallants", other new Hong Kong films to premiere at the festival include the action drama "Rebellion", the youthful romance "Break Up Club" and "Give Love". They are joined by retrospective titles "Swordsman II", "Once Upon A Time in China II", "A Chinese Odyssey: Pandora's Box" and "All's Well, Ends Well".
Adding variety to the line-up is "Quattro Hong Kong I and II", comprising a total of eight short films by renowned Hong Kong and Asian filmmakers, commissioned by Brand Hong Kong and produced by the Hong Kong International Film Festival Society.
Ms Chow said Singaporean audience has a been faithful supporter of Hong Kong movies since the 1960s. The four retrospective films in the film festival are the best-loved 1990s titles chosen by some 450 voters from the Singaporean public via Facebook and SMS in May.
The gala premiere was also graced by the presence of the producer of "Gallants", Mr Lam Ka-tung, and one of the actors and himself a new-generation director, Mr Law Wing-cheong.
During the film festival, Mr Lam and Mr Law will attend a post-screening dialogue session with the audience and conduct a school talk for film students in Singapore.
source: HKSAR Government