French museum sets sights on ambitious Asian art loans
[caption id="attachment_4046" align="alignleft" width="300" caption="Olivier de Bernon, a specialist in ancient Cambodian art, has grand plans for the Musée Guimet"]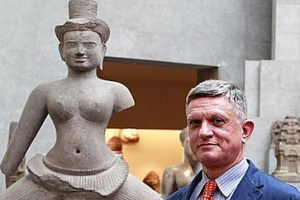 [/caption]
The new president of, Asia-Europe Museum Network member, the Musée Guimet revealed his plans for an exhibition programme that will bring Chinese bronzes and artefacts from Angkor to Paris.
Olivier de Bernon, who was appointed president of the Musée Guimet in Paris late last year, has announced an ambitious exhibition programme for France's national museum of Asian art running until 2016.  The scheduled shows include an exhibition of ancient Chinese bronzes, on loan from a Swiss private collection, which is due to open spring 2013. Later that year, de Bernon, a specialist in ancient Cambodian art, is planning to launch an exhibition on Angkor, the seat of the Khmer Empire from the ninth to 15th century.
In 2015, the museum will collaborate with the Réunion des Musées Nationaux, the cultural government body, on an exhibition that explores the Mughal Empire. Meanwhile, in a significant move, a display of jade pieces, on loan from the National Palace Museum in Taipei City, is scheduled to open in 2016.
De Bernon also plans to make the Panthéon bouddhique (Buddhist Pantheon) annex of the museum, located nearby on the Avenue d'Iéna, more accessible to the public. The space currently houses more than 250 ancient Japanese and Chinese representations of Buddha. The new director plans to transform the 500 sq. m gallery, which is noticeably quieter than the main museum building, into a venue, he says, for "temporary exhibitions, fun shows, something on mangas [Japanese comics], for instance". At a press conference in June, De Bernon said that he is considering moving the Buddha pieces to the main museum.
[Source] The Art Newspaper: French museum sets sights on ambitious Asian art loans