12 Feb 2016 - 14 Aug 2016
Exhibition: "The Buddha" | The Netherlands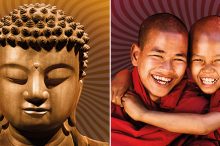 The
National Museum of Ethnology
(Museum Volkenkunde) in Leiden, the Netherlands, an ASEMUS member, presents an exhibition entitled
'The Buddha'
between 12 February and 14 August 2016. The exhibition invites visitors to take
a journey round the world of Buddhism, discover all kinds of interesting facts
, and experience the unifying power of this global religion. What makes the life story of this spiritual leader so intriguing? How do people perceive and experience Buddhism in the early 21st century? The exhibition explores these and other questions. The reports, impressive photographs and interviews in 'The Buddha' take visitors on
a journey through the most important Buddhist regions on earth
, where this religion was important long ago, and is often still vibrant today. The exhibition looks at places of pilgrimage and the important festivals celebrated in different countries. The journey takes visitors to
Thailand, India, Indonesia, China, Myanmar, Japan, Tibet
; from the ancient Chinese monasteries and the Buddha's birthplace in Nepal, to Borobudur in Indonesia. And they travel round the Netherlands, too.
Four brand-new documentaries profile Buddhists and Buddhism in the Netherlands today
. For many Dutch people, a Buddha statue evokes memories of travelling in Asia, where these statues and Buddhist temple complexes are a cultural highlight. To others, the Buddha might be a symbol of calm, a counterbalance to today's complex, high-speed world. Huge numbers of people meditate.
Every large Dutch town has a Buddhist centre
- there are some 500 Buddhist centres across the Netherlands today. The exhibition reveals what different people hope to find in Buddhism.
This is the first time that so many Buddha statues from the museum's collection have been exhibited together
. Visitors will be able to discover the differences between the statues and the reasons behind them. The exhibition also includes
a rare 35-metre Vessantara banner
depicting scenes from one of the Buddha's previous lives. Combined with
loans from institutions like the Victoria & Albert Museum in London, Musée Guimet in Paris, the Berlin Museum of Asian Art and the Asian Civilisations Museum in Singapore
, these objects tell the Buddha's life story. Visitors will be able to marvel at the ancient stone Gandara reliefs from Pakistan and the impressive contact relic of the Buddha's footprint from Thailand.