First Craft Connect! and ASEAN Crafts Sector Roundtable in Chiang Mai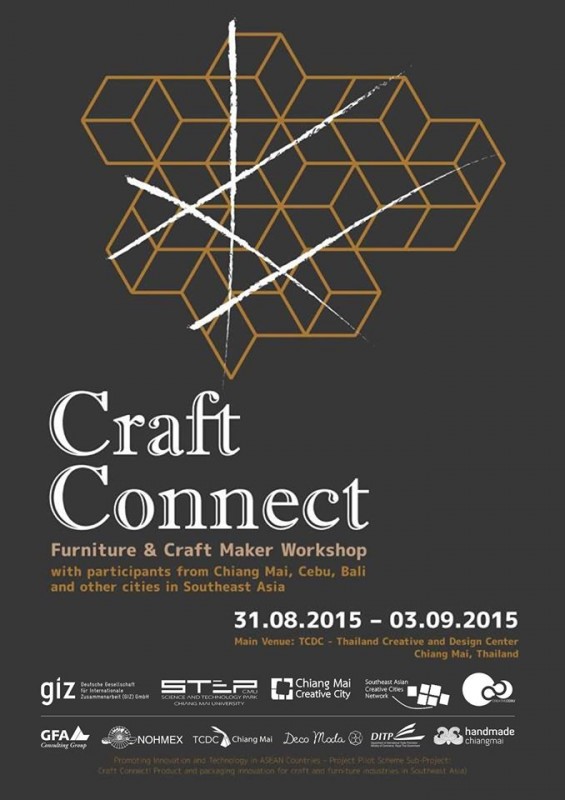 The Craft Connect project is launched this week in Chiang Mai. Craft Connect! Product and packaging innovation for craft and furniture industries in Southeast Asia is a collaboration between partners from Germany, Chiang Mai, Thailand and Cebu, Philippines.
Over a four months period, invited designers, crafts and furniture makers from Chiang Mai (Thailand), Cebu (Philippines), and other cities of Southeast Asia will be working together. The objectives of the project are to create an appreciation of how to serve European and other international markets and to learn from other craft and furniture clusters from the neighboring ASEAN countries.
The participants will be guided by international design and creative industries consultants to develop new product ideas, identify trends and opportunities for accessing new markets, customer segment and channels, developing their marketing, branding and identifying other opportunities for innovation and design development.


The first Craft Connect! Furniture and Craft Maker Workshop on Marketing and Design is taking place in Chiang Mai 31 August - 3 September 2015.  Makers are visiting various workshops and creative facilities in the city. You can see more about the project on Craft Connect! Project on Facebook


The first international ASEAN Roundtable Discussion on Crafts Sector Development in the ASEAN Context is taking place in Chiang Mai on 3 September.  Stakeholders from government agencies, business associations and institutions will meet workshop participants and discuss crafts sector development and collaboration opportunities.


Craft Connect! is sponsored by the German Government (GIZ) and The Science and Technology Park Chiang Mai University (STeP) and implemented by Creative Chiang Mai (CCM) and the Creative Cebu Council.