By people / In cities: Chiang Mai | city profile part I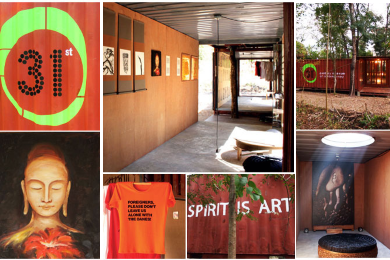 This month, ASEF culture360 contributor David FERNANDEZ introduces Chiang Mai, Thailand's "second city", the largest and most culturally significant city of the country's upper north. In this article he describes the city's dynamic creative scene, focusing mainly on the cultural environment and especially in the generation of new platforms of creativity and innovation that are beginning to attract international recognition.
---
[gallery ids="53997,53995,53996,53994,53993,53992"]
A former capital of the Lanna kingdom, Chiang Mai, located 700 kilometres north of Bangkok, and home to around 200,000 inhabitants, is
Thailand's second most important city
and remains a centre for education, trade, tourism and recently, creativity. Besides traditional culture and beautiful natural scenery, many hidden treasures remain to be discovered in this flourishing city, historically part of a trade route from Southern China, and now partner city of a regional network for creative cities and clusters in SE Asia,
The Southeast Asian Creative Cities Network (SEACCN)
.
Famed for its
rich cultural and artistic heritage
, today Chiang Mai is also a city
renowned for its handmade craft and design industries.
It has seen recent growth in its digital output, hosting a flourishing IT-tech cluster and an ebullient community of start-ups, freelancers and digital nomads. This diversity clearly illustrates the reality of Thailand's northern capital city, presenting vast opportunities to strengthen traditional industries through new technologies, design, innovation and creative thinking.
Creative Chiang Mai
The Chiang Mai Creative City initiative, a think tank, activity and networking platform, is a cooperative venture managed by members of the education, private and government sectors, as well as local community groups. It embodies a long-term vision for promoting and developing the city. Building on an existing cultural asset base, the initiative aims to make the city more attractive as a place to live, work and invest in, while marketing it as a prime location for investment, businesses and creative industry. With the objective of creating job opportunities for current and future generations, the city also aims to join the UNESCO Creative Cities Network.
1
Back in 2010, the city announced the
Creative Chiang Mai
initiative, a local project focused on creativity, innovation and collaboration, and designed to promote an appropriate and sustainable development approach for Chiang Mai. Gaining international reputation as a city that fosters creativity for economic and social development, for some time, Chiang Mai has been in the running to be nominated as a
Creative City of Crafts and Folk Art
by
UNESCO Creative Cities Network
, and to be recognised as a "creative hub" and "socio-cultural cluster".
Outside of Bangkok, Chiang Mai is the most diverse, happening and rooted creative community. It is a proper city with art traditions, culture, and education, both new and old, local and foreign. In part, Chiang Mai has always been a changing city over its 700 year history. This has attracted more artists. Younger generations now use their aesthetic skills and senses in other sectors such as animation, digital content and game development. The scene is however not well internally connected. People are quite individualistic and I guess some creative minds also come to Chiang Mai to do their thing. So one thing Creative Chiang Mai is doing is to increase the visibility of activities and promote collaboration. Government support has also not been very efficient with some exceptions like TCDC and DITP. Sadly, there is still much more support designated for traditional art and culture than for contemporary art and culture.
Martin VENZKY-STALLING - Senior Advisor at the Chiang Mai University Science & Technology Park / CMU STeP
In this sense,
new initiatives
have been taking place in Chiang Mai lately, notably through the Creative Chiang Mai project, a government-endorsed network of organizations, institutions, companies and individuals, that aims to
generate economic development and diversification
,
attract new investment
, and
create new jobs and opportunities
, leading to a more attractive urban environment. A good example of this type of initiatives is
Handmade Chiang Mai
, a revealing online platform with information about Chiang Mai's centuries-old craft industry, currently experiencing a thriving revitalization phase, with many designers and young makers joining the sector in the recent years.
All in all, the city truly has a rich urban fabric that few places in Thailand can claim – if any, apart from Bangkok –, especially considering the vast repertoire of craftsmanship that the city hosts. Yet, as suggested by many cultural practitioners, one of Chiang Mai´s remaining challenges is that its diversity hasn´t been fully recognised, and collaboration and coordination between creative sectors and cultural agents seem insufficient.
Besides these city-making efforts to promote creative industries throughout the city, there have also been some interesting late additions to the cultural mapping of Thailand's so-called "second city", such as the recent opening of Thailand Creative and Design Centre (TCDC)'s first regional design resource center –
TCDC Chiang Mai
– as well as recent announcements for a new contemporary art museum, the upcoming 
Mai Iam Contemporary Art Museum (MICAM)
, said to open by 2016.
Moreover, some very unique independent artist-run initiatives have emerged all around the city in the last few years – especially since
The Land Foundation
project, which was initiated back in 1998 by Thai internationally-acclaimed artists
Rirkrit Tiravenija
and
Kamin Lerdchaprasert
. It is an experimental art platform simply billed as 'an open space, though with certain intentions towards community, towards discussions and towards experimentation in other fields of thoughts as well as to support cultural learning processes'.
Since The Land Foundation's opening in the late nineties, many disciples have adopted the trend and many community art spaces, artist residencies, and galleries have been spreading all over the city in the recent years, including the
Baan Tuek Art Centre
,
Rumpueng Community Art Space
,
Pong Noi Art Space
,
Seescape Gallery
and the one-of-a-kind
31st Museum of Art and Spirit
, founded also by Kamin Lerdchaprasert. The Museum is described as a 'container of culture station', the starting point of an idea to introduce a choice for a cultural space which does not have to be a large permanent building, constructed by any organized institution, with a large volume of investment, with deadlines and profit counts, or concerns about regular visitors and good management.
The Chiang Mai City Profile is continued in Part Two over
here
.