from - to
15 Oct 2016 - 11 Dec 2016
Festival / Tokyo 2016 | Beyond Borders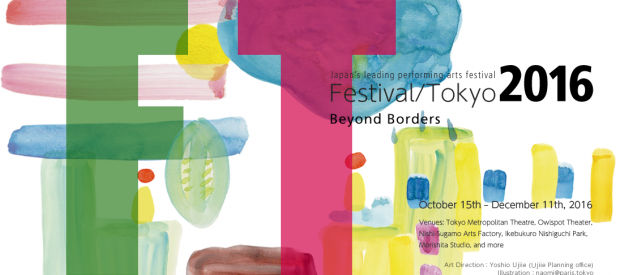 Japan's leading performing arts festival Festival / Tokyo returns in 2016 on the theme 'Beyond Borders' from October 15 - December 11. The programme features 16 productions in the Main Program and 14 productions in the Affiliated Program, with a special focus on the work of Polish theatre giant Krystian Lupa, whose work is appearing in Japan for the first time as part of F/T16. Highlights of the F/T16 programme include:
"Festival Fukushima! @Ikebukuro Nishiguchi Park": 
PROJECT FUKUSHIMA! once again opens Festival/Tokyo with two days of music and dance, featuring a giant cloth on the ground made with materials collected from around Japan as well as live music and an original Bon dance with a special song inspired by Ikebukuro. Following its earlier appearances in 2014 and 2015, this is the final chance at F/T to catch this community event first launched in the wake of the 2011 Great East Japan Earthquake to restore something positive to Fukushima.
Woodcutters: 
This highly acclaimed production by Polish theatre giant Krystian Lupa, known for his remarkable set designs and sharply critical eye, makes its long-awaited debut in Japan.
"x / groove space":
 This performance series sets out to choreographically explore the specific "groove" of different cities with new collaborators each time. How do the inhabitants of a city move? What is the rhythm of their bodies? The latest entry in this fascinating project by Sebastian Matthias now comes to F/T as a co-production between Tokyo and Düsseldorf, the city with the most Japanese residents in Germany.
Contemporary China, as Seen in Beijing Culture: Festival/Tokyo has showcased Chinese theatre through talks and performance since the 2014 festival. This year, F/T examines an electronic music duo based in Beijing and a Chinese publication about Japan in order to introduce little-known aspects of contemporary China to local audiences.
The Instant Café Theatre Company "NADIRAH": one of the performances in the Asia Series Vol.3: Malaysia  - several performances involving artists from Malaysia and Singapore are featured in this series, as well as a round table discussion on Art Projects in Multi-Ethnic Malaysia