from - to
16 Oct 2021 - 16 Oct 2021
Chaktomuk Short Film Festival 2021 | Press Conference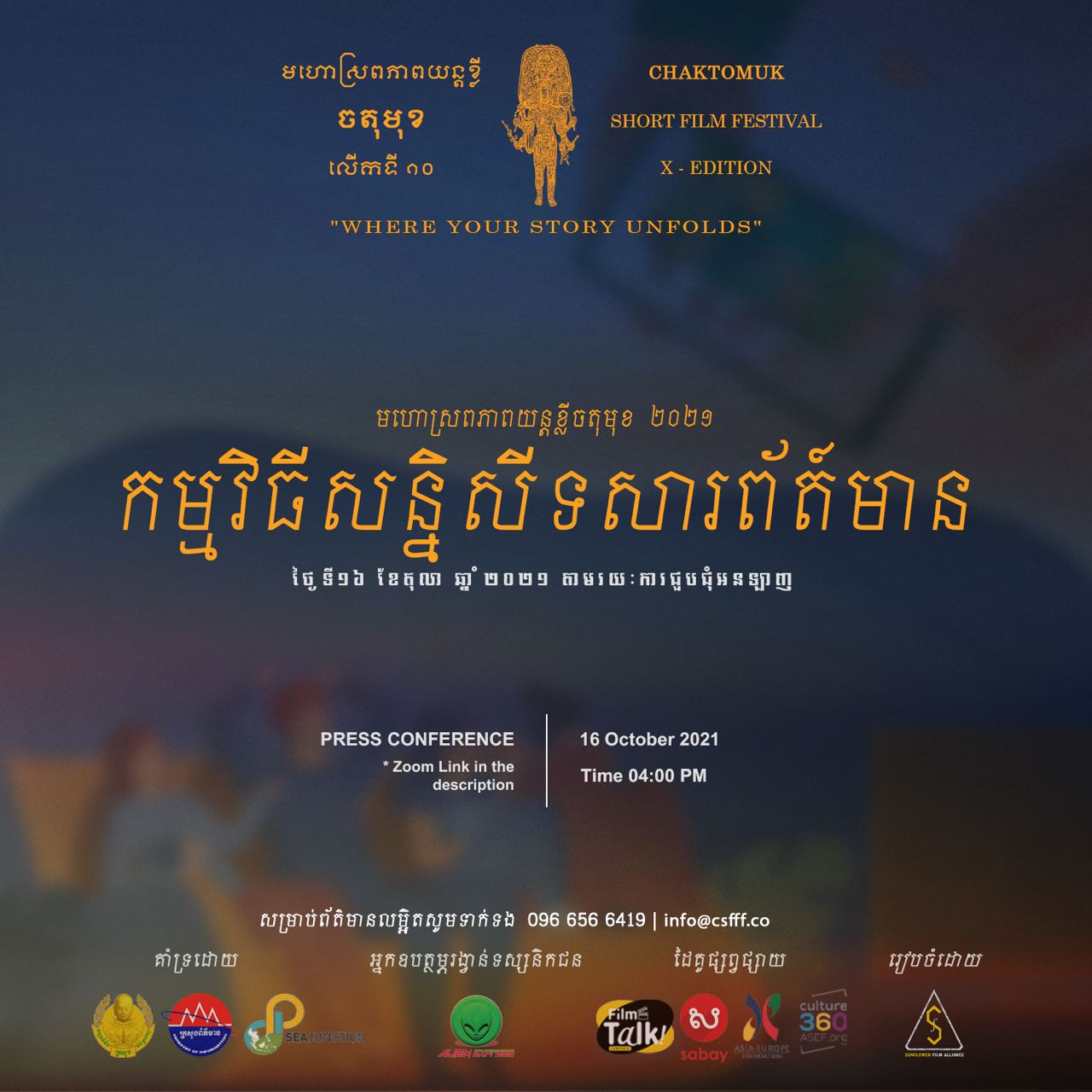 Chaktomok Short Film Festival (CSFF) is holding a press conference that will be taking place online on 16 October 2021. The press conference aims to welcome and address special guests, filmmakers and journalists involved in the festival which will be held from 22 to 27 October 2021.
Chaktomuk Short Film Festival (CSFF), founded in 2012, is Cambodia's first and largest short film festival, organised by Sunflower Film Alliance. Held annually in Phnom Penh, CSFF aims at sensitizing audiences to the art of cinema, promoting innovative international filmmaking in various forms, and presenting quality productions made in Cambodia by domestic and international filmmakers. With its interruption last year due to the pandemic, the 10th edition will merge those entries from last year and the festival will be happening virtually this year.
The festival's press conference will be taking place online this Saturday, 16 October 2021 from 4pm to 5pm. A promotional clip of the event featuring snippets of selected films from the festival will be screened following which speakers and special guests Mr. Sum Sithen, President of CSFF 2021, Mr. Lattapol Jirapathomsakul, Program and Communication Officer of SEA Junction and Mr. Pok Borak, Director of the ministry's Cinema Department will share their impressions on CSFF 2021. A Q&A session and a group photo-taking will wrap up the press conference.
To register for the press conference: https://forms.gle/9MxnEtWsU8SkJyM36
ASEF culture360 is the Media Partner of Chaktomuk Short Film Festival 2021. For more updates on culture360 Media Partnerships events follow us on Instagram.

Find out more: