YXINE FILM FEST 2011 | open call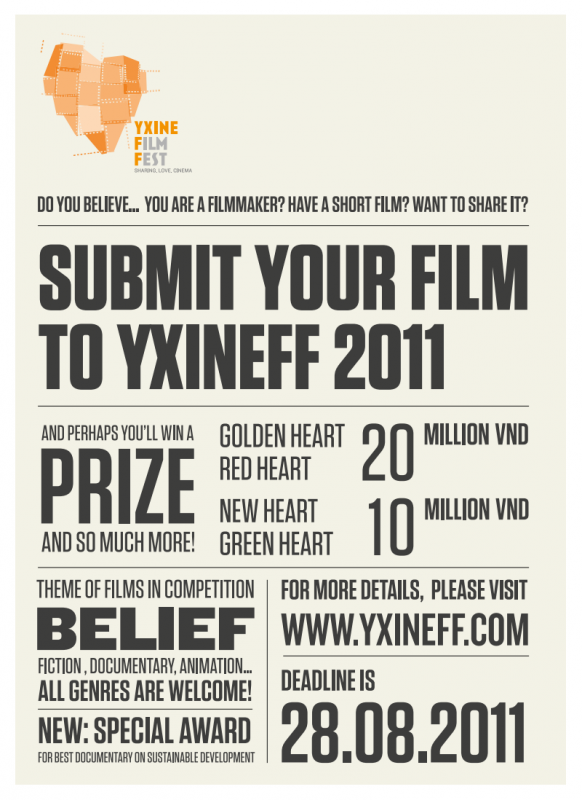 The online short film festival
YxineFF (Yxine Film Fest)
takes place on 
www.yxineff.com
. With the slogan "Sharing. Love. Cinema.", indie filmmakers and movie buffs are the targets of YxineFF. The second annual YxineFF with the theme
BELIEF
officially commences on
29.05.11
and will last for 7 months.
On 29.5.2011, three kick-off events for YxineFF 2011 will simultaneously be held in three regions of the country. This is the official event which presents to filmmakers, the press, volunteers and supporters of YxineFF 2011 in Ha Noi, Ho Chi Minh City and Da Nang as well as calls for entries and releases version 2.0 of
www.yxineff.com
. In HCM City there will be a representative of the Jury Board – actress Hong Anh, and a special guest – director Phillip Noyce. In Ha Noi, there will be a representative of the Jury Board – novelist, blogger Nguyen Truong Quy and the founder and director of "Action for the City" Dang Huong Giang. And in Da Nang, there will be People's artist – director Pham Viet Thanh with his wife, People's artist Le Khanh and actor Hoang Hai present.
YxineFF 2011 entries are classified into 3 categories:
1. 
Competition:
new films on the theme
Belief
, each with a maximum duration of 15 minutes.
2.
Panorama:
films with a maximum duration of 30 minutes, comprising representative short films within the last 3 years.
3.
In Focus:
introducing some specially selected film programs.
YxineFF 2011 accepts entries for all three categories (fiction, documentary and animation of all genres) from the official kick-off date till
28.08.2011
. The films are selected based on their "touching, creative and humane" qualities. Details about the call for entry will be announced at
www.yxineff.com
from 29.05.2011 on. The YxineFF 2011's official line-up and the screening schedule will be announced on the opening night of YxineFF 2011,
02.09.2011
.
From the opening until the closing night on
16.12.2011
, YxineFF will screen 2 to 4 new films per week. Traditionally, from the premiere screening on YxineFF any film can be viewed until the end of the film festival. The award ceremony is scheduled to take place in Ho City Minh City on
31.12.2011
.
For more information on how to participate, please read the following document:
Press Release-YxineFF2011-English