from - to
22 Nov 2021 - 26 Nov 2021
At Home/Being Home e-residency: In conversation with the artists and mentor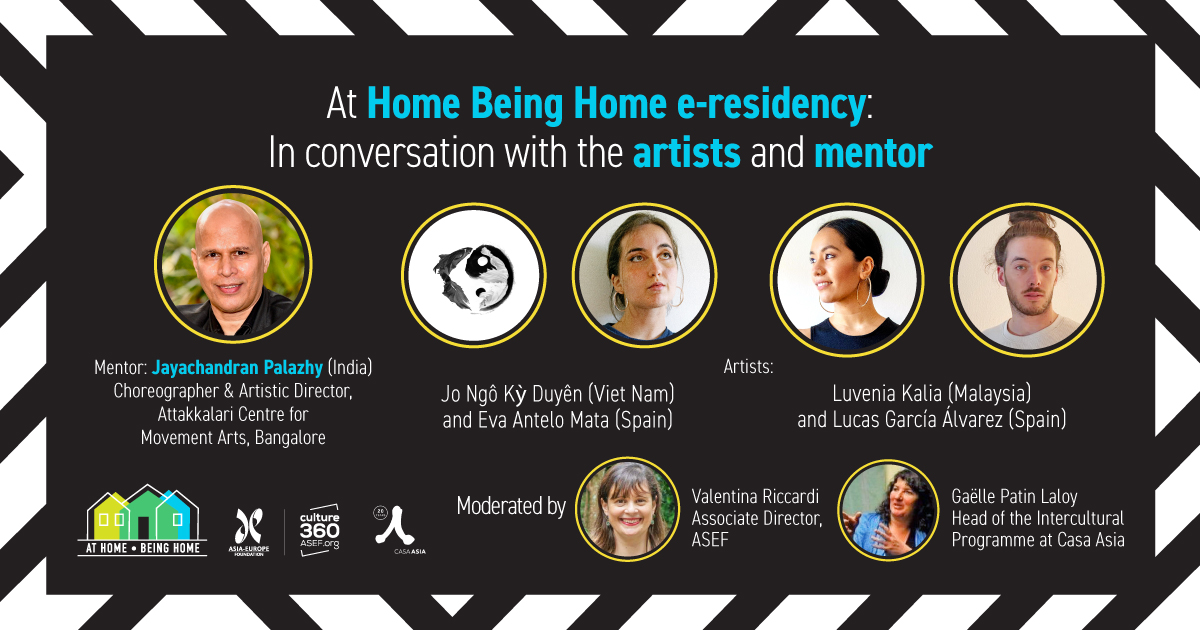 As part of the e-residency At Home/Being Home dedicated to young emerging artists from the performing arts and new media, culture360 and Casa Asia have organised an online conversation with the artists and mentor to discuss the 2 projects developed in response to the theme of "home".
After 6 weeks of collaborative work in pairs, the four participating artists from Spain, Viet Nam and Malaysia were invited to share their experience and their projects together with their mentor, Jayachandran PALAZHY, Choreographer & Artistic Director of Attakkalari Centre for Movement Arts, Bangalore, India.
The residency explored the non-physical and barrierless concept of "home" and sought to understand how its nature had been altered against the backdrop of a global pandemic that has restricted movement within this space and changed the boundaries of home, the opportunities for encounter, dialogue, reflection, and creation. Throughout their 6-week virtual residency, the selected artists have worked in pairs around the theme of home, responding to this through the lenses of their artistic practices.
Jo & Eva's 3D interactive video game:
"We created a virtual neighborhood containing buildings from Vietnam and Spain, flooded by water as it floods the Earth and our hearts. We added the voice of people who are not there, neither will be there, making them soundscape of a pixelated dwelling, making it more human, making it as alive as it could be. Virtual as in possibility.

It was a positive challenge to try and find a way of working together and making our interests meet, as we were complete strangers to each other at the beginning of the residency. Finally, we ended up with this 3D environment which enabled us to combine very different disciplines in a single place. It also allows us to display both the process and the final result."
Play the game at: https://hubs.mozilla.com/scenes/ckiqKJs
To enter, just click on "create a room with this scene" and then "join room". Choose a name for the avatar and play!

Luvenia & Lucas - Hogarku work in progress
Hogarku is a work in progress built from an intercultural collaboration between two dancers from across the globe. It presents the point of view of a guest in our home. It reveals our relationships with the spaces present in our home and how the concept of home has informed our bodies. This film reveals the contrast of experiences living in different countries and how the pandemic has shifted our concept of home.
The conversation will also be presented as part of the ASEM Cultural Festival 2021, titled 'Asia and Europe: Cultures Connect' and will be available online on the festival's website from 22 to 26 November 2021.