Stop. Look Back. Look Ahead. Proceed. | Artists' projects revealed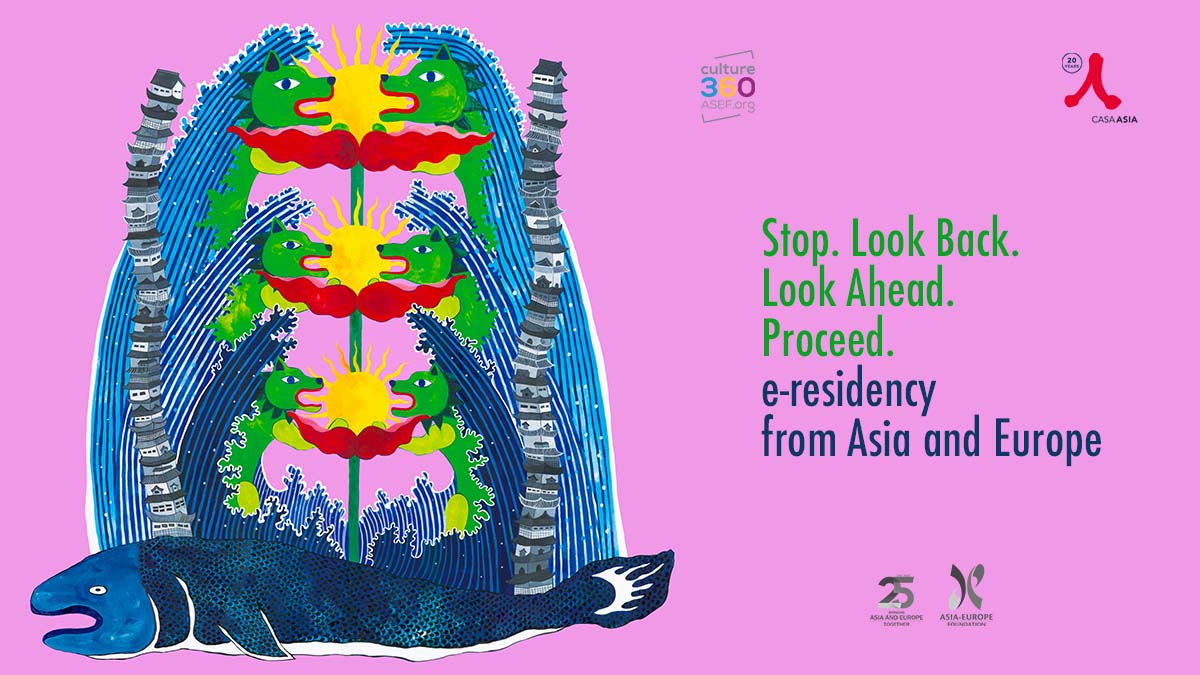 After 8 weeks of collaborative work in the frame of the Virtual Residency Stop. Look Back. Look Ahead. Proceed. on Arts & Climate Change, organised by ASEF and Casa Asia, the 5 participating emerging artists from Spain, Indonesia, India, and China have revealed their projects.
The 2 groups of artists presented their final collaborative projects during the Online Webinar The Virtual Residency Model: Can artists collaborate online? on 25 October 2022. The conversation focused on the process of collaborating online and being able to negotiate the different artistic inclinations between artists from Asia and Europe, towards one joint project. The artists shared the learnings and challenges they have faced throughout the residency and the value of working with the support of a mentor, throughout the residency period.
The Mentor Kamini Ramachandran, Director of MoonShadow Stories and The Storytelling Centre, Singapore, spoke about cultural diplomacy:
"Any type of cultural exchange or collaborative programme that involves participant from different cultures is basically an exercise in some kind of cultural diplomacy. Arts diplomacy, as I call it, is not something new, however it is something that should be cultivated and supported so that we, as artists, can address topics that have universal concerns and global impact."
Watch the recording of the event.
ARTIST'S PROJECTS
Biki Wabihamdika (Indonesia) and María Laura Carrillo Neira (Spain) created a mini-album made up of six tracks and six animated posters. The project PLASTICS-ARE-INVADERS explores the relationship between single-use plastics and the climate crisis.
"Due to our excessive use of single-use plastics, we decided to create a mini-album to criticize this system of production and consumption that accelerates climate change by burning fossil fuels and destroying ecosystems due to its pollution. Because plastic is very difficult to decompose or recycle, plastic usually ends up as garbage eaten by animals and as a part from our forests, beaches, rivers, mountains. This experimental album is a wake-up call for young people. That is why it has been designed to be viewed and shared from our smartphones. We want climate awareness to awaken in them. We wish to start a revolution to save the species threatened by the climate emergency, to save ourselves as a species, and to save the environment. We have no other home. We must take care of it. Otherwise, we will not have a future as the Sex Pistols said."
Blanca Rosa Rasmussen Ruiz de Infante (Spain/Denmark), Sahana Srikanth (India) and Yirou Zhou (China) created a Zine on the theme of water. The project IN THE DEEP END explores the cycle of water (condensation, precipitation, collection and evaporation) through the lenses of climate change.
"Precipitation as the flooding in Bengalore; Collection through the reflection on ice and its production in the modern world; Evaporation to reflect on drought and its history over time; and finally Condensation a joint exploration on the topic of migration. The project is a collection of stories centered around water and the impact it has in a local and global context, the ebb and flow, the drip and the pouring of that which represents the energy of nature in its relentless bursts."

Take a closer look to the Zine here.
Since 2020, culture360 has developed 5 virtual residencies in response to the global pandemic and its impact on cultural mobility and exchanges, to provide young emerging arts professionals with online capacity building and mentorship opportunities.