from - to
22 Nov 2021 - 26 Nov 2021
ASEM Cultural Festival 2021 | Asia and Europe: Cultures Connect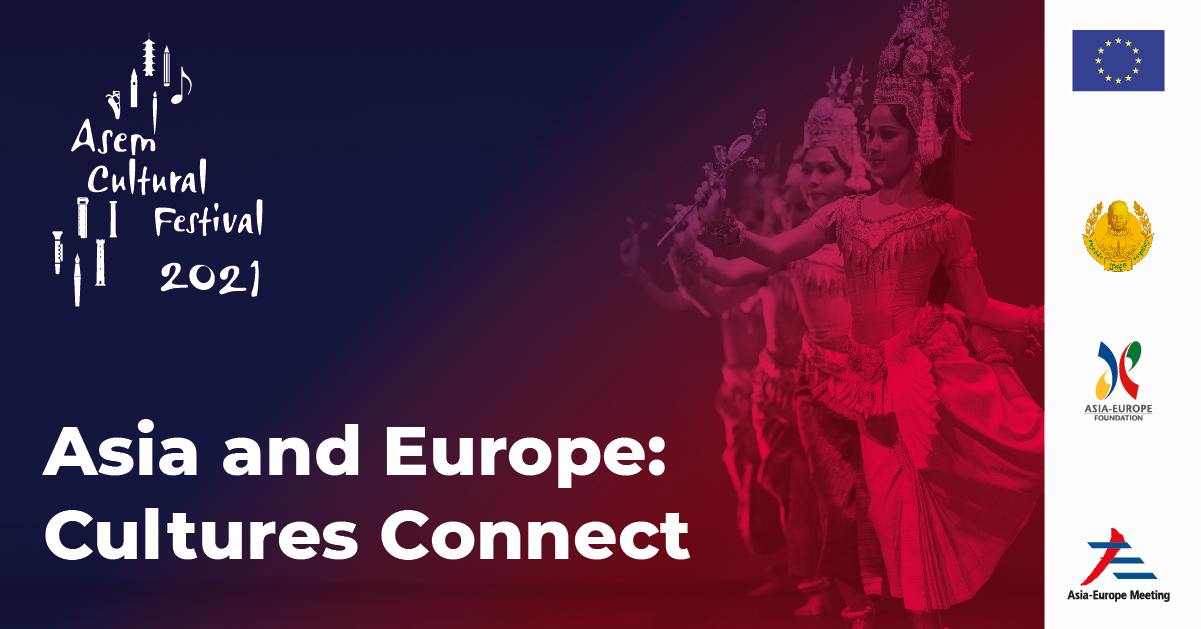 The 2021 edition of the ASEM Cultural Festival, titled 'Asia and Europe: Cultures Connect', is a multidisciplinary arts festival taking place from 22 to 26 November 2021 in Phnom Penh, Cambodia and online. On 25-26 November 2021, the Royal Government of Cambodia will host the 13th Summit of the Asia-Europe Meeting (ASEM13), and the festival is the official cultural side-event of ASEM13, celebrating the cultural diversity and artistic exchanges between Asia and Europe.
This year, over 30 events featuring over 100 Asian and European artists will showcase the rich cultural diversity and creative collaborations from Asia and Europe through theatre, dance, music, visual arts and interdisciplinary presentations. The on-site programme of the Festival includes 6 art exhibitions hosted at the National Museum of Cambodia and 4 film screenings at the Major Cineplex in Phnom Penh, while all online programmes will be hosted on the festival's official website.
Highlights of the festival include:
On-site festival curtain-raiser: From the 15-26 November 2021, the curtain-raiser offers a slice of the festival programming to live audiences in Brussels.
The official opening of the festival: Held on 22 November 2021 in Phnom Penh, Cambodia. A special presentation titled 'Colourful Cambodia' has been prepared, featuring classical, folk and contemporary dances performed by exceptional artistes from Cambodia and ASEM Partner countries. The line-up includes a welcome blessing dance, a harvest folk dance, 'Pounding the Gum-Lacquer', 'Rice', and 'Gems from Mozart at Angkor' – highlighting Asia-Europe partnership through artistic approaches and the ASEM flag dance.
The COVID-19 pandemic has brought about a myriad of unprecedented challenges, and the importance of cooperation and mutual understanding between Asia and Europe has been further emphasised in these times of global change. Under the theme 'Enhancing ASEM Partnerships through Arts and Culture', the Festival aims to promote people-to-people connectivity between Asia and Europe in the field of arts and culture, thereby enhancing ASEM partnership through connections and collaborations.
See the full list of events here: ASEM Cultural Festival 2021 Programme
See the video teaser here: ASEM Cultural Festival Video
The festival is presented by the Ministry of Culture and Fine Arts of Cambodia (MCFA), in partnership with the European Union and the Asia-Europe Foundation (ASEF).
Follow these hashtags on Instagram, Facebook, Twitter and LinkedIn for updates: #ASEMfest, #ASEF, #ASEM, #CulturesConnect.