Arts Journalism Matters Fellowship 2.0 | 2 participants selected!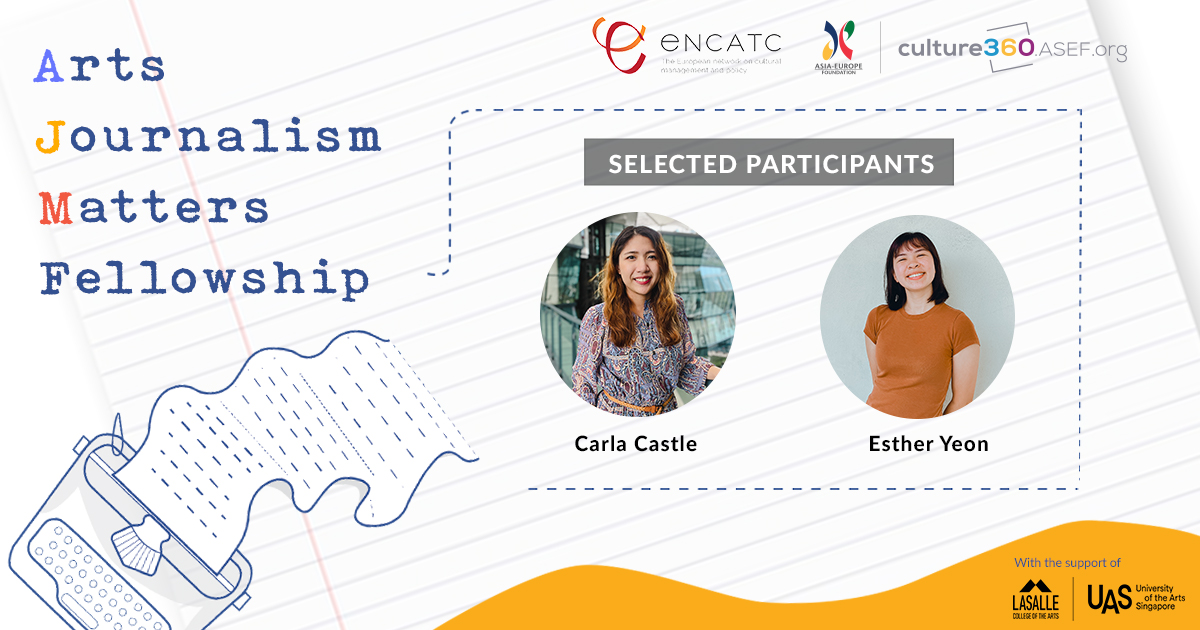 ASEF culture360 and the European network on cultural management and policy (ENCATC) are pleased to announce the selected arts journalists that will take part in this year's Arts Journalism Matters Fellowship.
The selected participants will undergo a 4-week virtual residency, under the mentorship of Ms Audrey Wong, cultural policy expert and arts educator at LASALLE College of the Arts from Singapore.
In addition, a workshop with ArtsEquator, will be organised as part of the residency, to expose participants to different writing modalities, such as videos and interviews to create content apart from written articles.
Participants will also put to practice skills and knowledge gained from the residency, to cover an on-site event ASEF LinkUp | Asia-Europe Cultural Diplomacy Lab, taking place from 24 to 27 October in Singapore, as a journalist.
Follow ASEF culture360's Instagram channel to get updates on the progress of the virtual residency.
Here are the selected participants:
Carla Castle

Arts Management Student

LASALLE College of the Arts, Singapore

Esther Yeon

Arts Management Student

LASALLE College of the Arts, Singapore
Carla Castle is an aspiring arts journalist and researcher who hopes to share her excitement for cultural policy and Southeast Asian art. Her aspirations revolve around wanting to represent Southeast Asian art through a native lens in the English-speaking world — given how one's cultural background shape representation and perception.
As an arts manager and writer based in Singapore, her multicultural background influences her diplomatic nature, where she's highly attuned to working cross-culturally. Driven by her love for arts and culture, Carla recently worked on ARTWALK 2023 as the team leader. Under her leadership, ARTWALK shifted to contemporary programming to engage its audiences better while staying true to ARTWALK's celebration of culture and heritage.
Carla holds a Diploma in Broadcast Media with Distinction, where her award-winning works were showcased worldwide in film festivals and exhibitions.
---
Esther Yeon found herself in the thick of programming for two festivals in a short span of 1.5 years - Rock and Indie Festival 2023 (RIF) in Singapore and George Town Festival 2023 in Penang, Malaysia. While she is interested in exhibitions and visual arts, her passion lies in writing about socially engaged arts and topics that touches on the arts, culture and heritage. She aspires to be a jack of all trades with an experiential understanding of the different art forms and the arts landscapes locally and internationally.
Her adventurous spirit and boldness has led her to new places to take on new roles. Esther was an events executive until the pandemic happened. She was also a food writer with Miss Tam Chiak before embarking on her journey in the arts scene, as an undergraduate in BA (Hons) Arts Management at LASALLE College of the Arts.
---
Read more about ASEF's collaboration with ENCATC here.