7 Films from Bulgaria to Participate in Sarajevo FF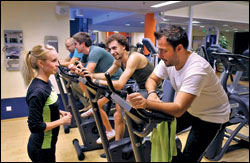 [caption id="attachment_5358" align="alignright" width="250" caption="still of "The Rules of Single Life", a Finnish-Bulgarian co-production by Tonislav Hristov"]
[/caption]
Seven Bulgarian films will participate in the 17th edition of
Sarajevo Film Festival
(SFF) to be held from July 22nd to July 30th in the capital of Bosnia and Herzegovina.
Four Bulgarian films will feature on SFF's selection of competitive films, including "Ave" by Konstantin Bojanov, documentaries "Manchester United from Svishtov" by Stefan Valdobrev and "The Rules of Single Life", a Finnish-Bulgarian co-production by Tonislav Hristov, as well as the short film "Take Two" directed by Nadezhda Koseva, according to an announcement of the Bulgarian National Film Center.
"Shelter" by Dragomir Sholev, which took the grand prix at Bulgaria's 15th Sofia Film Festival and was named Best Feature Film for 2010 by the Bulgarian Film Academy, and "The Isle" directed by Kamen Kalev, which premiered at the the special Directors' Fortnight at the Cannes Film Festival, will be included in the "In Focus" program and will not compete for a prize at SFF 2011.This part of the program presents the best films in the region for the past year.
The seventh Bulgarian title, "Chromones", an animated short film by Rayna Atanasova and Ina Nikolova, will also not be part of the competitive program.
"Chromones" won the Sofia Short Challenge at Sofia Film Fest 2011.
The festival was founded in 1995 with a view to recreate civil society in the city plagued by a four-year siege.
It is held on an annual basis in end-July and aims to present important and innovative films of high artistic value made throughout the world.
The Sarajevo Film Festival Competition program is accredited by FIAPF (Fédération Internationale des Associations de Producteurs de Films) as a Competitive Specialized Festival.
The main focus is the region of Southeast Europe (Albania, Austria, Bosnia and Herzegovina, Bulgaria, Croatia, Cyprus, Greece. Hungary, FYR Macedonia, Malta, Monte Negro, Romania, Serbia, Slovenia, Turkey, UNMI Kosova) and its filmmakers which compete in Feature, Short and Documentary film section.
source:  novinite.com
Bosnia and Herzegovina is not an ASEM country