Community Museums: Revitalising Folk Cultures of Rural Bengal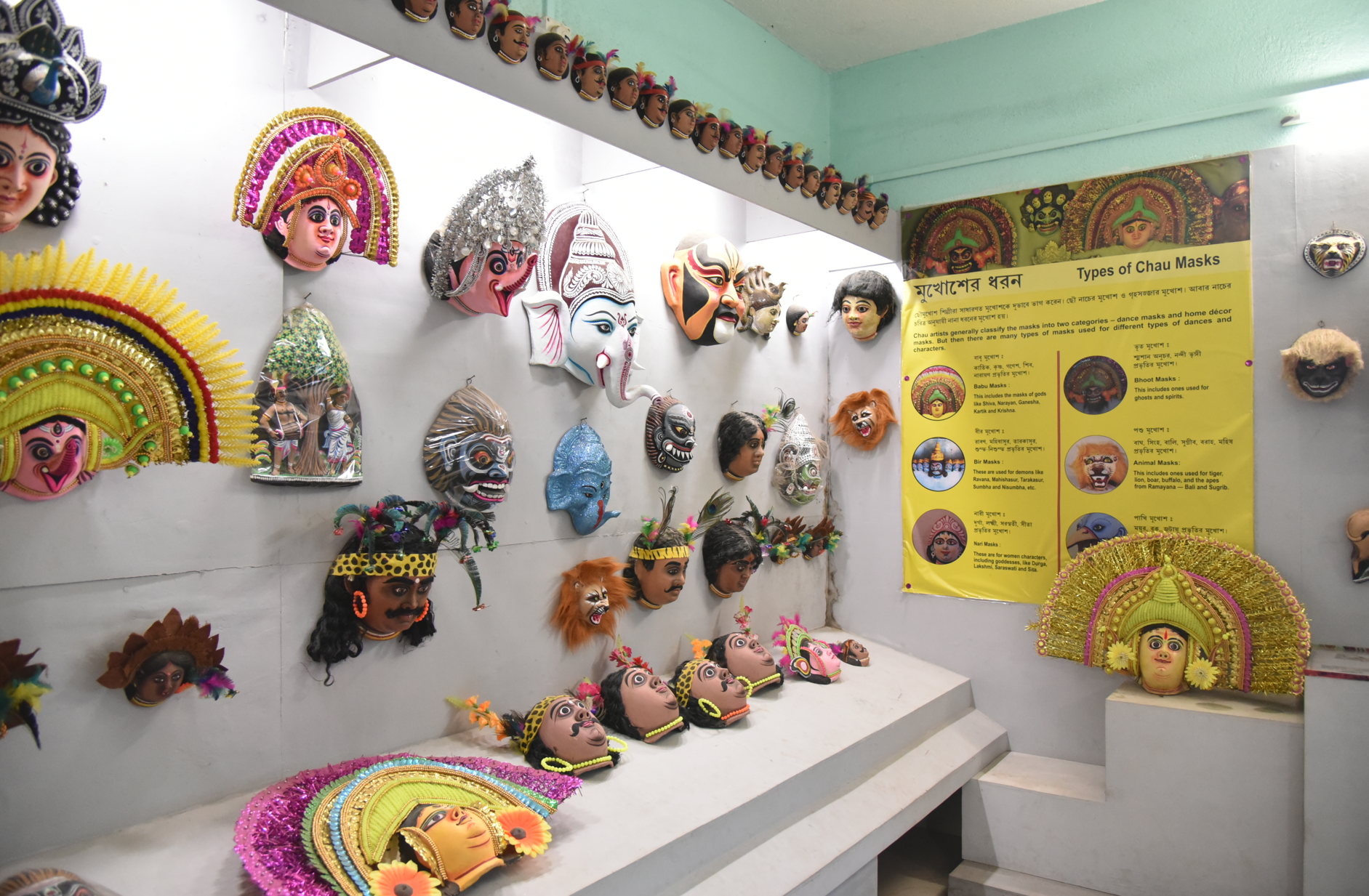 This article features the research and writing of Madhura Dutta, as a part of ASEF's Call for articles: Latest Trends in the Museum Sector in Asia and Europe. Encompassing their specialisation and interests towards community-based folk art museums, Madhura adopts a regional and local lens in their work. Here is what she discovered.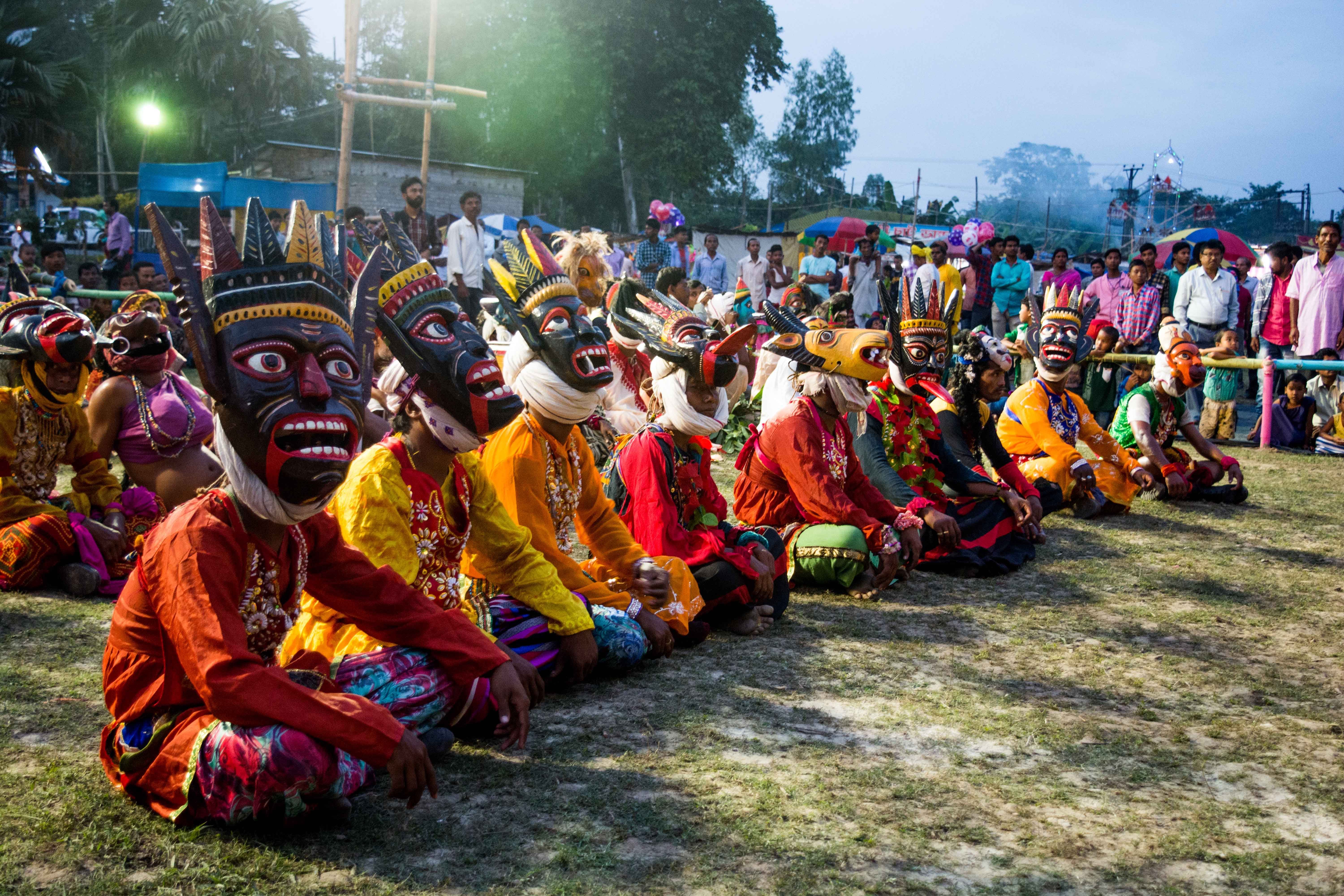 Dancers adorned in Kushmandi wooden masks at the Gomira Dance Festival
The traditional role of museums as spaces for archiving and exhibiting objects of historical, scientific, artistic, or cultural interest has been evolving significantly over time. Today, museums are emerging as dynamic and inclusive spaces for preserving diverse and multi-layered cultural heritage and exhibiting popular histories. Part of my work has involved development of folk art centres and community museums with rural artist communities in West Bengal, India. These museums, owned and managed by the local ethnic communities themselves, are freely accessible to all and play a major role in safeguarding and promoting their vanishing folk traditions, making them visible in today's world.
Art For Life, a flagship project of my organisation Banglanatak dot com, aims to build inclusive and sustainable rural economies by empowering traditional artist communities in India. The process involves revival and revitalisation of folk art forms and the artists. Realising the importance of reinstating a community's pride and ownership of their own cultural heritage, the project initiated the development of active physical community spaces in the form of folk art centres and museums inside the artists' villages. Today, there are 11 such community museums, built in partnership with various host communities in rural Bengal.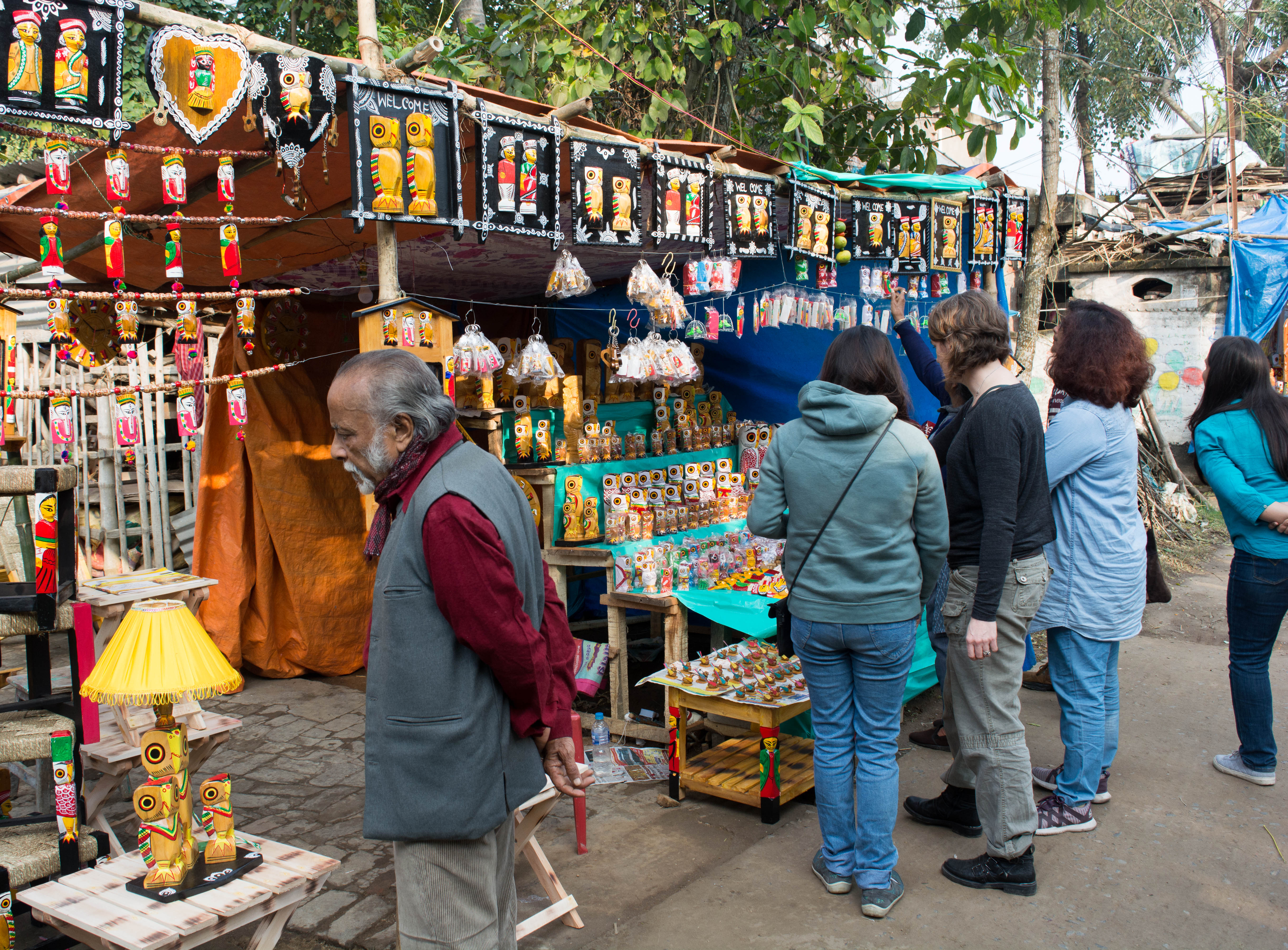 Villagers at a local Wooden Doll Festival
About the Community Museums
In a conscious shift from conventional museum displays of dominant cultures, we wanted to collaboratively set up more equitable and inclusive spaces celebrating local folk histories and cultures, with community participation and ownership. Context setting in terms of their history, tradition, social significance, and collective understanding was vital to this process. The conceptualisation and designing thus focused on the community's own knowledge, interpretations, life-stories, and collective memory of their shared heritage. The underlying idea was to recognise and present their oral cultural history, lifestyles, indigenous knowledge, and the evolution of their local folk art practices and diversity, as remembered and narrated by the folk artists. The exhibits include images, products, craft tools, traditional accessories, and narrative documentations in both the local language and English.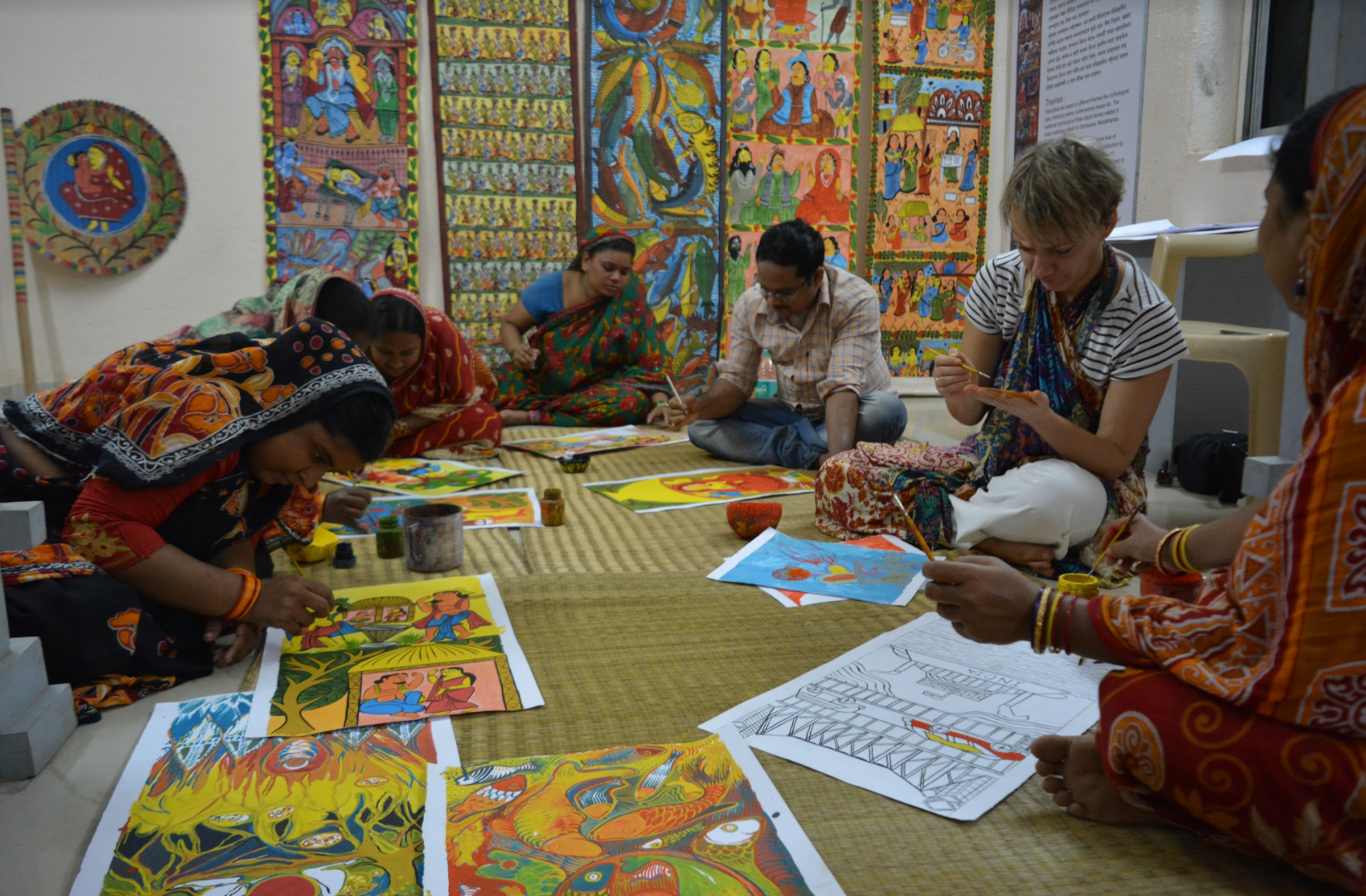 A Patachitra workshop at the folk art museum
Naya village (West Medinipur) is home to the traditional folk art form of scroll painting and story-telling. Stories are painted on long scrolls by the painters (aka Chitrakars), who gradually unfurl them while singing the stories. In the past, this unique art form was used to entertain village elites with visual storytelling. With changing times and loss of patronage, the practice declined, and the tradition got devalued. The Patachitra community museum, which showcases some exemplary works of legendary Patachitra artists and documents their unique and traditional knowledge of making natural colours from local plants and materials, has helped restore their identity and boost the visibility of their culture.
Another interesting and unique craft of South Bengal is Dokra, the art of making figurines and jewelry using a now near-extinct metal casting technique. Bikna village in Bankura is home to almost 300 craftspersons traditionally engaged in this metal craft. Dokra is characterised by a primitive simplicity and rustic beauty that makes it special. Despite having received a Geographical Indication (GI) tag, hardly anyone knew about the Dokra artisans and their abode. The community museum in Bikna preserves and showcases the cultural history of this age-old craft and their makers by thoroughly documenting the complex metal crafting process that the communities practice even today.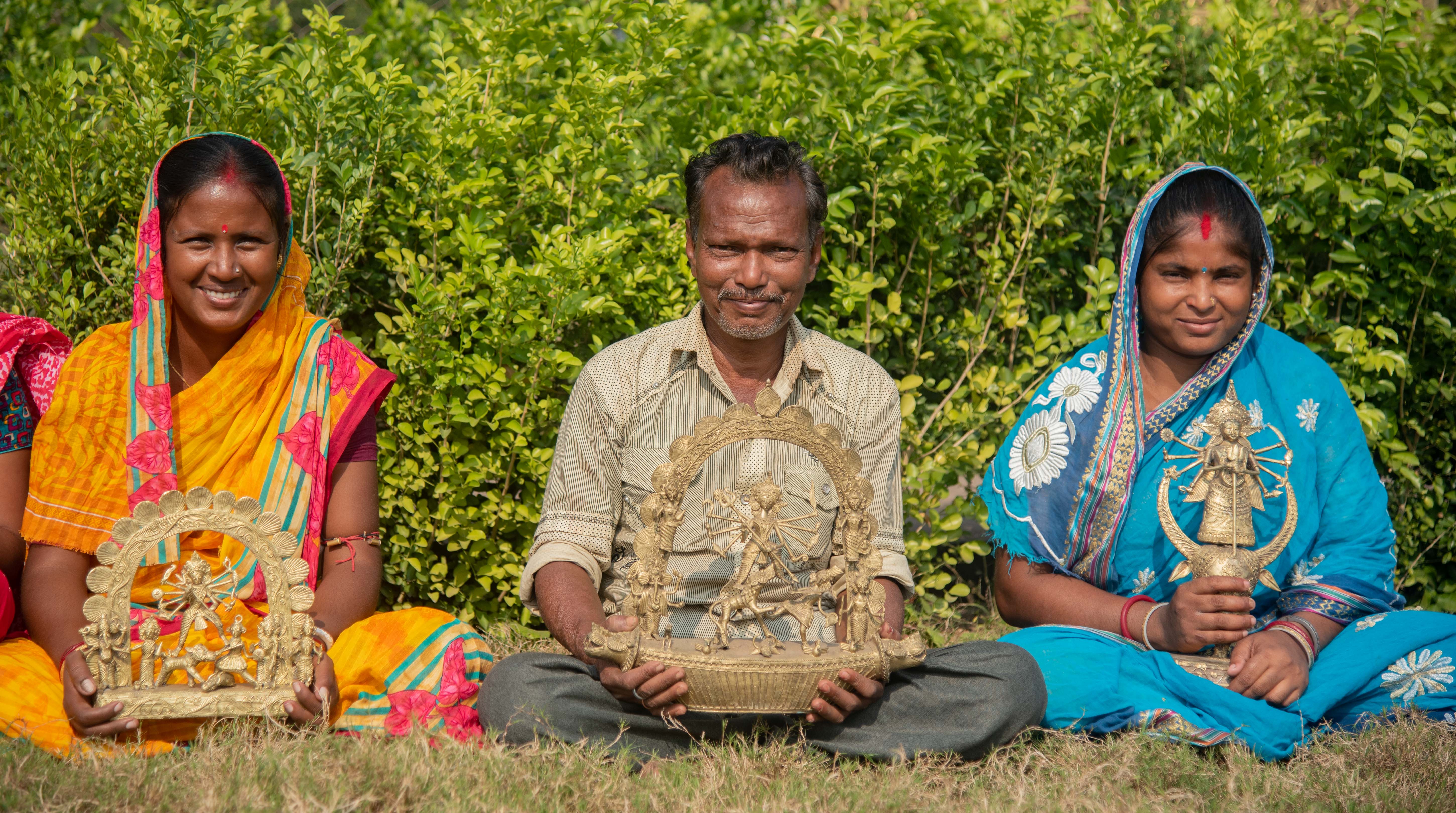 Dokra Craftspersons
Wooden Masks of Kushmandi (Dakshin Dinajpur) are a treat for the eyes due to their different shapes, sizes, and bold colours, but their most striking aspect is spiritual. They are used in the traditional Gomira folk dance practised by the Rajbangshi community across rural North Bengal. The dancers, wearing wooden masks of different deities, are believed to go into a trance while dancing, taking on the identity of the mask. Kushmandi is home to around 250 Gomira mask makers. Their community museum showcases the history, process, evolution, stories and diversity of this craft and the work of local artists.
Other notable museums include the ones on tribal folk dance of Chau, Natungram Wooden dolls, Madur craft, and folk music.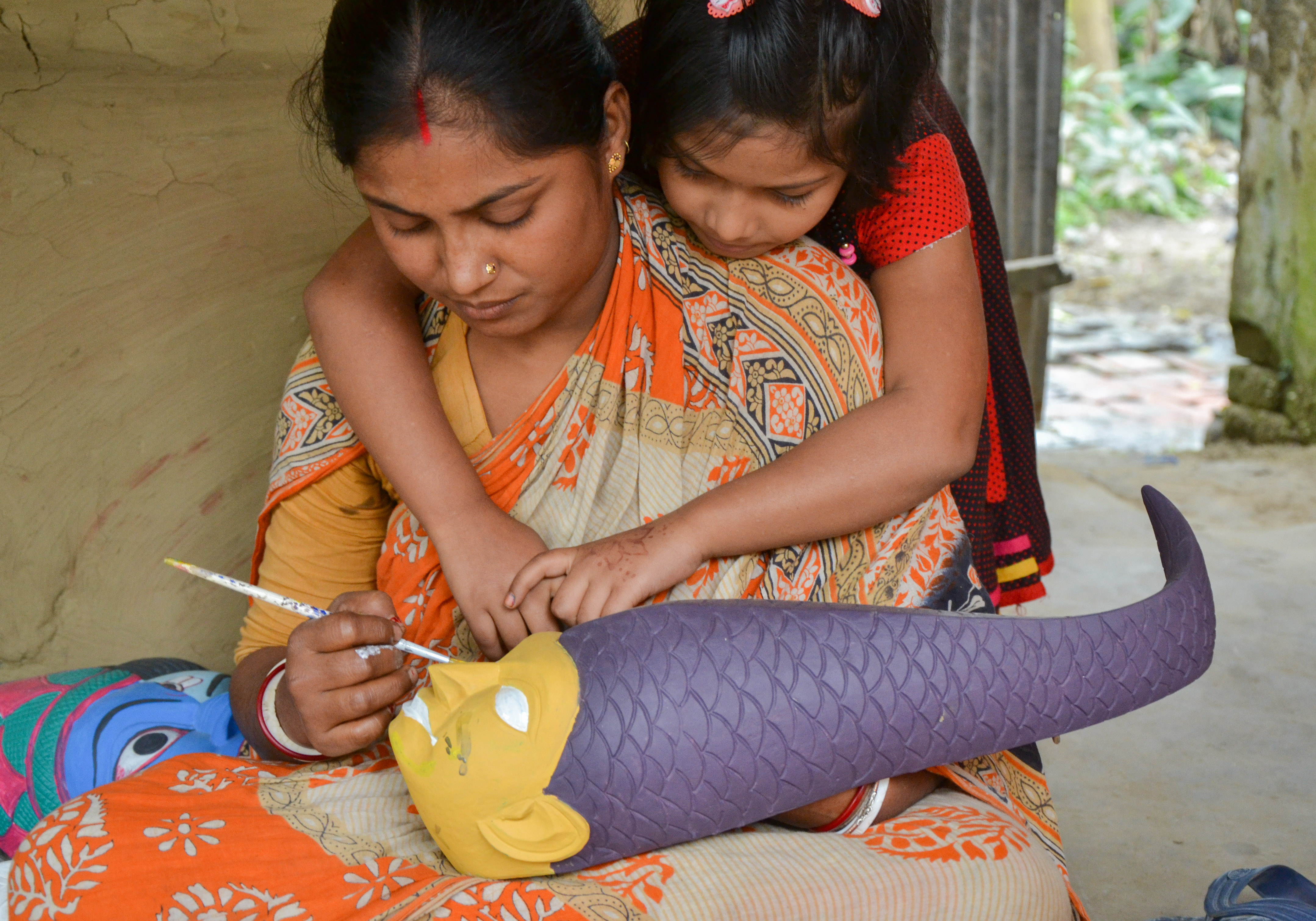 A Kushmandi mask-making artist at work
Museums as Collective Community Spaces
Located at the heart of the villages, these museums provide an integrated, active, collective artists' space for work, practice, learning and exchange, innovation and co-creation, research and development, curated exhibitions and artist interactions. They even have basic rooms for visitors to reside in. These museums serve as a shared space for the community, especially the youth, to rediscover their own culture. For senior practitioners, the primary keepers of their cultural memory, these spaces have reaffirmed and strengthened their collective cultural identity that had been suffering devaluation and marginalisation. They have generated pride among the communities, garnering newfound respect and interest in their collective heritage. They reflect the importance of indigenous cultures not only in terms of assets for economic growth, but also as a means to achieve satisfactory intellectual, emotional, and spiritual existence, adding to the well-being of the tradition-bearers.
Annual village festivals are organised by these communities around these museum centres, attracting tourists and collaborators from all over the world. The villages reverberate with the energy and creativity of the local artists. Visitors can join workshops with the folk artists, and photographers, travel writers, and students get to freely interact with them in their own habitats. In effect, the village itself becomes a living museum during these festivals.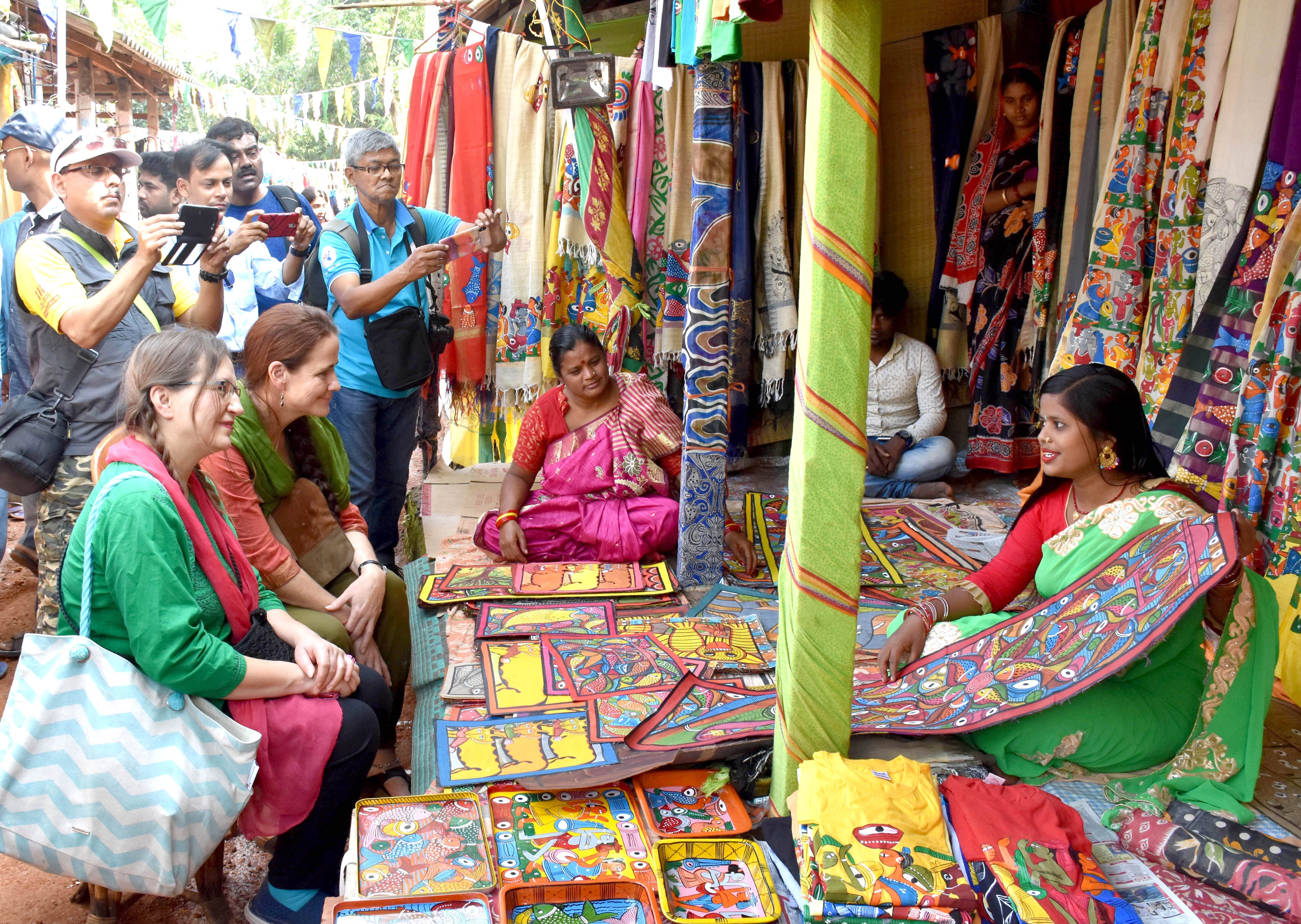 Annual Patachitra Festival
Going Digital
In the wake of the COVID-19 pandemic, we started equipping these folk art centres and museums with IT and internet facilities, and training community youth to use digital media effectively to reconnect with the world. This has generated opportunities for them to showcase their heritage and culture through online workshops and events. Heritage education classes with children, often from halfway around the world, have been particularly popular. In 2020, we also partnered with Google Art and Culture to create curated digital exhibits and stories drawing from our museum research and archives, using visuals, audio, video, and texts. These stories can be freely accessed by all, with exhibits carrying the names and details of the community artists and highlighting the habitats, exclusivity, and indigenous values of these cultures. The digital museum space for these minority cultures have provided new and exciting ways of presenting, preserving, and discovering people's cultures. Future plans include curating virtual tours of these museums, folk art centres and the villages for digital explorers.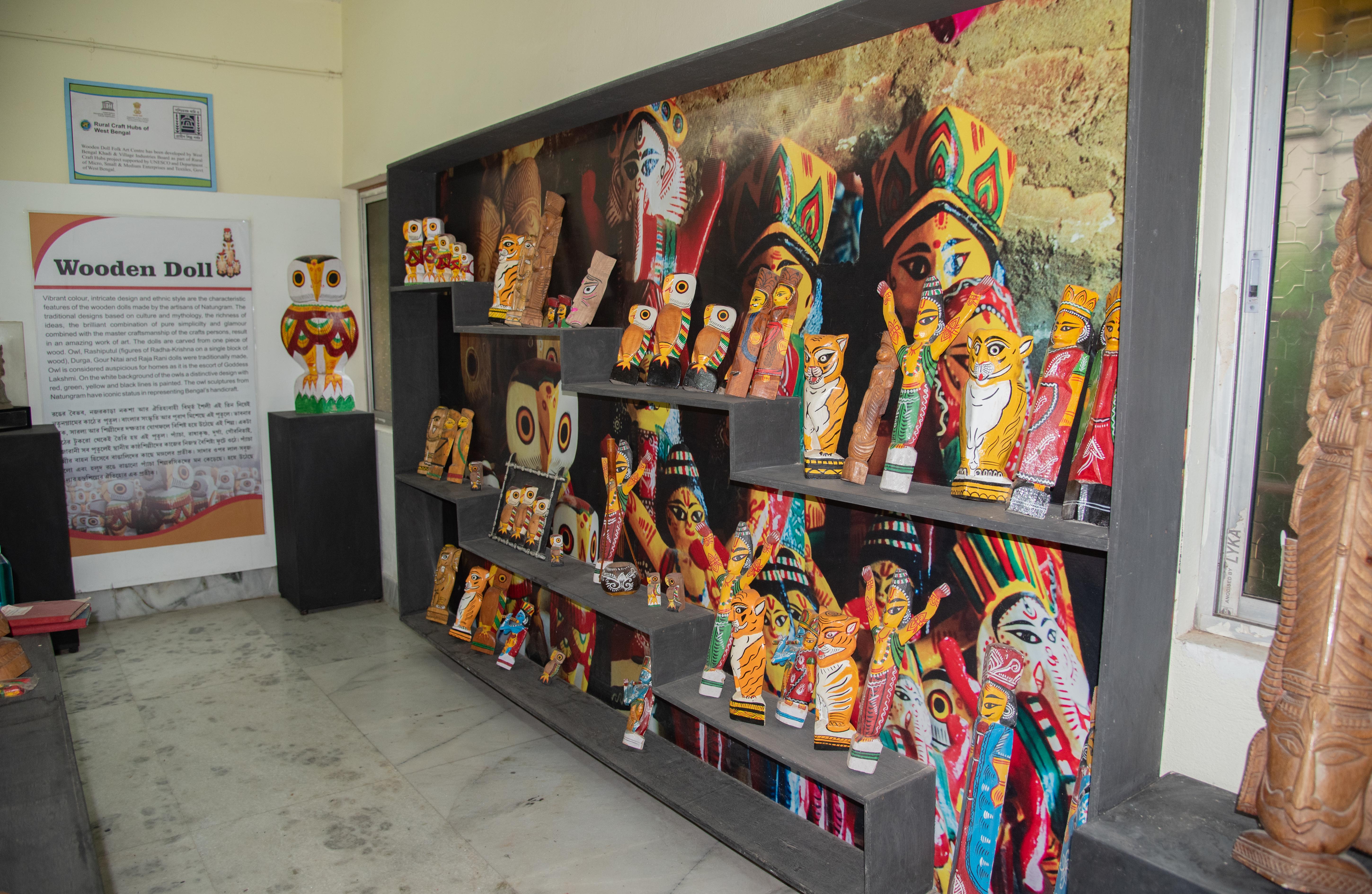 Wooden Doll Community Museum
About the Author:
Madhura Dutta is a development sector professional and a freelance writer working in rural India for more than two decades, specializing in culture-based sustainable development. She has a PhD from the School of Media and Cultural Studies, TISS, Mumbai and MA degrees in Sustainable Development, Staffordshire University (UK) and in Sociology from the University of Calcutta. Madhura is currently a co-director at Banglanatak dot com.