The Intersection of Art, Life and Nature in Indigenous Cultures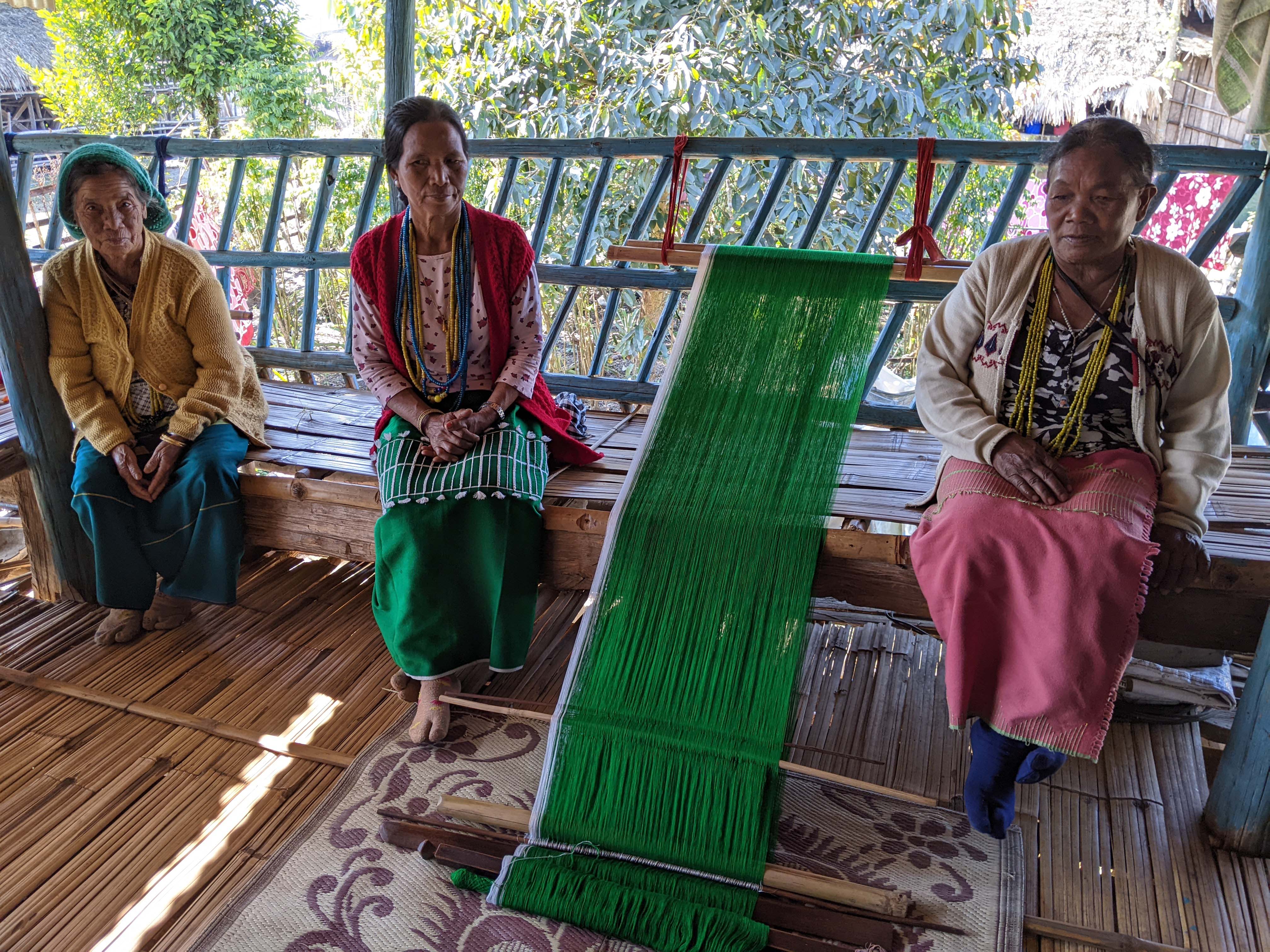 As part of culture360 recent Call for articles, Madhura Dutta uncovers traditional loin loom weaving of Arunachal Pradesh (India).
The integral relationship between man and nature has been cardinal to indigenous cultures from time immemorial. Local biodiversity has invariably been featured in their oral traditions, mythologies, religion, and ways of life. Dependence on natural resources for sustenance naturally led them to develop their own unique spiritual and cultural frameworks to protect and nurture them. As man is immanently creative and equipped with the power of imagination, their deep-rooted relationship with nature has also found expression in art, folk tales, crafts, rituals, and music.
The Habitats of Arunachal Pradesh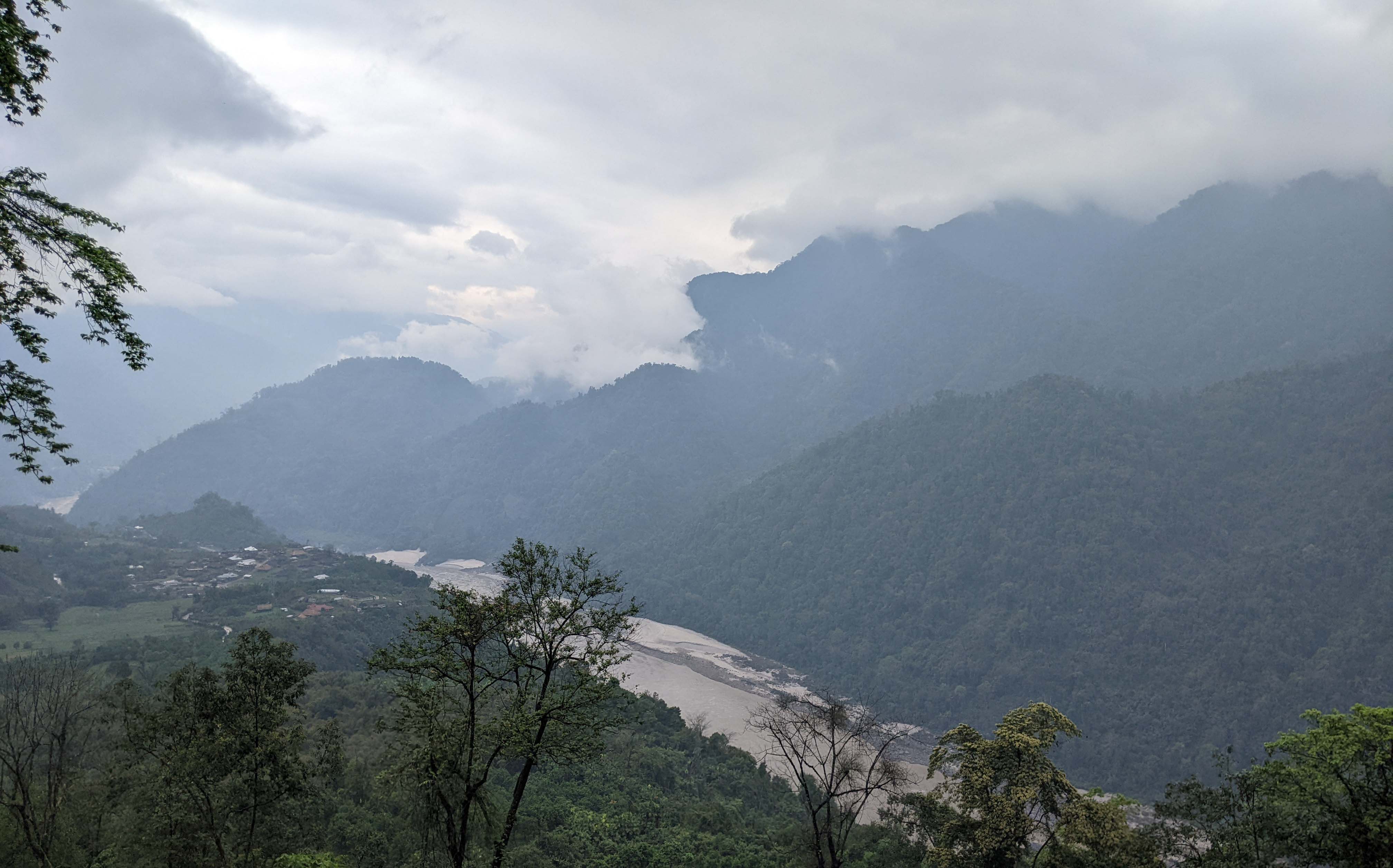 1. Landscape © banglanatak dot com
India is home to a multitude of indigenous communities that comprise more than 8% of its total population. The folk cultures of these communities are as diverse as their spread and character, shaped around the country's rich natural habitats that they inhabit. Arunachal Pradesh, one of the largest habitats of indigenous communities in India, is endowed with rich biodiversity that includes dense forests, gorgeous river valleys, lofty snow-capped mountains, and high mountain passes interspersed with rivers and lakes. Spread across the seven prominent river basins of Dihing, Lohit, Dibang, Siang, Subansiri, Kameng, and Tawang are the sparse habitats of more than two dozen distinct indigenous communities whose lifestyles and cultures are integrally linked to the immensely rich biodiversity of the state. The people of Arunachal have shared their habitats with wildlife from age-old times and are proud of their rich ethnobiological diversity. Their overarching relationship with nature is reflected in their lifestyle and culture through creative applications, aesthetics, and objects, making art inseparable from their daily lives.
Loin Loom Weaving
Traditional loin loom weaving of Arunachal Pradesh is one of the most famous cultural traditions of India, and a legacy passed on from mother to daughter over generations. This weaving technology of loin looms, also referred to as back-strap looms, is one of the oldest methods for weaving cloth in the history of civilization.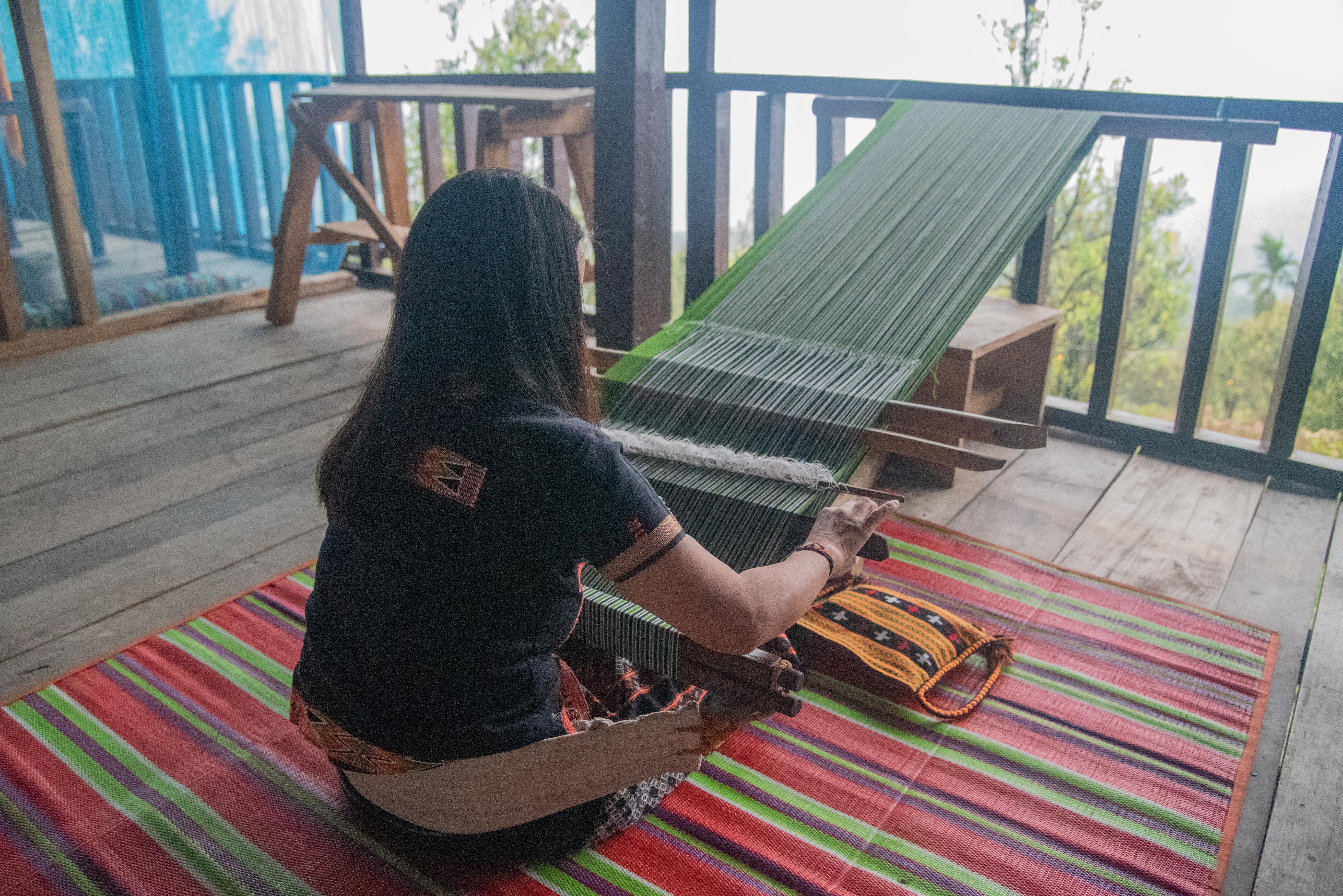 2. Idu Mishmi woman weaving on loin loom © banglanatak dot com
Every village household has at least one loom. A continuous warp is stretched between two parallel bamboos, one of which remains tied to a post while the other is held by a strap worn around the weaver's waist. The weaver moves backward and forward while weaving to regulate the tension of the warp with her body. Women of all communities are highly skilled in weaving different types of fabric, patterns and designs for female and male dresses, and most weave their own fabrics and clothes even today. The back-strap looms are usually fixed in their balconies where they weave in between household chores. Their attires include colourful wrap-around skirts, jackets, coats, and head coverings. Every community has its own repertoire of designs, motifs and colours which are evocative of its unique cultural and social identities. Inspired by their local biodiversity and nature, the motifs and patterns include representations of flowers, tigers, elephants, rivers, the sun, and the mountains. They have a brilliant sense of colour and can make complex designs with their looms and hand-knotting techniques. Their colour palette includes red, maroon, yellow, green, white, pink, black, and blues. In the past, a more limited range of colours was used, acquired from natural sources, but that knowledge is lost today.
| | |
| --- | --- |
| | |
3. Idu Mishmis © banglanatak dot com 4. Singpho weave © banglanatak dot com
Indigenous Architecture
Another area of artistry of these indigenous communities is their beautiful architecture. With their rich traditional knowledge of local forest resources, they have mastery in constructing their own houses with bamboo, wood, stones, thatch, Toko leaves, and jungle banana leaves. The raw materials are collected and well seasoned beforehand to ensure durability and strength. These traditional houses serve as classic examples of sustainable architecture made fully with backyard biodiversity materials, having zero wastage, and without using any industrial produce.
5. Galo Hause © banglanatak dot com 6. Stone houses of the Monpas © banglanatak dot com
7. Interior space of a Memba house © banglanatak dot com 8. Adi houses © banglanatak dot com
This vernacular architecture is climatologically efficient. While the basic features of local architecture are more or less the same — stilted houses, bamboo walls, wooden floors, thatched roofs, stone houses, etc. — every community has its own unique distinguishing features. For example, the Mishmi communities typically live in 'long houses' built to accommodate all members of their extended families separated by their exclusive cooking hearths, one for each family unit, and joined together by a long corridor. Typical attributes of the different architectural styles include double thatched roofs, spacious balconies, bamboo and wooden staircases, beautifully carved stone house windows, and lovely interiors with high aesthetic and functional values. Their local architecture is just right for the local landscape and topography, the people and their lifestyles, adding to the picturesque beauty of the place.

Bamboo and Cane Crafts
Both men and women are highly skilled in making bamboo and cane utilities for their daily use. The diversity of woven patterns, shapes, and sizes reflects the extraordinary craftsmanship of the communities.
9. Bamboo and cane craft of the Galos © banglanatak dot com 10. Hand weaving of basketry © banglanatak dot com
They craft a wide range of baskets and containers for storing rice, grains and seeds; for collecting forest produce; for cooking; and for carrying food and brew. Swords, machetes, knives, bows and arrows are essential to their traditional hunter-gatherer identity, so their hilts, quivers, and cases are adorned with exquisite bamboo and cane weaves as per individual likings. The intricately woven hats, shoulder belts and waist belts for carrying hunting equipment, different kinds of armours and backpacks, can easily outshine many lifestyle fashion brands.
The social order of these indigenous peoples is anchored in the tenets of bio-cultural traditions, biodivinity, minimalism, and ancestral knowledge passed on through generations. Their pride in their cultures is naturally expressed through their lifestyles. Everything is handmade and directly connects to local materials, needs, relevance, and sensibilities shaped by nature and their age-old relationship with it. The innate charm of their apparently ordinary lives comes alive in their everyday art, manifesting itself in the beautiful textures of their cultural practices and belief systems, respect and love for nature, and collective identities of shared habitats.
Cover Image: A loin loom fixed at a balcony of the Galos © banglanatak dot com
---
About the Author:
Madhura Dutta is a development sector professional and a freelance writer working in rural India for more than two decades, specializing in culture-based sustainable development. She has a PhD from the School of Media and Cultural Studies, TISS, Mumbai and MA degrees in Sustainable Development, Staffordshire University (UK) and in Sociology from the University of Calcutta. Madhura is currently a Director at Banglanatak dot com.