Buffer Fringe Performing Arts Festival 2021 | Interview with Ellada Evangelou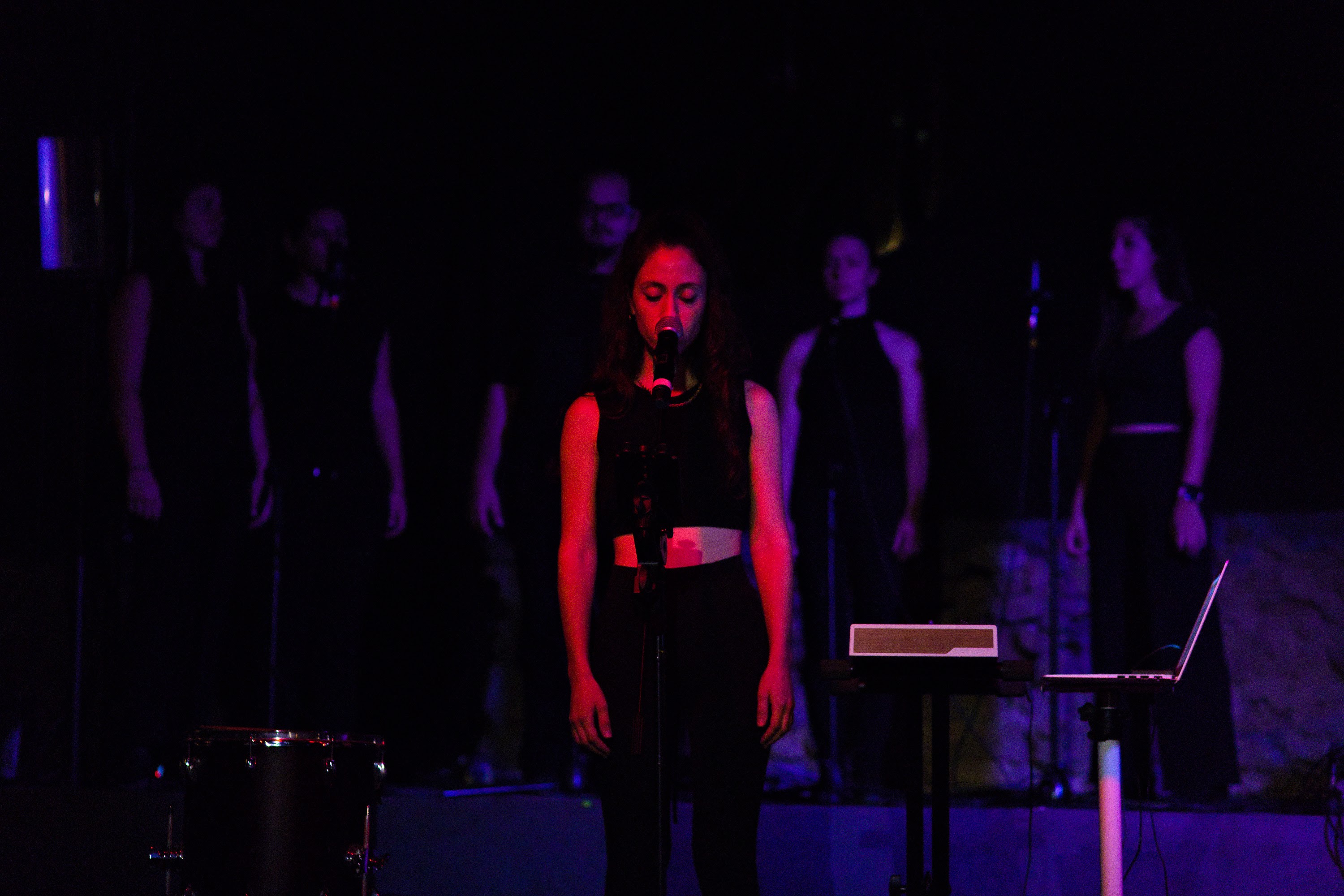 The ​​​​​​Buffer Fringe Performing Arts Festival 2021 was a 3-day event organised by the Home of Cooperation that ran from the 8th to the 10th of October in the buffer zone in Nicosia, Cyprus. Centered around the theme of Displacement, the festival challenged the physical and artistic barriers faced by artists, while overcoming preconceived notions of these groups and their ideas and practices.
As part of the media partnership with Home for Cooperation, we have interviewed Ellada Evangelou, Artistic and Cultural Director of the Buffer Fringe Performing Arts Festival. In this interview, Ellada shares the inspiration behind this year's event, the challenges faced in its execution, and her vision for the future of cultural exchanges in the post-Covid-19 era.
What was the inspiration behind the theme of Displacement and how have the artists responded to it?
War and migration have shaped our collective and individual understanding of displacement, but many of those stories remain hidden, as there are no spaces to share them. In the past two years, the global conversation around displacement has changed because of COVID and the impossibility of movement, so we needed to also make space for those stories to be told. We are happy to have managed to close the 2-year circle, with artists coming in with new, developed, transitioning works, from their initial proposals in early 2020 to presenting their work in 2021.
The inspiration behind the theme came about due to our collective interest as Festival organisers, to work with artists to understand our world better, and to continue to provide the space for creativity to be part of a social conversation. It also came as a follow-up to our 2019 theme, when the Buffer Fringe invited artists to explore physical and mental in-between spaces, starting from our own Buffer Zone which is defined by its harsh reality on our home island of Cyprus. As Displacement became such a large part of our lives in 2020 and in 2021 and as people living in Cyprus, in the Mediterranean, and in Europe came into focus, so too did the human experience reflect that practice.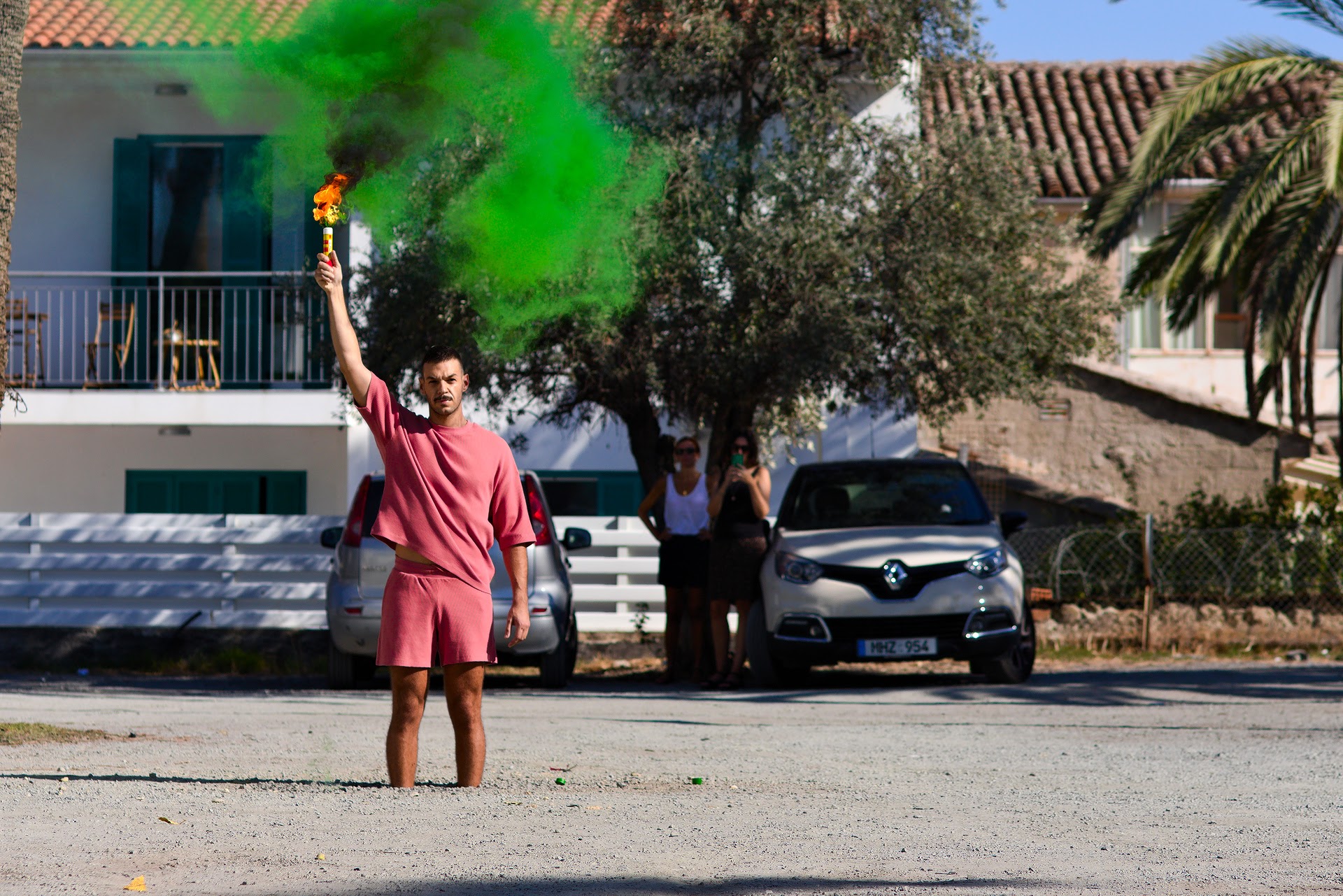 "DAME" Drive-in performance by PASHIAS | Photo by Sergio Vaccaro
For this year's edition of Buffer Fringe, what are some of the challenges you faced because of the pandemic, and how did you address or overcome them?
This was our second Festival during the pandemic and we had also carried through in 2020, which was a challenging but rewarding feat. For the 2021 edition, we took with us the main lesson from 2020 which was that uncertainty is a guarantee and that we needed to find other ways to communicate during the festival and to work around the challenges. In 2020 we had started two pilot programmes: our participatory blog, where artists were encouraged to contribute their work in progress, as a means to share their journey with the public, as well as the Thinking Partners programme, the pairing of the artists with individuals from the creative and academic sector from all around the world that were part of the intellectual and moral support mechanism of the artists. Moreover, the Thinking Partners, allowed the artists to participate in the discussion around Arts, Culture and Conflict Transformation, as the programme was carried out with the support and in partnership with IMPACT, the global platform for the ACCT field. In 2021, other than continuing with these two schemes, we also decided that it was time for us to open up the conversation with partners and collaborators, and we deepened our connection with local and international partners, with whom we shared curation and co-produced work. Those were Magusa Kale Pasaji (Famagusta, Cyprus), SPACE and the European Cultural Foundation's Solidarity Fund (Netherlands), Performing Arts Center Mitos (Limasso, Cyprus), Animafest (Cyprus) and IMPACT.
Have we learnt something from the restrictions and limitations imposed by Covid-19 to cultural mobility? What is the role that festivals such as Buffer Fringe play in this context?
This is an interesting question, and festival organisers all around the world have been agonising over it for the past two years. One thing we do know is that it makes things a lot harder. It pushes us out of our comfort zones and forces us to be creative and find solutions that will do two things: allow artists to shorten their work and allow audiences to interact with that work. The digital format had been tested time and time again during these past two years. We had even live-streamed two performances from Gallatin Galleries in New York in 2020 when two artists could not travel to the island and perform there.
But other than that, it has also taught us to be patient and has inaugurated a new relationship with time. In 2021 we hosted 4 productions that were supposed to be shown in 2020, and we asked the artists not to 'hide' that fact, but we entitled them 'transitioning' pieces and we honoured their difficult trip over the past years, to reach a point where they could be shown and shared.
We are proud of all the artists who have taken these trips with us and who have kept going despite the disheartening social and financial conditions created by the pandemic.
For the role of festivals, we are also engaged in collective thinking with our new collaborators at The Festival Academy. In 2021 we hosted the first mini-conference, a Hybrid Forum of festival organisers at the Home for Cooperation and online, and we plan to extend it to a full conference in October 2022 to continue that conversation.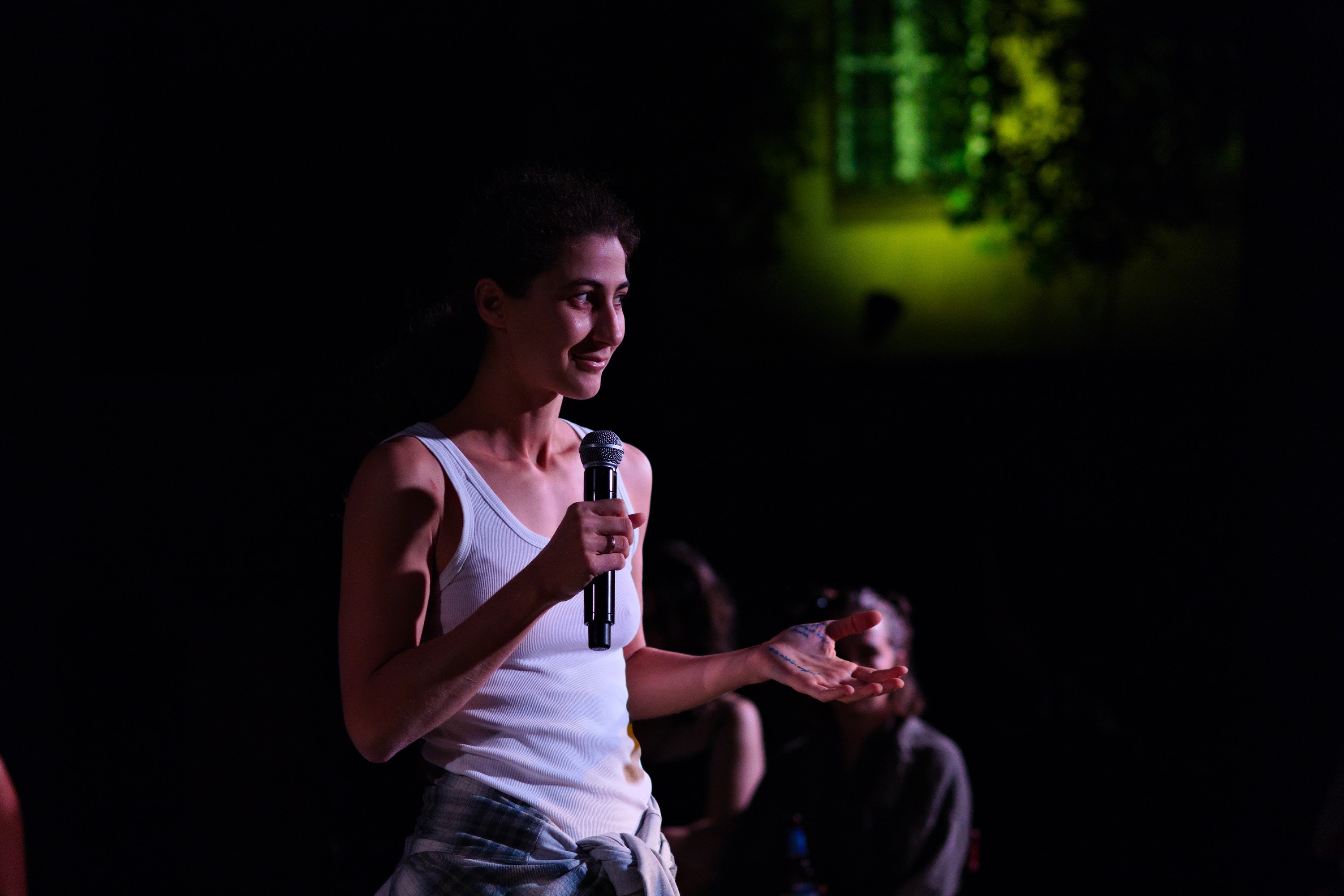 Rehearsing the Revolution | Photo by Sergio Vaccaro
What is your vision for the future of cultural exchanges in the post-Covid-19 era?
I do hope that we will come out of these trying times and retain a part of the sense of urgency that came about during the crisis and the urge to create and explore new ways to come together in the performing arts. I doubt that the digital will ever replace the 'live', but
what online communication has done was to partially democratise access to the performing arts, access to conversations and to circles that an artist or festival from a small community would not have access to normally.
As with so much in our lives and the arts, where you go and what you do at the end of the day has little to do with talent or innovative thinking or out-of-the-box creativity, but with access, being in the right places, getting access to funding and to prominent institutions. The pandemic and the widespread use of online communication have allowed marginalised individuals and groups to exist in the virtual sphere with more 'prominent' and 'visible' ones, and this created a new space of possibilities. Part of that spirit that can potentially counterbalance elitism in the arts, is what I wish we can keep.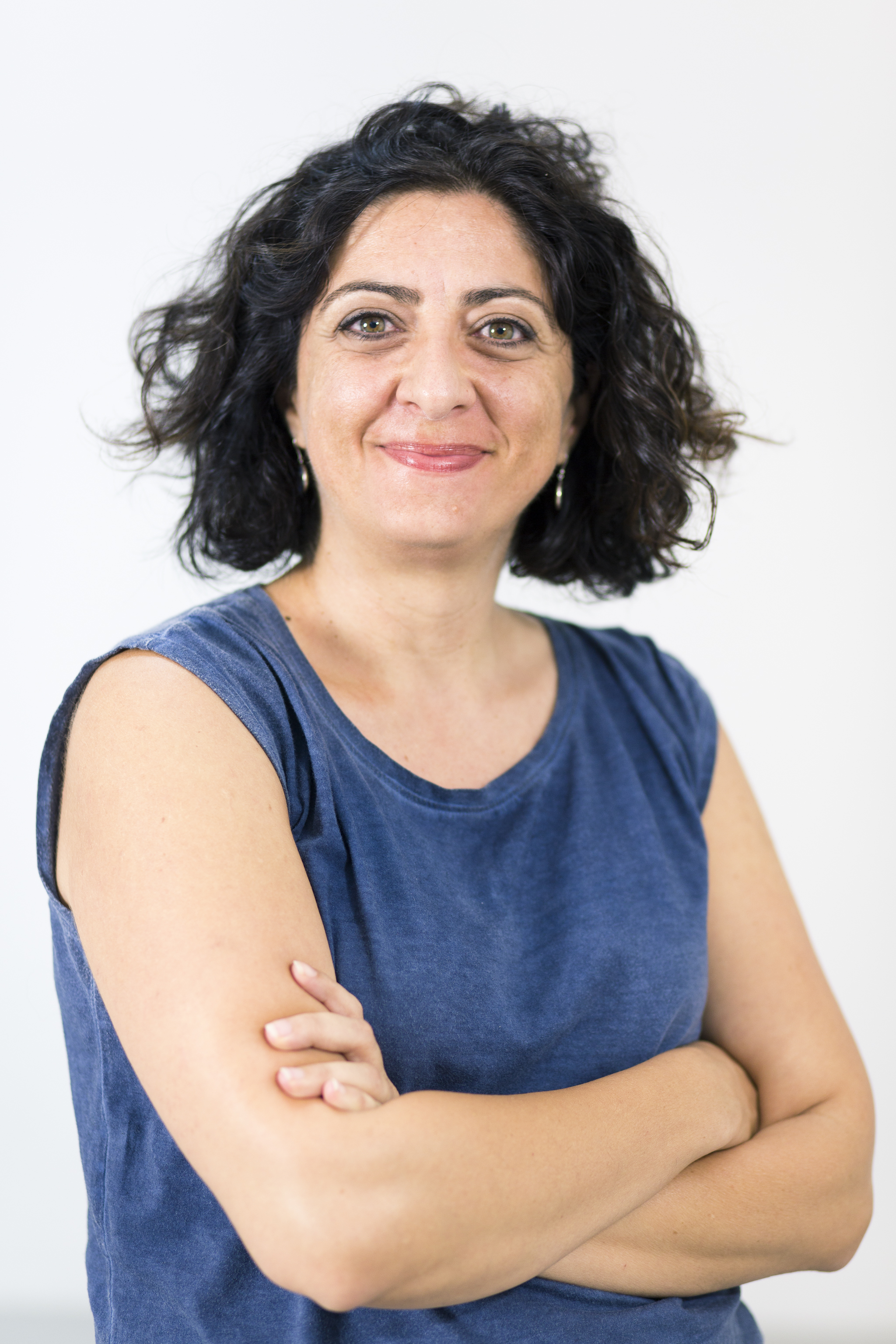 Ellada Evangelou, Artistic and Cultural Director of the Buffer Fringe Performing Arts Festival