Institute for Foreign Cultural Relations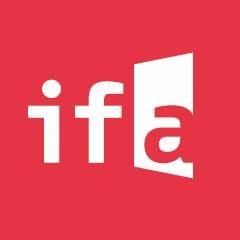 The ifa (Institut für Auslandsbeziehungen) is committed to a peaceful and enriching coexistence of people and cultures worldwide. It promotes art and cultural exchange in exhibitions, dialogue and conference programmes. As a competence centre for foreign cultural diplomacy, the ifa is connecting civil societies, cultural practices, art, media and science. It initiates, moderates and documents discussions on the international cultural relations.
ifa supports artistic and cultural exchange in exhibition, dialogue and conference programmes, and it acts as a centre of excellence for international cultural relations. It is part of a global network and relies on sustainable, long-term partnerships. ifa is supported by the Federal Foreign Office of the Federal Republic of Germany, the state of Baden-Württemberg and its capital Stuttgart.
IFA is committed to achieving peace and justice, protecting human livelihoods and cultures and attaining a united Europe. Human rights, freedom of expression and freedom of information are objectives and cornerstones of their work. Dialogue reveals cultural diversity as a valuable asset. Dialogue involves all people equally in shaping our future – in a process that is both open and meaningful. That is why they strive to bring people closer together.