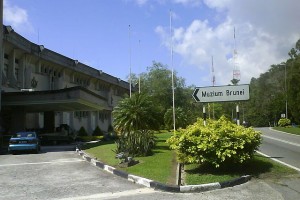 The Brunei Museum was established in 1965, with its first administrative office at the Civic Centre in Bandar Brunei, now known as Bandar Seri Begawan. Given approval for a building of its own, a location was selected for the museum, on a historical site, at Kota Batu about 5km from Bandar Seri Begawan.
The construction of the building commenced in 1968 and was completed in 1970. It was officially opened on February 29, 1972 by Her Majesty Queen Elizabeth II of United Kingdom. The imposing building stands on a hill top commanding a picturesque view of the Brunei River. Its ornate engraving and patterns are based on traditional Malay designs inspired by the Tomb of Sultan Bolkiah, the Fifth Ruler (1473-1521 A.D.) of the Brunei Sultanate. Exhibits of artifacts and specimens demonstrate the research interest of Museum staff in such diverse areas as Archaeology, Ethnography, History and Natural History. As a cultural and educational showcase for Brunei Darussalam, the Brunei Museum attracts both local and foreign visitors. The objects chosen are masterpieces from various museum collections under the Brunei Museums Department namely the Brunei Museum, Malay Technology Museum and Art Gallery. Copyright of VCM
Image courtesy of Wikipedia.