transmediale 2012 | open call for works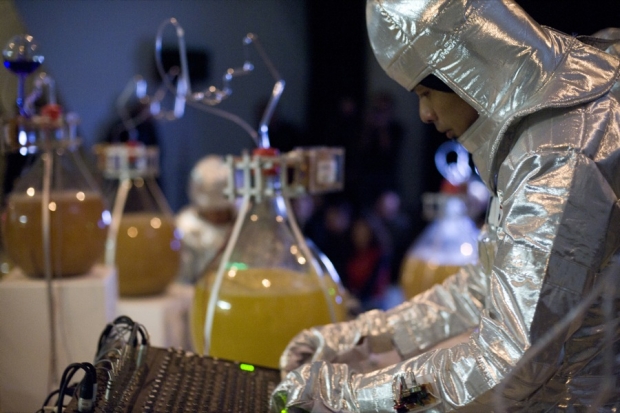 [caption id="attachment_13180" align="aligncenter" width="620" caption="transmediale 2011"]
[/caption]


transmediale 2012: in/compatible
The transmediale thematic call for works is now open! tm.12 postulates that incompatible beings drive the logic of contemporary cultural production. We understand in/compatible beings as aesthetic things and processes that do not necessarily connect on the terms we are used to.
CONCEPTUAL FRAMEWORK
The too new and the too old are two sides of the same coin: nothing ever works perfectly. The simultaneous monumental failure and global ubiquity of technology seems to move us beyond the polarity of utopia and dystopia. Instead we are entering the blurred environments of the unadapted, monstrous and "uncorporated". These increasingly unclear tension-states between open and closed, military and civilian, idealistic and commercial are giving rise to a new kind of "techno-cultural uneasy". The in/compatible in this context is a singular moment where it becomes evident that certain technologies or models of thought are not possible to use in combination. Artists, practitioners and thinkers engage this imperfect nature of technology. They give it a cultural shape, developing a critical reflexivity that responds to the ever-changing social and economical terrains of the networked world.
More than a failed operation, incompatibility is a matter of management and ultimately governance of the inherent differences and heterogeneity of network culture. This means that the incompatible is not the outside of networks but it is an internal and constant state of disruption which is totally necessary in order to enable the "open" state of the never completed system. Allowing for incompatibility in other words is central to the capitalist logic of always being "open to business", predicated on the constant integration of new areas of production. But this integrative process is increasingly invisible to the user and even the producer – especially the "pro-sumers" and "prod-users" of Web 2.0 or cloud-computing. Contrary to this invisibility the festival wants to raise the question of what happens when incompatible beings are brought to the fore rather than hidden away in the dark underbelly of digital culture?
In the common social imaginary of the global network society and culture it is increasingly hard to discern that which does not actually connect, differences that matter beyond being exoticised, integrated or disarmed through the politics of particularisation. Only certain points of voluntary or involuntary break-down and disconnection, involving unfamiliar and strange reversals, allow some of this heterogeneity of net culture to be re-articulated. Such reversals may involve going beyond the digital and even the network as the ultimate horizon of cultural production, exploring new forms of transversal materiality and temporality.
SUBMIT YOUR WORK: Deadline: 31 August 2011
With the conceptual framework of in/compatible we are looking for artistic works in any genre and format that either explicitly or in more subtle ways engage the incompatible nature of contemporary technological cultures. We imagine that these works rather than anticipating resolution, address, accentuate and invest in the unresolved tensions across translocal media practices and systems. In particular we are calling for works that take us by surprise by not quite "fitting in".
The selected works will form part of our exhibition as well as of our screening, performance and conference programme. While there will be no transmediale Award this year, works may be considered for the Vilém Flusser Residency Programme, taking the form of a 2 months artistic research residency run by tm and UdK in Berlin.
Works taken into consideration
for the programme can be
related to the following keywords and areas:
dissensual aesthetics, hacktivism, operating systems, speculative realisms, queer technologies, strange ontologies, displacements, ecologies, psychedelia, glitches, spam, media-archaeologies, technological obsolescence, haunted media, reverse remediations, the untimely, erotics, ambivalences, tools, law, anxieties, confusions, violence, obscurities, junk, addictions, restlessness, destructions, attractions, accidents, isolation, punk, surrealisms, aggressiveness, the uncommon, frustrations, spiritualities, risks, dubious calculations, psychosis, uneven structures, crimes.
PROCEDURE
Applications are accepted from individuals, groups, or collectives as well as recognised organisations or individuals acting on behalf of entrants. There are no entry fees for the Call for works. Applicants must agree to the Conditions of Entry, and incomplete or late entries [Deadline: 31st August 2011 (24:00 CEST / UST+2)] will not be considered. Entrants must register and use the online application form only (additional hardcopy or preview materials may be sent by post/courier ONLY as backup information, not in lieu of the online applications themselves. Hardcopy materials will not be returned unless 20 EURO cash has been included for this purpose). Notification of selected works will be made in October 2011.
tm.12
will mark the
25 year anniversary
of the festival, to be reflected in a programme that both looks back at the festival's role in the past and at the same time redefines what it could be in the future. Born as VideoFilmFest in 1988, the festival was from the beginning an outlet for the kind of hybrid artistic and activist practices that did not fit in at the regular film festivals. In this sense the in/compatible theme is also a reflection on the festival as such, always searching for new questions and formats.
——————————————————————————–
This opportunity came via
Artservis
(Thanks!)
——————————————————————————-