TRANScuratorial Academy Mumbai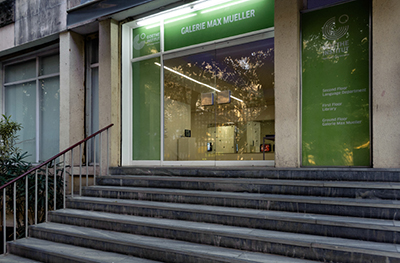 Open call for TRANScuratorial Academy (TCA) Mumbai, an initiative of KfW Stiftung in collaboration with Goethe-Institut.  TCA takes place September 18-22 2017 in Mumbai and is open to up and coming cultural practitioners and scholars with curating experience. Theme is "Hospitality".
The TRANScuratorial Academy (TCA) is an initiative of KfW Stiftung with the aim of advancing international knowledge transfer, networking and the development of the transcultural and transdisciplinary curatorial discourse. Directed by Beatrice von Bismarck and Benjamin Meyer-Krahmer, the TCA brings together emerging curators in a mobile format, focusing on key issues which gained urgency within contemporary curatorial practice under the conditions of globalization. Mumbai is the location of the second chapter of the TCA, the first one was Berlin in May 2017.
Application deadline:
June 14
Goethe-Institut / Max Mueller Bhavan Mumbai
K. Dubash Marg, Kala Ghoda
400 001 Mumbai
India
The keyword of the TCA Mumbai is "Hospitality".
By inviting Mireille Rosello, Professor of General Literary Studies at the Faculty of Humanities of the Universiteit van Amsterdam, TCA follows its aim to introduce vital terms from neighboring disciplines to the curatorial discourse.
The five-day program consists of a conference, workshops and field trips. The participants will have the chance to discuss the central topic with internationally renowned experts. In addition they present selected projects to the public and exchange their experiences and research amongst each other. Encounters and discussions with protagonists of the local curatorial scene are a further important part of the TCA. Alumni of KfW Stiftung play a vital role in the TCA acting both as participants and hosts.
The
TRANScuratorial Academy
is a project by
KfW Stiftung
in collaboration with local partners and institutions. The TCA Mumbai is realized in collaboration with
Goethe-Institut Max Mueller Bhavan Mumbai.
Who can apply?
Eligible applicants are up-and-coming cultural practitioners and scholars with a significant theoretical approach to and some substantive experience in curating exhibitions and/or related projects. Their application should document the ability of a critical reflection with regards to the conceptual framework of the TCA and show a distinct interest in current debates. The applicants should have a good level of spoken and written English, and should feel comfortable engaging in discussions in English. There is no age restriction.
KfW Stiftung covers the costs for travel and accommodation as well as per diems for the selected participants.
Application procedure
Application materials contain:
–Motivation letter containing description of current theoretical research and curatorial project(s) and specific interest in the TCA Mumbai (max. 1 page)
–CV incl. contact details and e-mail address (max. 2 pages)
–Documentation of max. 3 projects (each max. 2 pages, incl. images)
Please note that the indicated volume of the application documents is mandatory. Larger files will not be accepted.
Please send your application electronically to
KfW Stiftung
. Dropbox and equivalent providers are not accepted. Please indiate any file with your full name.
For further inquiries please turn to Nicola Müllerschön, program manager arts and culture, KfW Stiftung:
nicola.muellerschoen@kfw-stiftung.de
.
About us
KfW Stiftung is an independent non-profit foundation set up by Germany's state-owned development bank KfW in 2012. Its mission in the arts is to stimulate intercultural dialogue in today's globalized world. It aims to advance exchange between those working in culture in Latin America, Africa, the Middle East and Asia by supporting local and international projects, such as residency programs in Berlin for artists and curators, writers' workshops for authors in the Middle East or artistic encounters in music and performance.
Photo: Goethe-Institut / Max Mueller Bhavan Mumbai