Trans Europe Halles | Managing Director job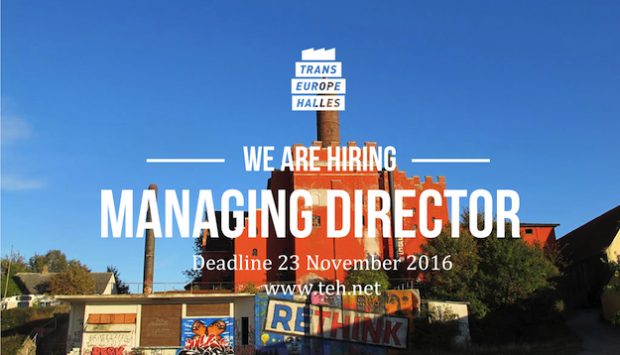 Trans Europe Halles is looking for a creative, motivated and experienced Managing Director to lead our growing network into the future. Full time job based in Sweden. The role of the Managing Director is to design and implement visions and strategies and to ensure the best possible conditions for Trans Europe Halles to thrive and develop as a network.
We are looking for a dedicated Managing Director with extensive leadership experience, preferably from the cultural sector or NGO sector at an international level. We believe that you are passionate about the arts and international cooperation and that you, just like us, are excited about supporting independent actors in transforming our industrial heritage into vibrant cultural spaces for the benefit of their communities.
We expect that you have comprehensive background in driving strategic and developmental work in a membership or partnership driven organisation. You are familiar with the governance principles of an association and know how to balance opinions and move things forward. You enjoy team work and know how to facilitate excellence in others.
We expect that you have ample track record of fundraising and running EU-projects as well as building strategic partnerships. You are familiar with national cultural policies in Europe and EU policies and priorities that affect the cultural sector.
Contract: 6 months probation period. Full-time.
Location: TEH Coordination Office, situated at the cultural centre Mejeriet, Lund, Sweden.
Employment starts 1 February 2017
Deadline for applications: 23 November 2016
See website
for full job description and conditions and how to apply