Sights, Sounds and Slogans – World Day for Audiovisual Heritage Contest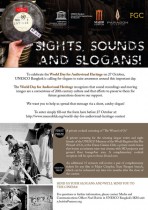 To mark this year's
World Day for Audiovisual Heritage on 27 October
, UNESCO Bangkok is holding a competition calling for slogans to raise awareness on the importance of preserving sound recordings and moving images.
The World Day for Audiovisual Heritage recognizes that audiovisual materials are emblematic of 20th Century culture, offering historical and cultural details unavailable in other media. Unfortunately many sound recordings, moving images and other audiovisual materials are often lost. This is a particular problem in the Asia-Pacific region where preservation efforts face many obstacles, such as funding woes and weather conditions that hasten deterioration.
UNESCO Bangkok is asking residents in the capital to submit slogans that creatively capture the importance of the World Day for Audiovisual Heritage.
Entries can be submitted on UNESCO Bangkok's website at: www.unescobkk.org/world-day-for-audiovisual-heritage-contest/
Fifteen entrants will receive a pair of tickets each to attend a movie of their choice at Major Cineplex's Siam Paragon branch.
The top slogan as selected by UNESCO's panel will win a free screening of the UNESCO World Heritage Register film, "The Wizard of Oz", complete with a cocktail reception for those 20 years of age and older, at the Friese-Greene Club, an independent movie house and lounge on Sukhumvit 22.
The deadline for entries is the World Day for Audiovisual Heritage, 27 October.
For more information, please contact:
Mr Noel Boivin, Media and Communications Officer, UNESCO Bangkok (email: 
n.boivin@unesco.org
)