Script&Pitch at TorinoFilmLab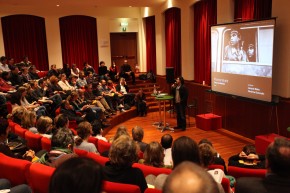 TorinoFilmLab
is a year-round, international laboratory that supports emerging talents from all over the world working on their first and second feature films, through training, development and funding activities. Linked to Torino Film Festival, TorinoFilmLab is promoted by the main film institutions established in Turin and Piedmont - 
Museo Nazionale del Cinema
 and 
Film Commission Torino Piemonte
. TorinoFilmLab runs several activities and offers various forms of support in each of this fields. The training initiatives Script & Pitch, Audience Design, Writer's Room, and AdaptLab, as well as the pre-production and development focused FrameWork programme run parallel during the year. They all reach their conclusive moment at the TorinoFilmLab Final Meeting Event in November during the 
Torino Film Festival
, when projects are presented to a selected group of producers, sales agents, distributors and other professionals from all over the world working in independent filmmaking.
Script&Pitch is an advanced script development course for scriptwriters, directors and story editors from all over the world. The course is made of 3 residential week-long workshops, 2 on-line sessions and 1 Alumni meeting. It follows the entire scriptwriting process from generating ideas and structuring the material through first and second drafts, up to the final pitch in front of producers and sales agents invited to the TFL Meeting Event.
Applications to Script&Pitch 2013 are now open until October 31st, 2012.
Click here for application requirements, participation details, scholarships and how to apply!