Romania | What's Next? Performing Togetherness residency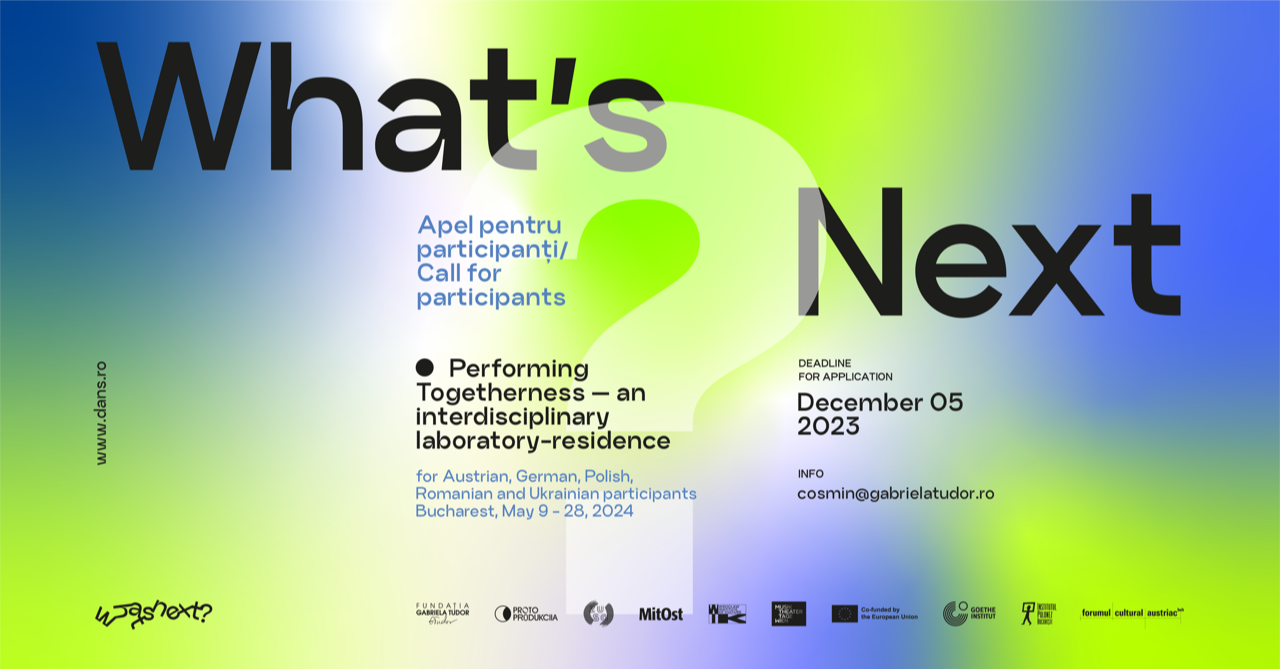 The Gabriela Tudor Foundation is calling for applications from dance makers, visual artists, musicians, writers, researchers and experts in biodiversity from Austria, Germany, Poland, Ukraine and Romania for their laboratory-residency "Performing Togetherness", at the Black Sea and in Bucharest, in 2024.
The residency is a platform for research, cultural dialogue, reflection and innovation where participants are invited to meet and confront different points of view about culture and life and discover a new cultural routine based on the concept of togetherness, seen as the quality of working and belonging to a collective practice.
A total number of 8 participants will be invited for 3 weeks to Romania to meet, discuss and develop new ideas and projects on the proposed themes of the residency, from 9 to 28 May 2024. The project selected (up to 3 participants) will be offered an additional 3-week research time to further test and develop the project in a residency in Bucharest at AREAL and Pavilion Goethe Institute, from 1 to 21 October 2024. The project developed during the Performing Togetherness laboratory and additional residency, will be invited to the final What's Next? in November 2024.
What support is offered?
Travel costs from the city of residence to Bucharest (up to 300 Euro/participant)
Accommodation in a shared apartment
Fee of 1,000 EUR for the laboratory period in May 2024
Fee of 1,000 EUR (including per diem) for the additional research 3-week residency in October 2024
Coaching and mentorship support in Bucharest
Space for discussions, meeting, rehearsals and research
Local cultural and well-being programme
Performing Togetherness residency application guidelines
Deadline: 5 December 2023