Robert H.N. Ho Family Foundation Greater China Research Grant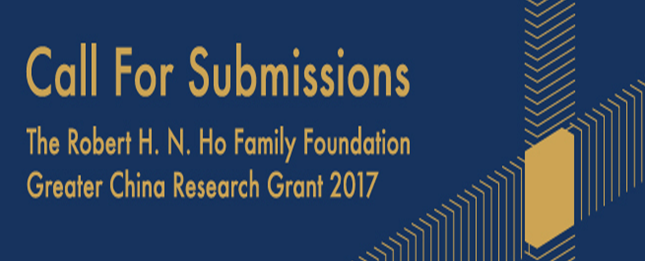 Asia Art Archive announces a call for proposals for 
The Robert H. N. Ho Family Foundation Greater China Research Grant
. With support from The Robert H. N. Ho Family Foundation, the grant offers one-year fellowships to up to three individuals to study AAA's Collection and develop historical research projects on topics relating to contemporary art in Mainland China, Taiwan, Macau, and Hong Kong.
With a panel of judges, including curators and scholars in the field, AAA will assess applicants based on their knowledge of contemporary art in the Greater China region, relevant experience in the field, proposed methodology, and feasibility of the proposed research.
Eligible Applicants
Postgraduates (including pre-doctoral fellows) with a research focus on contemporary art or Greater China studies, and independent scholars and writers with solid research and publication track records.
Project Completion
The selected projects are expected to 
begin in March 2018
 and to 
complete by March 2019
.
Budget
AAA will award 
US$15,000 (approx. HK$120,000)
 to the top grantee. Budgets should allow for a two-month residency in Hong Kong; research trips to Mainland China, Taiwan, and/or Macau during the residency; and acquisition of new materials.
Up to two runners-up will be awarded 
US$5,000 (approx. HK$40,000)
 each for their research projects.
Application deadline: 26 November 2017