Poland | 1st International TYPO Mail Art Project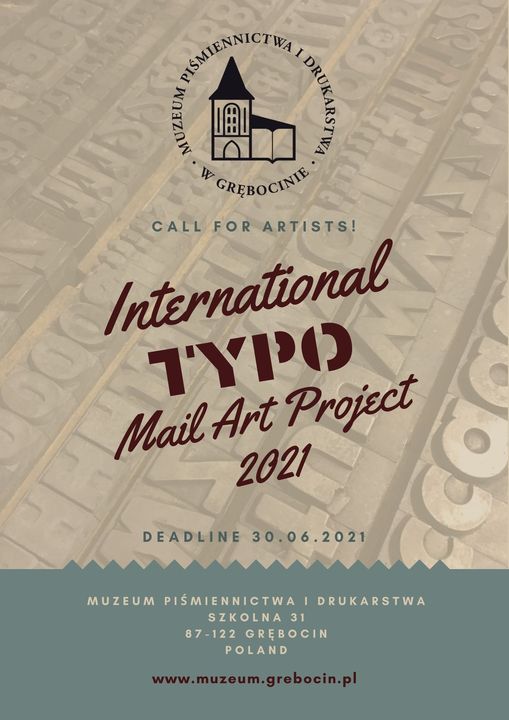 Call for entries from The Museum of Writing and Printing in Grębocin, Poland for the 1st International TYPO Mail Art Project. Free entry. Selected works will be exhibited at the museum in July 2021.
The Museum invites all artists from around the world to participate in the first edition of the International TYPO Mail Art 2021 project. We have long been fascinated by the art of the post office and its small form. In the era of emails and emoji
, it's worth reminding about traditional mailing. The theme is around letters and typography, which is what we love most. So let's do it, we are waiting for your letters and cards.
- The organizers of the project are The Museum of Writing and Printing in Grębocin and The Temple of Art Foundation
- The subjects of the project are letters and typography
- The project is directed towards adults artists from around the world - All traditional and digital graphic techniques are accepted, typographic techniques highly welcomed
- The format: 10 x 15 cm; the grammage: minimum 250 g; the overprint area: any
- Every participant is allowed to send only 1 work via traditional mail - Every work should be signed on the front of the card (name and surname, technique, year, country of origin) in the top left corner, on the right there should be a stamp and recipient's address
- Please send works to: The 1st International TYPO Mail Art Project Muzeum Piśmiennictwa i Drukarstwa Szkolna 31 87-122 Grębocin POLAND
- 30.06.2021 is the deadline of the on-line registration
- 30 June 2021 is the deadline to send the works
- The participation is free of charge
- The received works will not be sent back
- The organizers reserved the right to select the works without giving the reasons, if the works turn out to be inconsistent with the rules or have been received damaged
- The exhibition of the works will be available for viewing in The Mini Gallery of The Museum of Writing and Printing in Grębocin throughout the 5-30 July 2021
RULES ENG: https://drive.google.com/…/1EUF2RCA1rsaa…/view…
ENTRY FORM: https://docs.google.com/…/1-Bu3XtxrU9ghhSyMN0rM…/edit…