Open Call for Collide International / Barcelona international residency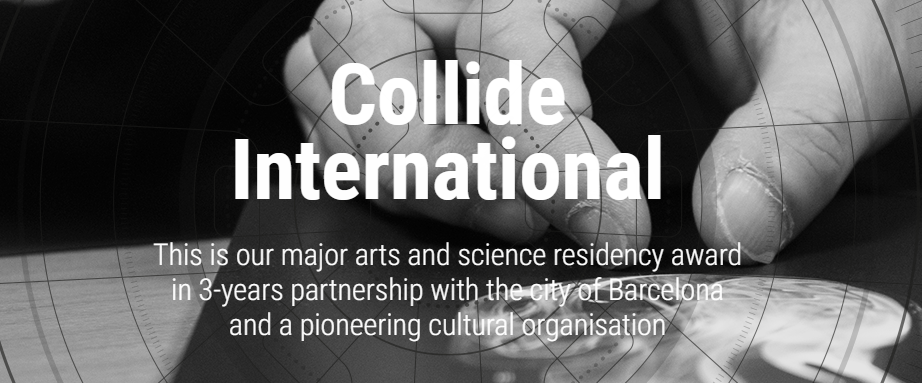 Arts at CERN and the city of Barcelona have an open call for their joint collaboration through the Collide International residency award. Collide International/ Barcelona is the annual international competition that invites artists of any nationality or age to apply for a 3-month residency award by submitting a proposal . Collide International calls upon interested artists to join an extraordinary scientific community that is creativity-driven.
Artists interested in applying to Collide International/ Barcelona are invited to submit a single proposal that reflects upon encounters between art and science, and offers challenging methods of collaboration and enquiry between artists and scientists at CERN during a 2-month residency at CERN, Geneva and a 1-month residency at Fabra i Coats Art Factory in Barcelona.
The scope of this proposal should consider both a research phase at CERN as well as a second developmental phase in Barcelona, where the artists will have the opportunity to expand their research and develop a production in connection with Barcelona's scientific and cultural network, as well as to engage with a wide range of communities. The ultimate goal for the residency will be the research and development of new concepts within fundamental research contexts and in connection with societal concepts.
The Collide International Open Call for Entries encourages the participation of artists interested in the ideas described above and complying with any of the following:
- Artists interested in the cultural significance of fundamental research and scientific knowledge.
- Artists engaging with an innovative discourse on contemporary culture, following ambitious standards of creativity.
- Artists interested in the processes of fundamental science and particle physics at CERN who are able to extrapolate this understanding into projects of artistic excellence.
- Artists interested in the community-driven centre Fabra i Coats- Barcelona and in the interaction with the urban area and its social fabric.
- Artists pushing the traditional forms of collaboration between art and science, and asking innovative and provocative questions in this respect.
- Artists approaching science and research from diverse angles of enquiry, philosophical, ethical, technological or sociological perspectives.
Collide International encourages the participation of mid-career artists as well as emergent artists with no distinction according to age or origin.
The Collide International residency award grants an artist or a collective (max. 3 members) with a fully funded residency at CERN and Barcelona. The artist will spend the first two months at CERN, Geneva, followed by a one-month stay in Barcelona. The precise residency period will be defined after the announcement with the selected artist. The final dates will be discussed individually with the teams of Arts at CERN and Fabra i Coats, Barcelona.
Only one artist or collective (max. 3 members) will be selected for the residency. A maximum of 3 Honorary Mentions may be announced and they will be invited for a Guest Artist visit consisting of a 2-day exploratory visit to CERN. At least one Honorary Mention will be awarded to an artist or collective from Barcelona.
Deadline for applications: 31 May 2019