Nominations open for Artes Mundi 5 | largest UK art prize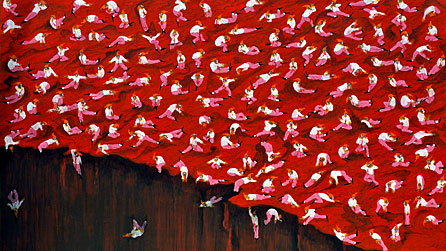 [caption id="attachment_10238" align="alignright" width="446" caption="The third Artes Mundi prize was won by Indian artist NS Harsha."]
[/caption]
Nominations are invited for Artes Mundi 5, the UK's largest art prize, open to artists worldwide.
One artist will receive a £40,000 prize and five other shortlisted artists will receive an award of £4,000 each.
The
open call for nominations
begins an international research process that enables Artes Mundi to recognise and support contemporary visual artists:


whose work engages with social reality, lived experience and the human condition


who are established in their country or region and emerging internationally


Working with two highly respected international curators to review the nominations and select the shortlist of six artists, the resulting exhibition explores thematics proposed by the artworks.
The Artes Mundi 5 shortlist will be announced in September 2011. The exhibition will open in Cardiff, Wales in September 2012, running concurrently with other headline events in the UK's visual arts calendar such as the Turner Prize, Frieze Art Fair and Liverpool Biennial. The prize will be awarded in November 2012.
In 2010 the Artes Mundi 4 Prize was awarded to Yael Bartana who will represent Poland at this year's Venice Biennale. The first Artes Mundi Prize was awarded in 2004 to Xu Bing, a Chinese born artist based in New York. In 2006 the Artes Mundi 2 Prize was awarded to Eija-Liisa Ahtila from Finland, and the recipient of the Artes Mundi 3 Prize in 2008 was N S Harsha from India.
Artes Mundi stimulates cultural dialogue and exchange, playing a vital role in broadening the cultural experience of audiences in Wales and beyond by building networks between the local and global, demonstrating the capacity of the visual arts to communicate across the boundaries of language, geography and history. Through this interplay, we gain understanding of ourselves, of others, and of the relations between familiar and distant cultures.
See website
for nomination process.
Nominations close on 26 June 2011