Artes Mundi 8 | call for nominations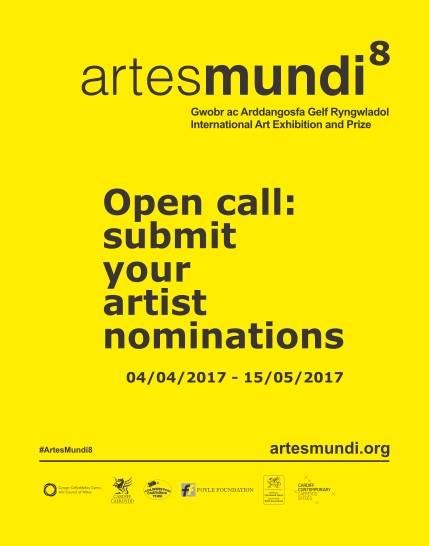 Artes Mundi 8 will take place in Cardiff, the capital city of Wales, from late 2018 to early 2019 and the winning artist will receive a prize of 40,000 GBP.
Each Artes Mundi Prize begins with an open call for nominations.
Nominations
come from all over the world,
submitted by artists, curators, directors of museums and galleries, other cultural organisations and members of the public
. All nominations are reviewed by independent selectors.
To be considered for the Artes Mundi Exhibition and Prize artists must have already achieved recognition for the quality of their work in their own country or sphere and must be on the way to developing a high profile international career. Their practice must engage with ideas of humanity, social reality and lived experience. The last description is taken as broadly as possible, and can be executed in a diverse range of media.
Nominations are not restricted by age or nationality.
Artes Mundi was established in 2002 as an exhibition and prize which explores "the human condition." To be shortlisted for the Artes Mundi Prize artists must create work that directly engages with people's everyday lives and experiences, exploring contemporary social issues from across the globe in a way that resonates both locally and internationally. Every nomination received will be reviewed by a panel of independent selectors who will choose a shortlist of artists to take part in the biennial exhibition.
In January 2017, the British artist John Akomfrah won the Artes Mundi 7 Prize.
Previous winners include Theaster Gates (2015), Teresa Margolles (2012), Yael Bartana (2010), N S Harsha (2008), Eija-Liisa Ahtila (2006) and Xu Bing (2004).