Memefest Friendly Competition 2013 | Food Democracy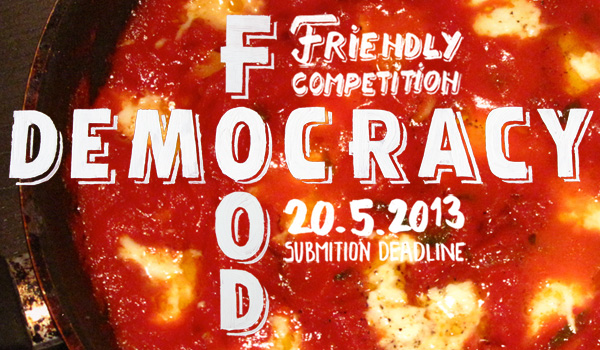 The Memefest festival nurtures and rewards theory, practice and research of communication that works towards a more equal society.
Memefest operates  as a small collective and a wider international network of close collaborators.
Based in
Slovenia and Australia
, but united across five continents by its dedication to spreading alternative theory and praxis, the Memefest broader team is an international network of communication experts, media activists, academics, artists, professionals, educators, researchers.
Each year,
Memefest
singles out a text and/or visuals, that serves as a focal point for a critical take on the current media and communication environment. In order to enable creative approaches based on various interdisciplinary, practical, and theoretical perspectives, participation is invited in different categories.
The friendly competition has three main divisions:
-         
Visual communication practice (static, moving, interactive),
-         
Critical writing
-         
Beyond
….
Visual communication practice
and
Critical writing
are conceptualized around the same theme.
This years theme is:
FOOD DEMOCRACY
.
"In the era of privatization of everything, fundamental human needs get colonized through corporate strategies, the food system becomes a machine which excludes people. Food is designed and so are its representations. We are not only excluded but manipulated to form a specific relation to food."
Beyond…
has separate outlines. Here we are looking for participatory art projects that work on
social change
.
In order to get the best possible in-depth understanding of your work, we will categorize all submissions in two fields: Student/Academic and Non-academic.
Awards:
detailed critique of your work by renowned curators and participation on extra-disciplinary workshop in Brisbane, Australia in November 2013 - all expenses included (in collaboration with Queensland College of Art, Griffith University, Brisbane, Australia) for three chosen participants.
Participation is free of charge!
Deadline for your submissions is May 20th 2013!
All info about friendly competition on our website: 
www.memefest.org
.