Mekong Cultural Hub Programme Manager job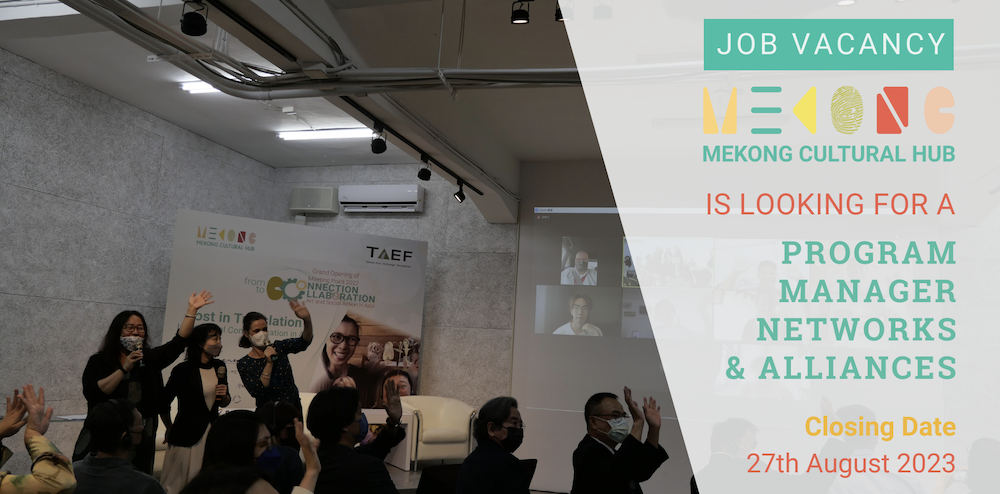 The Mekong Cultural Hub (MCH) is calling for applications from people based in Southeast Asia for their Programme Manager (Networks and Alliances) position.
MCH is a non-profit organisation, whose mission is to empower diverse cultural practitioners to bring to life their visions for a sustainable and inclusive Asia. They initiate projects and work on collaborations all around Asia, but they particularly focus on Cambodia, Lao PDR, Myanmar, Thailand and Viet Nam.
This position will support their strategic plan for 2023–2027 to further develop the MCH network by expanding the "hub and spoke" model.
Responsibilities:
Leading programmes and projects related to Networks and Alliances.
The Programme Manager will work alongside the existing Programme Manager, Jennifer Lee, who leads on programmes and projects related to Fellowships and Training, and Frances Rudgard, Director of MCH.
Eligibility and conditions:
The position is open to candidates from and based in Southeast Asia. If the selected candidate is based in either Phnom Penh they may work at a Living Arts International office. Otherwise, they will work remotely, with approximately 1-2 trips within Asia per year.
Starting salary: 1,800 USD monthly
Contract term: 2 years for consultants/undefined duration for employees
Deadline: 27 August 2023
MCH is part of Living Arts International (LAI) family of organisations, which also includes Cambodian Living Arts and Connecting South.