Latvia | Spring residency call for photographers at Rucka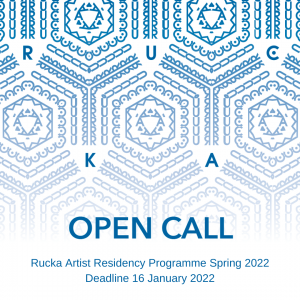 Rucka Artist Residency is happy to announce an OPEN CALL for Spring 2022 residency for photographers, to reflect on the photography heritage of Latvia.
The aim of the residency programme is to bring together photographers to create artworks that reflect on the photography heritage of Latvia, Cesis region in particular, and involve members of the local community in the development of the artwork. When evaluating the applications for the Spring 2022 residency programme preference will be given to photographers working with analogue photography and having previous experience in working with photography heritage.
Duration of residency is one month. Residents should plan their stay at Rucka between 4 April and 8 May 2022.
Rucka Artist Residency is looking forward to applications clearly outlining ideas that artists wish to work on during the residency period and the result that will be achieved.
At the end of the residency period, artists are expected to share the results of their work in the form of an artwork for an open air exhibition in Cesis, artist talk or workshop involving the local community members.
Rucka Artist Residency programme is open to both experienced professionals and upcoming photography enthusiasts.
Accommodation
Artists will have their private rooms with shared WC/bathrooms. A fully-equipped kitchen and dining area is also available to the residents on a self-serve basis.
Workspace/technical information
The residents have access to an analogue photography laboratory, shared open space studios, workshop space for creating large scale artworks. Wi-Fi is available in the whole building.
Fees and support
The residency programme covers accommodation and shared open studio space costs for one month. Applicants are responsible for covering their travel and food expenses. Rucka Artist Residency will issue acceptance letters for successful residents in order to help them to obtain grants to cover travel, insurance, food costs etc.
Deadline for applications 16 January 2022.
Please take in consideration that we will ask you to comply with the Covid-19 restrictions established by Latvian authorities and have a valid vaccination certificate against Covid-19.