Korea | PyeongChang Winter Olympics international residency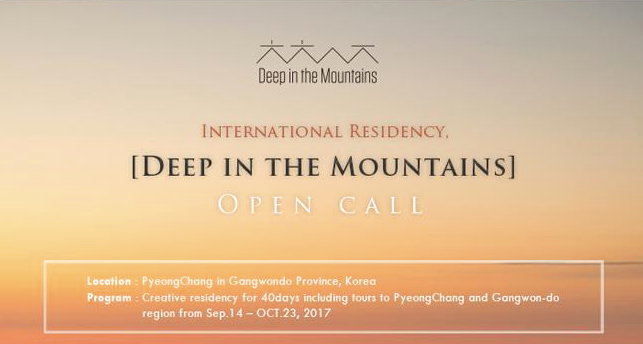 Celebrating 2018 PyeongChang Winter Olympic Games, Arts Council Korea is pleased to announce an open call for young emerging artists (aged 25-39 years) around the world to participate International Residency
Deep in the Mountains
.
Deep in the Mountains,
an international performing & visual arts residency program certified by PyeongChang Culture Olympic Games is organized as a part of nurturing culture projects.
Running under the slogan of 2018 PyeongChang Olympic Games "Passion Connected,"
Deep in the Mountains
is consist of two major parts out of its 40-day program; one is touring around PyeongChang, the host city of the 2018 Winter Olympic games and Gangwon-do Province, which will help participants deepen their understanding in nature and cultural aspects of Korea. And the other is a residency activity such as creating artworks, collaborating with fellow resident artists. This international residency program is also initiated to support artists to encourage creative projects or art making that converges and encompasses diverse genres of arts and culture. Additionally, participating artists are invited to some unique opportunities such as networking with local residents and art professionals in Korea, to attend academic programs, workshops, and etc. Artworks produced during
Deep in the Mountains
residency will be presented both in PyeongChang and Seoul as forms of performance, exhibition, video, publication and more.
Artists around the world are all invited to submit proposals to join
Deep in the Mountains
, that pursues peace and harmony in the spirit of Olympic games that endeavors to connect people nations, regions, and tradition with the present through arts.


Capacity: 20 in music, dance and visual arts


Eligibility: Between the age of 25 to 39


Location: PyeongChang in Gangwondo Province, Korea (Studio Potato Flower)


Program: Creative residency for 40days including tours to PyeongChang and Gangwon-do region from Sep 14, 2017 (Thu) to Oct.23 (Mon)


Application Deadline: Midnight on March 31 (Friday) Korea Standard Time (KST)


Notification: April 20, 2017 (Thu) through the website and will be reached individually.


Deadline: 31 March 2017
Download full guidelines and application form: 
DInternational+Residency_Deep+in+the+Mountains_Application+Form
Further information: pcmountain2017@arko.or.kr