Kick-Start: Cardiff - creative changemakers international call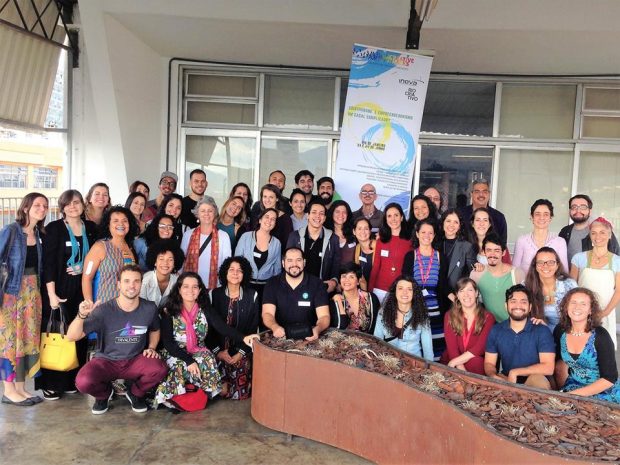 Apply to take part in
Kick-Start: Cardiff
, a professional exchange programme for creative changemakers looking to propel their careers. Kick-Start: Cardiff aims to be a catalyst event bringing together emerging international creative voices with the thriving arts and creative industries scene in Wales to explore their value and role in regeneration.
As part of a series of events produced for Creative Tracks, aimed at connecting creative entrepreneurs worldwide, Visiting Arts will host a three day exchange and networking event in Wales from 16-19 October 2017 - coinciding with the launch of the European Network EASTN 2, SWN Festival, and celebrations for Creative Cardiff's Second Birthday.
Among the high level speakers and trainers including design and media entrepreneurs, lawyers and policy makers, we are pleased to announce that John Howkins, author of 'The Creative Economy' and Ann Harrison, author of 'Music: The Business: The Essential Guide to the Law and the Deals' will be joining us.
The event will invite delegates to exchange ideas on
three key themes:
- urbanisation
- how the arts and creative industries are driving regional/ rural economies
- workspaces and new ways of working
Gain new knowledge and skills, pitch your projects and calls for collaboration, and make exciting international connections for life.
The programme includes a workshop day, an arts and law seminar, a panel discussion event and lots of networking opportunities, with the chance to pitch your work to industry experts and potential investors.
Kick-Start: Cardiff is produced within the framework of the EU funded project, Creative Tracks, with the support of the European Union, Wallonie Bruxelles International, Shenzen Design Week and the Asia­Europe Foundation.
The Kick-Start: Cardiff is proudly run in partnership with Welsh Government, Cardiff Council, Arts Council of Wales and its international arm Wales Arts International, Creative Cardiff, Cardiff University, British Council, Royal Welsh College of Music & Drama, Cardiff Metropolitan University, Geldards LLP, SWN Festival.
> APPLICATION PROCESS
The programme is eligible for
upcoming artists and creative entrepreneurs
- particularly those in the fields of
music, TV, product design, o
r whose work connects with the fields of
science and technology.
Please fill out the application form below.
­Application is free of charge.
Online applications only.
** DEADLINE EXTENDED **: 31 July 2017 at 10:00 CET
For more information on the programme please go to:
http://www.visitingarts.org.uk/content/call-applications-kick-start-cardiff
> CONDITIONS
Before you apply please make sure you meet these eligibility criteria:
- Each applicant, in parallel to his/her application, must register for free on the Creative Tracks' platform*:
http://www.creativetracks.org
-
Artists and creative entrepreneurs with at least three years experience working in the arts sector, particularly with an international dimension
- Able to understand and communicate in English
- Any nationality
* Creative Tracks aims to connect existing networks of artists and creative entrepreneurs across the world. While registering online, you will be able to connect for free to hundreds of entrepreneurs active internationally and to share your projects in the cultural and creative sectors.
> FINANCIAL CONDITIONS
The programme is free to attend.
For participants based outside of the UK:
- There is a limited travel fund allocation:
Up to £200 for those based in the rest of Europe
Up to £800 for those based in third countries
(successful applicants will need to arrange their travel independently and will be reimbursed on receipt)
- Three nights accommodation in Cardiff