Wales and Greece to host WOMEX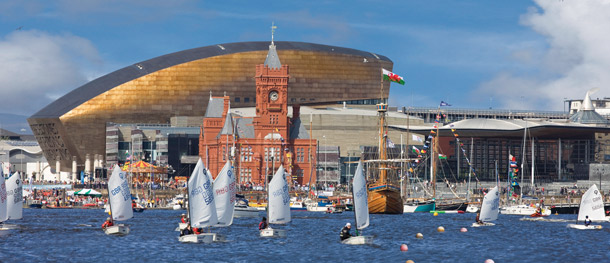 WOMEX - the World Music Expo - announces new host cities in northern and southern Europe: Thessaloniki in Greece will host in 2012 and Cardiff in Wales in 2013.
After three years in Copenhagen, Denmark, from 2009 to 2011,
WOMEX will be moving south
to Thessaloniki, Greece in 2012. The new host city is
 Thessaloniki
, Greece's second major economic and political centre, located 
right by the Mediterranean Sea
. With its 2300-year past, 
it's one of the oldest cities in Europe and a true cultural melting pot
, bearing traces of an eventful history between Orient and Occident. Renowned for its vibrant cultural life, it is
 considered to be Greece's cultural capital
.
In 2012,
 WOMEX will be taking place one week earlier than usual
, from Wednesday, 17 to Sunday, 21 October 2012.
Daniela Teuber, WOMEX Director of Production, states: "We're very much looking forward to moving to Thessaloniki in 2012. It's the 
first time ever that WOMEX will be taking place in Southeastern Europe
, and it's a great opportunity for our 2500 delegates and 300 artists from all over the world to
 discover Greece and the Balkans 
- and its musical treasures - and to boost business contacts and exchange in the region."
Then, in 2013,
WOMEX moves to
CARDIFF, capital of Wales
. Cardiff has been selected as the city to host WOMEX, the leading world music expo, in 2013. The announcement made today at the Wales Millennium Centre comes at the end of a year-long campaign to bring the event to the Welsh capital.
Described by UNESCO as the most important international professional market of world music of every kind, WOMEX evening performances will be held at the Wales Millennium Centre, and the day time showcases, trade fair, conference and film screenings will be held at the Motorpoint Arena Cardiff.
The fully programmed, prestigious international showcase event is expected to include around 60 concerts featuring 300 plus artists, a trade fair exhibiting in the region of 650 companies from over 90 countries, as well as more than 400 national and international journalists, and will take place between
23-27 of October, 2013.
Cardiff presented WOMEX
with the best all-round offer in the bidding process and beat tough international competition to host WOMEX including Glasgow and Dublin (shortlisted cities).