ISPA Global Fellowship Program | open call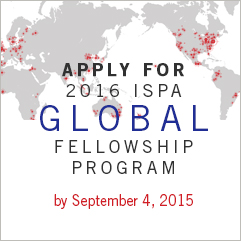 The call for applications for the 2016 ISPA (International Society for the Performing Arts) Global Fellowship program is open. ISPA is looking for performing arts professionals who are emerging in their careers, or established in their careers locally but emerging on the international performing arts scene.
Since its inception in 2007, ISPA has invested $240,000 in 99 Global Fellows from 39 countries. ISPA accepts applications for the Global Fellowship Program
from all regions of the world
, with
particular attention paid to applicants from developing economies.
In 2016, ISPA Global Fellows will receive:


A complimentary one-year ISPA membership with full access to all member benefits


A complimentary full pass registration to the New York 2016 Congress (Janaury 12 - 14, 2016)


Access to a one day Seminar prior to the Congress where Fellows have the opportunity to interact with their colleagues and learn from global industry professionals through a series of conversations and workshops (to take place January 11, 2016)


A subsidy to assist with travel and accommodation expenses related to attending the New York ISPA Congress (cash subsidies do not generally exceed 2,500 USD)


Selected applicants will also be paired with a current ISPA member through ISPA's
Community Building Program
who will welcome the Fellow to the Congress and help facilitate their participation.

Who should apply
Individuals who are deeply committed to increasing the global connectivity of the performing arts industry, as well as those who take initiative in their own professional development. Those who enjoy engaging with a diverse group of people will be most successful in the program. Applicants should meet the following criteria listed below:


Be currently employed/working in the performing arts;


Have a minimum of 5 years professional experience in the performing arts field;


Demonstrate a need for financial assistance;


Ability to attend and fully participate in a one-day Fellowship orientation and educational seminar on Monday, January 11th, 2016 in New York City.


Ability to attend and fully participate in ISPA's 68th annual New York Congress on January 12-14, 2016 in New York City.


Have received no more than two ISPA Fellowships in the past.


Important Dates
Friday, September 4, 2015 at 17:00 EDT
Deadline to submit the Global Fellowship applications
Wednesday, October 7, 2015
Candidates will be notified of their application status