HIAP Helsinki International Artist Programme | residencies open call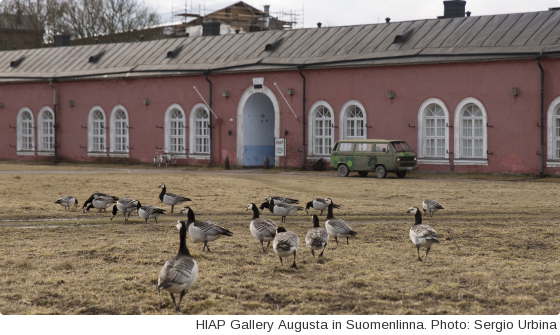 HIAP - Helsinki International Artist Programme is seeking applications from artists worldwide for residencies taking place at HIAP Suomenlinna and HIAP Cable Factory in 2018. The programme focuses on contemporary art but is open for art professionals from other disciplines as well. The programme offers time and space for open-ended research and experimentation, without the requirement to produce finalized pieces or work.
HIAP Residency Programme welcomes artists, curators and other arts professionals with a wide range of backgrounds and diverse practices. The selection is based on professional merit and there are neither limitations nor preferences in factors such as country of origin, age, media, etc.
HIAP Residency Programme is HIAP's main residency programme, which has welcomed artists to Helsinki since the year 1998.
The residency studios, which combine living and working space, are located in the Cable Factory cultural complex and on the island of Suomenlinna, both in Helsinki, Finland. For images of the HIAP Suomenlinna and Cable Factory Studios, please take a look at
http://www.hiap.fi/suomenlinna
and
http://www.hiap.fi/Kaapeli
.
The duration of the residency is three months.
The programme at HIAP is divided into three residency seasons:
Spring (March - May)
Summer (June - August)
Autumn (September - November)
The applicants will be asked to state their preferred residency period in the application form.
The residency includes accommodation and studio space free of charge, a monthly working grant of 1200€ and travel costs.
Deadline for applications: Wednesday, June 28, 2017 (11:59 pm, GMT +2)
The main funders of HIAP Residency Programme are Taike Arts Promotion Centre Finland, Ministry of Education and Culture and City of Helsinki. With the support of the Nordic-Baltic Mobility Programme for Culture by Nordic Culture Point, artists based in Nordic and Baltic countries are eligible for an additional support in the form of a production budget.
HIAP encourages artists-in-residence to carry out collaborations with local artists and arts organisations. During their residency, the artists have access to HIAP administrative support and to contacts with local arts professionals and organisations. The artists have a chance to present their work in a HIAP Open Studio event organised towards the end of each residency season. In addition, HIAP Project Space can be used by the artists for meetings, gatherings or for self-organised events.
In addition to HIAP Residency Programme open call, there are several other annual open calls which are sent out by our partner organisations. The specific country focuses of these open calls include Australia, Japan and Korea. The open calls also include specific focus areas, such as comics and design. For further information please have a look at the annual
open calls summary page
.