Germany: Rave scholarships for curators, cultural managers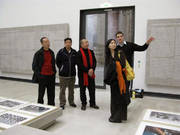 [caption id="attachment_2598" align="alignright" width="180" caption="Han Yun Chaio, Staatliche Kunstsammlungen Dresden, 2008"]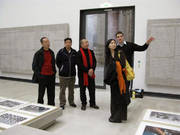 [/caption]
Applications invited from
Curators, Restorers, Museum Technicians
and
Cultural Managers
from countries in transition and developing countries for 3-6 month
Alexander Rave Scholarships
for exhibition training in
Germany
in 2011.
The Rave Scholarships contribute to further practical training in arranging and realising exhibitions. These scholarships are awarded to curators, restorers, museum technicians and cultural managers from countries in transition and developing countries.
The Rave Scholarship provides curators from countries in transition and developing countries with their first professional contacts in Germany. The Rave Scholarship is an investment in long term cultural exchange. The scholarship-winner will be able to gain practical experience in Germany and put it to use in his or her own home country.
Benefits
• A monthly lump sum of 1,300 euros for a scholarship period of three to six months
• Travelling expenses (to and from Germany)
• Married person's supplement if the spouse is present in Germany
• Assistance with health insurance (also for spouses)
• German course (participation in a language course is expected)
Conditions
• Applicant must be from a country in transition or a developing country
• Hitherto no opportunity yet to work in Germany for an extended period of time
• Knowledge of either German or English. Basic Knowledge of German expected.
• Younger than 40 years old
• Completion of professional study or training within the last five years
• Applicant must no longer be studying or involved in on-the-job training
• Confirmation (in German) from a partner institution in Germany which has agreed to take on or initiate a joint project
• A reference from the applicant's country of origin
• Applicants who are not accepted cannot re-apply
See website for other details and how to apply.
DEADLINE: 30 September 2010 for scholarships in 2011
Alexander Rave Scholarships are managed by the
ifa
Institut für Auslandsbeziehungen (Institute for Foreign Cultural Relations), the German organisation operating worldwide to promote artistic exchange and dialogue between civil societies and to provide information about foreign cultural policy.