Finland | Call for papers - Ethnology and Cultural Policy conference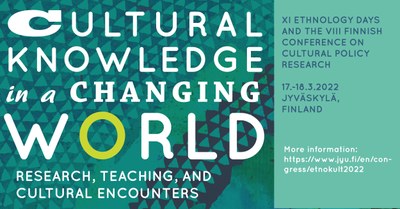 A call for papers is open for the ethnology and cultural policy conference 'Cultural Knowledge in a Changing World', to be held at the University of Jyväskylä in Finland, in March 2022.
At the Ethnology and Cultural Policy Research Days we ask: What is the role and place of cultural knowledge in a changing world? How do we teach, apply, and use Ethnology and Cultural Policy, and how do researchers in these fields participate in societal affairs? As the disciplines are both increasingly taught as a part of wider, multidisciplinary degree programmes, it is crucial to open up for discussion the questions of how the epistemological starting points, perspectives, and methods of research are utilised and developed in changing environments. We invite researchers and teachers from Ethnology, Cultural Policy and other related fields as well as experts from museums, businesses, and third sector organisations to come together to discuss these contemporary challenges. We offer a multidisciplinary platform for both academic paper sessions and experimental workshops.
We welcome proposals for individual papers in Finnish, Swedish, or English. We also invite proposals for experimental workshops with a practical orientation. The themes may cover, among others, issues related to teaching, research, applied methodologies and experiments: How do we apply, study, and teach cultural knowledge in a changing world? How can we gain expertise in cultural research? What part does national and international collaboration play in Ethnology and Cultural Policy? What kinds of challenges does research collaboration with the public sector or NGOs pose for current methods and practices? What kinds of changes can we foresee in conducting research and communicating its results in the future?
Please submit your paper or workshop proposal (max. 250 words abstract) using this online form.
Deadline for submissions: 15 December 2021