Finland | Backlight Photo Festival | open call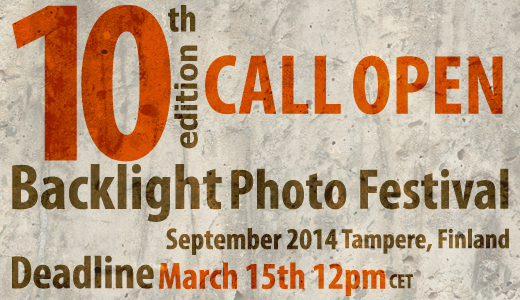 Through a variety of photographic practices 
Backlight ´14 aims to explore the forces and binds holding societies, communities, families and friends together and apart.
 Our focus is on the phenomena of peoples´ solidarity (and the lack of it) that incorporates individual as well as collective responsibility.


OPEN CALL for artists and photographers to participate in the Backlight Photo Festival 2014 in Tampere and the Tampere region, Finland starting in September 2014.


Deadline: March 15th 12:00 pm CET.


Participation: The submission is open to all photographers and photo-artists. There is no restriction regarding the age or nationality of the applicant. Also groups and collectives are accepted to participate.


Submitting projects for Backlight Photo Festival 2014 is free of charge.


We are looking for photography- and lens-based projects dealing with Backlight ´14 festivals theme.


Read more about the
theme of Backlight Photo Festival 2014
How to apply:
read more