Film Talents - call for young emerging filmmakers in Pakistan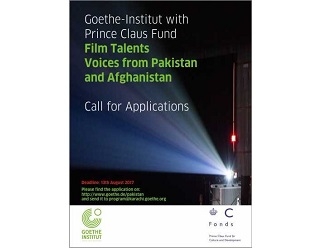 The Goethe-Institut and Prince Claus Fund are delighted to announce a new call for proposals: "Film Talents – Voices from Pakistan and Afghanistan". This joint collaboration offers young emerging filmmakers in Pakistan and Afghanistan the opportunity to take part in a mentorship programme for filmmakers through a series of five workshops to take place in 2017 and 2018 in the region.
Please note that applications go through the Goethe-Institut website and the deadline is 13 August 2017 at midnight AFT or PKT.
Who for? This Call is open to final-year film, multimedia and art students and recent graduates in these fields who are willing to commit to participating.
Applicants must be nationals of and reside in Afghanistan and/or Pakistan. 
Selected grantees are not restricted in theme or format (feature or documentary film). However, priority will be given to themes of untold stories, that make unheard voices from Pakistan and Afghanistan heard, for national and international audiences.
Who by?
 The Workshop will be conducted by the 
Goethe-­Institut Karachi
, the Prince Claus Fund and award winning Berlin-based filmmaker Till Passow in collaboration with 
Goethe-­Institut Kabul
 and a number of mentors, partners and trainers from Pakistan and Afghanistan. They will train the filmmakers on capacities in developing a film project, screenwriting, implementation of the idea, producing a trailer and pitching and presenting their project. The programme focuses on enhancing the career opportunities for young filmmakers both locally and internationally.
Why?
 This collaboration between the Institut and the Fund is designed to help young filmmakers tackle the challenges they face andto bridge a gap between formal education in film and media in Pakistan and Afghanistan and actual production in the field.
When?
 The workshops will take place in Karachi in September and December 2017 and throughout 2018. Each workshop is two weeks long.
Timeline of the Call for proposals:
Deadline to send in application
: 13 August 2017 at midnight AFT or PKT.
Possible dates for the first workshop
:  4 September – 17 September
Second workshop: 
11 December – 22 December (tbd)
All Applicants will be contacted by mid- August 2017 by email with an answer on their application.
Please consult the application guidelines on the Goethe-Institut website before applying.