from - to
08 Nov 2018 - 26 Apr 2019
Amsterdam | A Sheet of Paper Can Become a Knife exhibition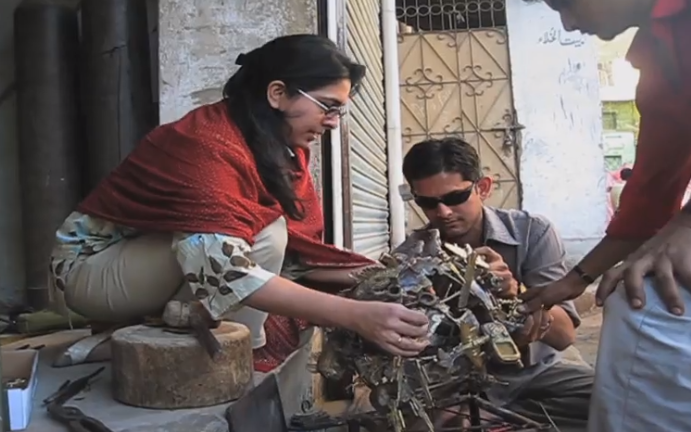 The Prince Claus Fund for Culture and Development is proud to announce that A Sheet of Paper Can Become a Knife, a thematic exhibition featuring ten international artists, will open at the Prince Claus Fund Gallery in Amsterdam on 8 November 2018 (running till 26 April 2019). The exhibition brings together contemporary artists who are connected by the struggle against violence. The participating artists, all Prince Claus laureates, will exhibit together for the first time.
The exhibition title, A Sheet of Paper Can Become a Knife, is inspired by a poem by Tsering Woeser that suggests that anything can become a weapon—inexplicably and without warning. Curator Selene Wendt explains, 'The title resonates as an apt metaphor for the proximity and threat of violence throughout the world. The entangled histories of violence and oppression conveyed in the exhibition convey a deeply unsettling collective narrative of social injustice. Although the primary focus is on contemporary society, the brutal weight of history looms heavily throughout. The stories that unfold reveal striking similarities between forms of violence regardless of location.'
The exhibition features a wide range of artwork including photography, video, installation, sculpture, textile, and work on paper. Works range from a collaboratively embroidered textile by Teresa Margolles (1963, Mexico, 2012 Prince Claus laureate); a series of photographs of female guerrilla fighters of the Revolutionary Armed Forces of Colombia (FARC) taken by Newsha Tavakolian (1981, Iran, 2015 Principal Prince Claus laureate); galvanized steel sculptures by Naiza Khan (1968, Pakistan, 2013 Prince Claus laureate), and an installation by FX Harsono (1949, Indonesia, 2014 Prince Claus laureate). The exhibition will also feature work by Regina José Galindo (1974, Guatemala, 2010 Prince Claus laureate); Oscar Muñoz (1951, Colombia, 2013 Prince Claus laureate); David Goldblatt (1930-2018, South Africa, founder of 2018 Principal Prince Claus laureate Market Photo Workshop); Amar Kanwar (1964, India, 2017 Prince Claus laureate), and Cildo Meireles (1948, Brazil, 1999 Prince Claus laureate), and Zanele Muholi (1972, South Africa, 2013 Prince Claus laureate). Tsering Woeser, the writer and blogger whose poem was a source of inspiration for the exhibition, received the Prince Claus Award in 2011 (1966, Tibet/China).
About the curator: Selene Wendt is an independent curator, writer, and founder of The Global Art Project, which was established to promote contemporary art across geographic borders, with particular focus on artists from Latin America, the Caribbean, and Africa. For many years she has been an advisor to the Prince Claus Fund.
A Sheet of Paper Can Become a Knife
Prince Claus Fund Gallery, Herengracht 603, 1017 CE Amsterdam,
Entrance is free
Image: Naiza Khan (Pakistan) - still from video, Prince Claus laureate 2013