ELEVATE | British Council creativity for social change Challenge - open for entries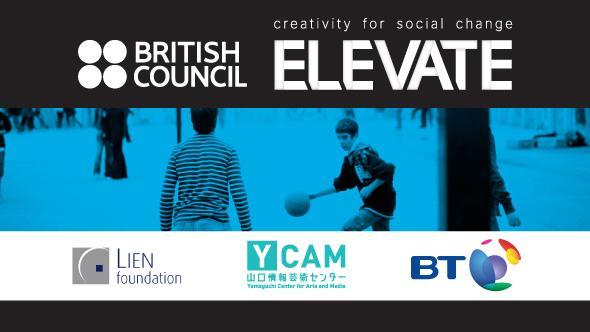 Developed and presented by the British Council,
ELEVATE
aims to build a global community of creative problem-solvers, who will meet practical challenges with innovative solutions. Applications are now invited from creatives in the East Asia region and the UK (eligible countries below) for the
ELEVATE StartWell Challenge
- on Re-imagining Play.
Open to creatives from any discipline
including (but not limited to) Designers, Technologists, Performers, Artists, Sculptors, Urban Planners, Educators and Play experts.
We're looking for individuals, collectives or organisations that are breaking the mould by working with creativity and culture to find new responses and solutions to major economic, social or environmental challenges within communities. Our Fellows will be open-minded about international collaboration and cross-cultural dialogue and possess an innate desire to change the world we live in using creativity as the cornerstone. They can come from any creative discipline, or from other fields and sectors of society including academic and educational, environmental, technology, health and social care, given their submitted idea is based on creative practice and they meet the key criteria.
Applicants can represent the private or public sectors and they should be citizens of the
UK
or one of the following countries:
Australia, Burma, China, Hong Kong, Singapore, Japan, Indonesia, Malaysia, New Zealand, Taiwan, Thailand, Vietnam, South Korea, Philippines.
Applicants must be fluent in English and be able to travel on the programme dates
See below for full details of the ELEVATE programme.
APPLICATIONS ARE NOW OPEN FOR THE ELEVATE STARTWELL™ CHALLENGE: REIMAGINING PLAY


What if, as a child, you weren't able to play outside?


What happens when technology trumps trees?


What do we do with unused spaces and objects?


What does play in the 21st century really look like?


The ELEVATE StartWell™ Challenge, presented by the British Council in partnership with the Lien Foundation, is focused on developing innovative new concepts to improve early childhood (0-8 years) play.
The Challenge invites applicants from a range of industries – including design, art, performance, education and technology – to use their creative skills to imagine new and exciting ways for children to engage with play spaces – indoors, outdoors, in urban or natural spaces, conceptually or technologically.
The creators of the best 12 ideas will be invited to attend the ELEVATE Innovation Camp at the Yamaguchi Center for Arts and Media [YCAM], Japan in February 2015 to further brainstorm, collaborate and prepare a final project submission to potentially secure a share of SGD$50,000 Challenge funding to realise the idea or invest in further professional development.
Deadline for entries: 5 January 2015
Eligibility


The Challenge Prize is open to individuals, collectives or organisations working in the arts and cultural sector as well as in other fields and sectors of society including academic & educational, environmental, trade & industry, health & social care, etc, given you meet the selection criteria.


Applicants can represent the private, public or social sector.


Applicants must be 21 years of age or older at the time of application. No exceptions will be made.


Applicants must be residents of an eligible country (UK + East Asia region see above for full list)


-----------------------
ELEVATE provides a platform for innovative thinkers to come together, to discuss issues, to learn and to develop projects using culture and creativity in Health & Wellbeing; Education & Play; Creative Cities; Environment; Conflict & Safety.
THERE ARE FOUR PARTS OF ELEVATE:
1. CHALLENGE
ELEVATE Challenge: An open call in which applicants from Australia, East Asia and the UK are invited to put forward their best ideas in response to set challenges.
2. CONNECT
ELEVATE BT Connect: Applicants and local experts will share ideas and hear from leading international figures in the world of innovation and design, via teleconferencing technology from ELEVATE global partner, BT Global Services.
3. DEVELOP
ELEVATE Innovation Camp: ELEVATE Fellows from around the world will come together for six days of workshops, training sessions, collaboration and ideas-sharing.
4. ILLUMINATE
ELEVATE DIGITAL NETWORK: LAUNCHING APRIL 2015, THE ELEVATE DIGITAL NETWORK WILL BE A WEB-BASED PLATFORM FOR CREATIVE INNOVATORS, THE WORLD OVER
Go to ELEVATE website, download the Programme Pack, Terms and Conditions and other guidelines and find the online application form.