École du MAGASIN international curatorial studies programme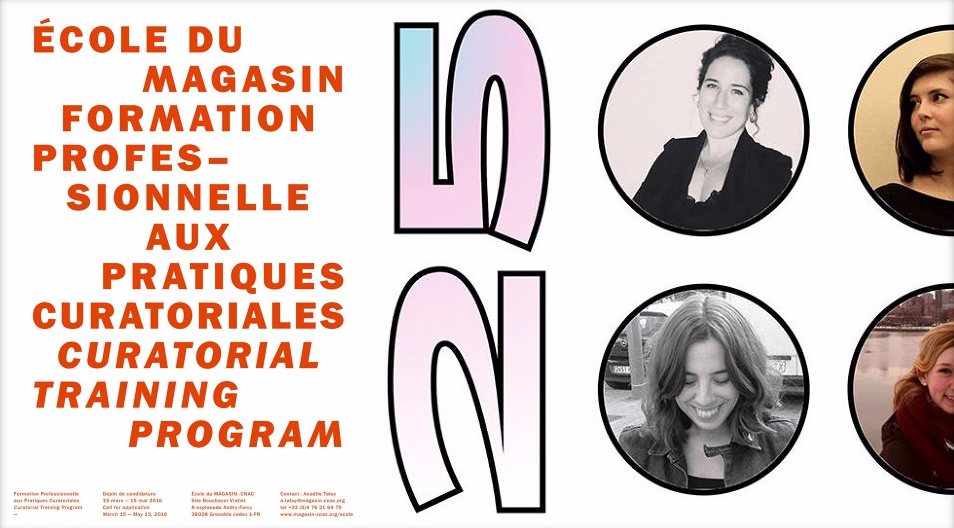 The École du MAGASIN international curatorial studies program in Grenoble, France is open for applications for 2016-17. By providing the participants with a nine months hands-on experience in organizing a curatorial project, the École du MAGASIN gives a direct approach to curatorial practices.
The program presents a wide variety of insights into what curating can be and become in the future through a series of tutorials, workshops, seminars and visits with professionals from different backgrounds. The École is in constant flux, learning and adapting to the necessities of young art professionals today. The program offers tools and experiences to enhance the participant's professional assets while also enabling them to strengthen their critical and reflexive point of view.
Applications are invited from candidates
who have obtained the equivalent of a master's degree or who attest to relevant professional experience. Candidates should have a general knowledge of the production and mediation of contemporary art and be open to the diversity of current artistic positions, spaces and languages. The capacity to find solutions to a wide variety of challenges is very important.  Strong personal motivation, creative and enterprising mind-set as well as the capacity to work in a team are characteristics that are highly valued.
Candidates must be fluent in English and have basic notions of French.
Admission to the École du MAGASIN is approved in two stages:
• A pre-selection based on an application, which includes a current resume, a cover letter (max two pages), two letters of recommendation (written by teachers or any professionals from the art world), a portfolio presenting previous curatorial projects (max ten pages, A4 format)
• An interview with a jury in Grenoble. Pre-selected candidates will be informed by email of the interview date (scheduled in June). Interviews via Internet can be arranged on a case-by-case basis.
The training will receive
up to 10 participants
. The École du MAGASIN is an independent training program. Course completion does not grant university credit or a diploma. It is a
free tuition program.
Participants will be required to pay the application fee of 20 euros.
APPLICATION CALL IS EXTENDED UNTIL JUNE 15.
The school year will begin on September the 26th, 2016.