Dare to Dream Asia | doc film project call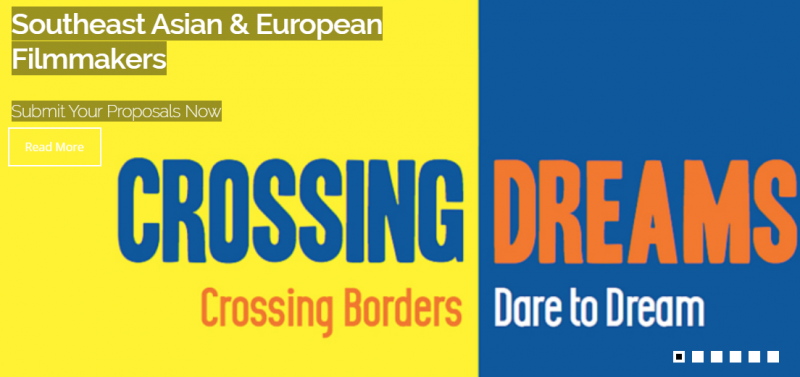 Call for documentary film projects for 
Dare to Dream - 
open to Southeast Asian filmmakers and European filmmakers with projects in relation to Asia and the themes outlined. Different programmes, workshop and development opportunities, with different deadlines - check eligibility carefully.
Dare to Dream and Crossing Borders are calling for one hour or feature length documentary projects for the international training initiative, 
Crossing Dreams, 
which will take place from the 1st-6th September 2015 in 
Indonesia.
20 selected participants from Southeast Asia (SEA)
, and 
six selected participants from Europe
 will meet to network and develop their projects with the support of international industry professionals.
After the 
Crossing Dreams
 workshop, six European projects plus up to four Southeast Asia projects with the most international potential will go on to the 
Crossing Borders 
workshop and a pitching session in Leipzig, 
Germany
 in October 2015. Suitable projects from this workshop may also participate in Good Pitch2 Southeast Asia in 2016 – 2017.
The 
Dare to Dream
 programme will support ten projects financially for development, and a minimum of six projects for production. The filmmakers will receive professional support through mentoring and workshops, and the films will be released in 2017.
The language of the workshop is English, and all applications must be in English.


For Southeast Asian filmmakers are invited to submit projects to participate in Dare to Dream, a documentary series on the dreams, aspirations and frustrations of Asian youth.


Twenty projects will be selected for the first workshop in September and from these projects, ten long documentaries (52-75 min) will go on to receive development funding and ongoing mentorship through Dare to Dream. They will be presented at a second selection workshop in January 2016.
From there, six projects will go to production with financial support and mentoring support from some of the best professionals in the world, participating in different workshops and forums. The finished documentaries will be released as a series in 2017.
SE Asia: interested filmmakers and producers must submit project ideas by 30th June 2015.
All the costs of workshops will be covered by 
Dare to Dream
.


For European Filmmakers: Crossing Borders is looking for documentary professionals (authors, directors, producers) coming from Europe who have experience in their domestic market but strive to work in the international field and who have a project in development/early production with a relation to Asia.


There is no participation fee for the workshop, but all participants must pay their own travel and hotel.
Europe: deadline for proposals - 8 May 2015
Dare To Dream
 will give a voice to the young generation of Asia through documentary films, looking at the future of the huge continent, concentrating on the most essential questions while at the same time not forgetting the incredible potential, strength and idealism that Asia can offer to its citizens and to the whole world.
Through an intensive selection and production process, firstly in 
Southeast Asia, 
filmmakers will develop their ideas and produce their films in a series of workshops supported by the world's best documentary professionals.