Chinese European Art Center | 2019 artist residency call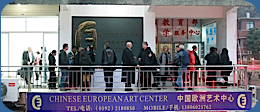 The Chinese European Art Center (CEAC) Artist-in-Residence Program announces an upcoming Open Call for periods starting from January 1, 2019 to work for three months month's residency in the city of Xiamen, southeast of China.
For more than twelve years, the Chinese European Art Center has hosted and premiered international artists from all over the world. With studios, exhibitions, contemporary film festivals, concerts, lectures, workshops and an artists-in-residence program, the CEAC plays a central role in southeast China's cultural landscape.
The Chinese European Art Center (CEAC) was co-founded by Mrs. Ineke Gudmundsson from the Netherlands and Professor Qin Jian from Xiamen University Art College in 1999. A non-profit multi-disciplinary art center, CEAC hosts one of the first and longest running Artist-in-Residence programs in China open to visual artists, architects, designers, curators, composers and writers from around the world. CEAC's events calendar features regular exhibitions showcasing invited and resident artists along with a supplementary program including lectures, workshops, concerts and outdoor film screenings.
The Art Center is located in a historic neighbourhood called Siming District in Xiamen, with many different small restaurants and a shopping center for small shops, markets and pubs near by the Nanputuo temple and Xiamen University. The exhibition space has an area of about 70 square meters. At this simple while carefully-planned place, art pieces are displayed, including sculptures and graphic works. The CEAC exhibition calendar consists of ten to twelve exhibitions annually from invited artists/residents with supplementary programs such as lecture, workshop, festival and outdoor film. Since 2010, large group exhibitions have been held in Shanghai, Guangzhou, Quanzhou and in Djupivogur, Iceland.
The CEAC artists-in-residence program gives artists, designers, architects, curators, writers, composers a place where they can develop ideas, experiment and produce new work. The CEAC advises artists on how to produce their work outside their studio and shares with them a large network of local artists, companies and work sites to enable them to implement their projects in the best possible way.

The CEAC stimulates a cultural and intellectual exchange between residents, local artists and students of Xiamen University. Residents can be invited to give lectures or presentations about their work and guest seminars and workshops for students.
Duration of residency: January 1, 2019 till April 1, 2019
Disciplines supported and technical information
Artists from all the different disciplines are welcome to apply for the program.

Accommodation
The apartments/studios (for two persons or a family) are furnished and fully equipped for living and working, including air co, washing machine, telephone, internet, tv and dvd player.

Studio/ workspace
An individual and fully equipped apartment (between 95 and 120 square meters) which has sleeping room, bathroom, kitchen and one big living room is used as a studio.
Fees and support
The CEAC is a non - profit organization and is not being subsidised for the Artist in Residence Program. Therefore there is a residency fee 10000 RMB/month requires to be covered by the residents. CEAC provides studio space, living and working accommodation, advice and assistance.
No grants are offered for travel or other costs.
More information at www.ceac99.org
Application deadline: 30 September 2018