Children in Museums Award - museums invited to apply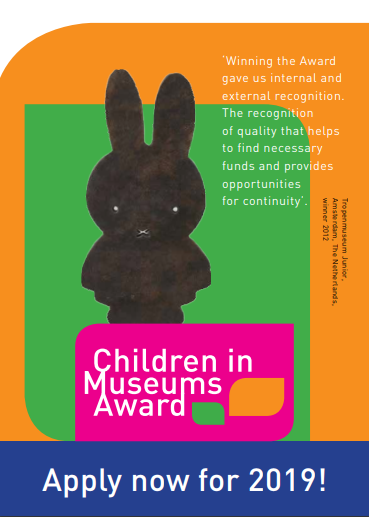 Children museums as well as education, children and youth departments in museums and science museums are welcome to send their application by 15 February 2019.
Are you a Children's Museum, or a Museum or Science Centre with exhibitions or permanent programmes for children? Are you innovative and do you strive for excellence? Do you stimulate creativity and do you encourage children's curiosity? Do you stimulate learning by play and offer high quality learning experiences?
Hands On! International Association of Children in Museums and the European Museum Academy has been awarding excellence within the children museums and museum experiences for children since 2011.
Each year Hands On! rewards the most excellent children's exhibition or project dedicated to children with the Children in Museums Award.
The Children in Museums Award is a joint venture between Hands On! and the European Museum Academy. The Award was launched during the Children's Bookfair in Bologna, Italy in 2011. The EMA cooperates with HO! supplying judges and offering expertise as regards to content. The judges are on the look-out for creative and innovative exhibitions and programmes for the age group up to 14 years old.
Last year, the Keppel Centre for Art Education National Gallery Singapore was announced as the winner of the 2018 Children in Museums Award at NEMO's Annual Conference in Valletta, Malta.
Download the application form here.